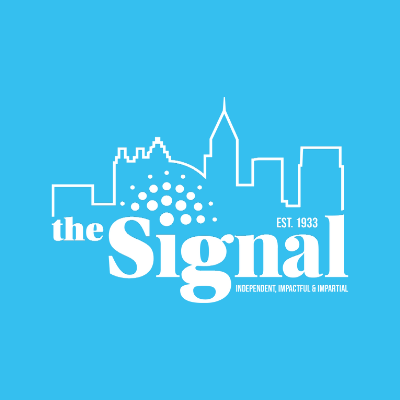 Before we start the phone interview, Ralph Gilbert's welcoming voice asks me to wait just a moment as he grabs his earphones so he can continue to paint. He returns with a friendly "I'm ready for ya," and throughout our conversation I can hear his brush stroke against the canvas.
As a young child, Gilbert frequently drew, but was more interested in music as he played the saxophone, clarinet and flute.

He began to focus on drawing and painting because he enjoyed the freedom of being solely responsible for the outcome of his work.
"The solitude of picture making was deeply satisfying. I just fell in love with it," he said.
Gilbert received a masters in fine arts from the University of California in Santa Barbara and upon graduation worked for Disney Studios in special effects animation. During this time he worked on the 1977 film The Rescuers, specifically on elements like exploding pipes, wind and rain, and water splashes.
He became a professor at the Ernest G. Welch School of Art and Design of Georgia State in 1986.

"I just felt ready to go back to the academic world because I had established my own identity as an artist and what my mission is as a painter," Gilbert said.
"It was important for me to find fulfillment with my own artwork in order to be comfortable enough to teach others."
He went from being the newest faculty member on the staff to one of the longest tenured professors. Throughout this time he has witnessed Georgia State's maturity.
"I have noticed four main things that have contributed to this development: one is the size; Georgia State has grown immensely over the years. There was also the change from being a commuter campus to a residential campus. There is also an increased emphasis on quality research."
"And the city itself increasingly offers great opportunities for creative people," Gilbert continued.
Gilbert would often ask himself if there was a better place to create, and frequently the answer was no. The creative opportunities in Atlanta continued to make Georgia State attractive to him.
"My feelings about GSU have only gotten better as the institution has grown and developed," he said.

Some of Gilbert's own artistic highlights in Atlanta have been painting murals in the Piedmont Park Conservancy's Visitor's Center and in the Helene S. Mills Senior Center of Fulton County. He is currently working on six murals for the Saint Paul Union Depot in Minnesota.
As Gilbert travels, he brings his sketchbook instead of his camera and has significantly added to his portfolio this way. He said that by doing so he not only has a tangible record of his travels, but also of how his saw and experienced it.
"One of my favorite pieces of advice that he gave our class was that when he goes on vacation, he brings his sketchbook rather than a camera because he feels like he can experience the perspective and the atmosphere more when he captures it in a drawing," said art education major Cindy Rowe.
"I definitely take this advice to heart," Rowe said. "I went to the beach and carried my sketchbook with me everywhere. After his class I definitely feel more confident in my own drawing,"
For Gilbert, art is more than just a job, it is a way he experiences life.
"Being an artist is not a job that you leave at the desk. I experience the world that I occupy through drawing and painting," Gilbert said.