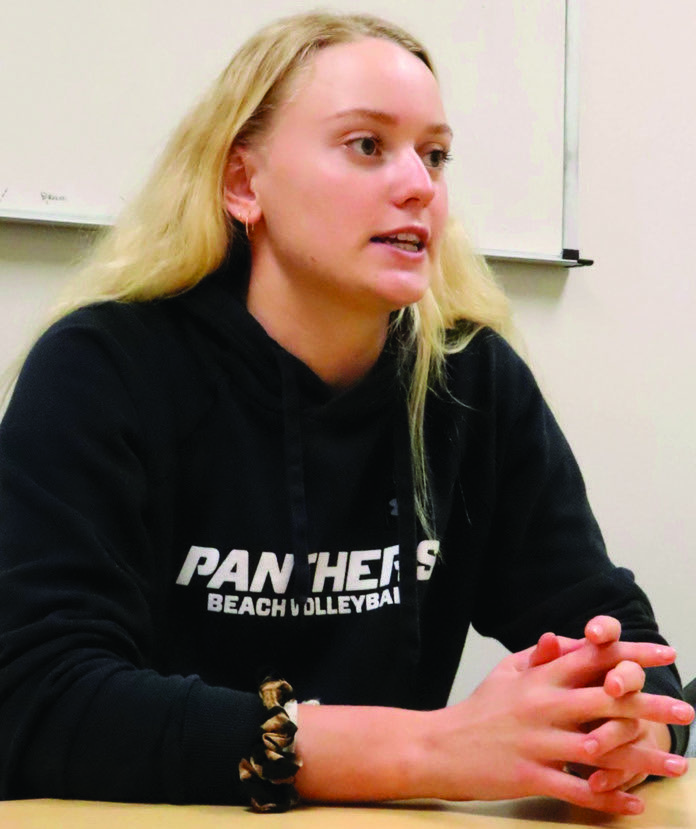 For many people around the world, a common goal is to travel the world and do something they love. For Georgia State freshman Elise Saga, she is living this exact dream, playing beach volleyball.  
Saga was born and raised in Åmli, Norway. The small town of roughly 1,800 residents helped push Saga into the sport of volleyball. From a young age, Saga always found herself doing something outdoors, as many Norwegians do. 
"I'm from a really small town," Saga said. "I'm used to hiking a lot in the forests and mountains; I just love being outside."
This love for the outdoors along with an active lifestyle had her destined for a life in sports from a young age. Luckily for Saga, her neighbors were top-tier beach volleyball players in Norway, allowing her early exposure to the sport. 
"[The neighbors] had children that were my age, so we were friends growing up," Saga said. "They started [teaching] their kids, and I just jumped on."
The cards seemed to all fall into the right place for Saga. In addition to her neighbors, the town of Åmli was known for being a volleyball town. 
"My town is really known for playing volleyball … that's the big sport there, which is very unusual in Norway," Saga said.
If you have not been to Norway, the weather can hinder a sport like beach volleyball. Winters are frigid with lots of rain and snow, rendering the outdoor sport impossible to play. It is because of these conditions Saga actually started her career with indoor volleyball.
"I started in indoor, but the summer right after, I started playing beach," Saga said.
After playing on the beach for a change, she instantly fell in love with the sport. But the weather prevented her from playing outdoors year-round. Luckily, there were ways to get around these obstacles.
"We can't practice outside [year-round] because we will get snow no matter where you are in the country," Saga said. "We have indoor facilities we have to use."
As Saga has noticed, the differences between beach volleyball in Norway and the U.S. have accumulated quite the list. From playing with a different ball to having a team of only you and your partner, the differences could go on and on. The road to success is one of self-accountability; everything comes down to you.
"You kind of have to make it on your own. You have to finance everything, [travel] on your own," Saga said. "You don't usually have clubs in Norway. You have some volunteer coaches; you just have to be where they are."
As the years went on and the skill level increased, Saga was right there with the best and when it came time for the next step, she attended a private boarding school specifically for volleyball. The cherry on top: One of her childhood neighbors was a coach at the school. She credits him for her progression in the sport.
"He has [taught] me so much," Saga said.
It was during high school that Saga had her favorite memory of the sport. In a big tournament in Norway's capital, Oslo, Saga and her teammate defeated a top-tier English duo that many believed was unbeatable.
"I had a North European tournament in a big square in Oslo … my partner and I had a really good game against an English team, and we won [as underdogs] … so that's my best memory," Saga said.
As her time playing volleyball in Norway concluded, it was time for Saga to make a decision, pursue beach volleyball abroad in the U.S. or stay in Norway and continue to play.
"I was thinking a lot about [going to the U.S.]," Saga said. "It sounded fun because, in Norway, it's hard to get better if you don't go abroad after high school."
Eventually, she ultimately decided to test her luck and went abroad.
"I felt like it was a good way to combine both the sport I really love and education," Saga said.
The recruitment process is similar to the other aspects of Norwegian volleyball: everything is on your own. Players must seek out schools of their choice with the help of agents and, if accepted, have to make choices without even visiting the campus. 
After roughly seven years of playing beach volleyball, all the hard work paid off for Saga as the colleges came calling. With the offers on the table, the emotions built up for the  Åmli native.
"It was really exciting, but I was also a little nervous … you don't get to visit the school, you kinda just jump into it," Saga said.
Despite the offers on the table, Saga knew Georgia State was the right fit for her.
"I got a really good feeling about Georgia State when I talked to [head coach Beth Van Fleet]," Saga said. "She seemed like she really cared about the players and not only volleyball, and I think that's a big part of the game. Of all the schools I talked to, she made me feel most comfortable."
From here, Saga officially committed to Georgia State and joined the Panther family. But adjusting to a new home can be a challenge for anyone.
"There are a lot of cultural differences from [Norway] … but I've been traveling a lot around the world, so I love exploring," Saga said.
In addition to adjusting culturally, Saga, like most people, struggled with homesickness. 
"I was really homesick the first semester … but I went back for Christmas break, so that was needed," Saga said.
For Saga, this season will mark her first time playing with the American style of volleyball.
"I don't really have any expectations because I don't really know what to expect … I've never done anything like it before," Saga said.
Despite all the difficulties Saga has overcome them and is ready for the season. 
"I'm really excited for the season, I'm counting down every day,'' Saga said. "I feel like the hard semester I had last year is going to pay off now."