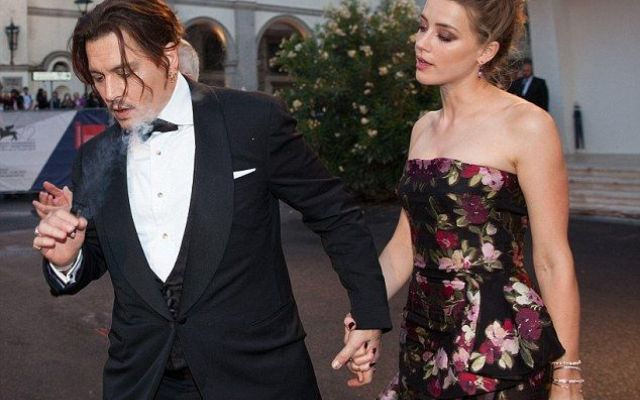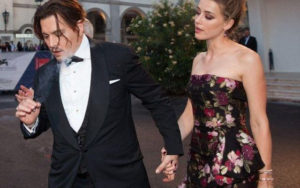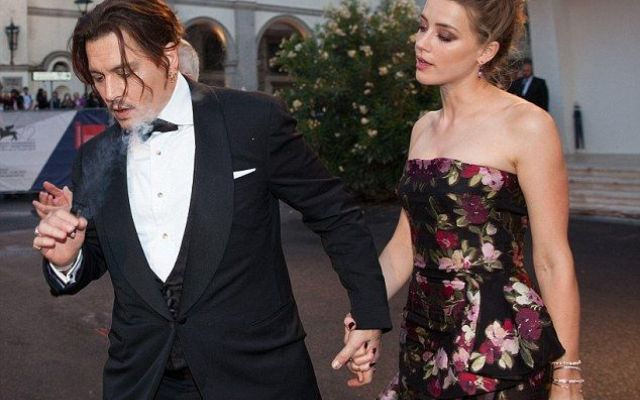 Actress Amber Heard caused buzz at the end of May, and not for her upcoming role in DC's "Justice League" films. Heard has been involved in a domestic abuse scandal following the release of a photo of Heard with bruises on her face and a report that Heard had filed for a restraining order against soon to be ex-husband Johnny Depp following an incident in their home.
While Depp did not immediately make a follow up statement, his representatives did tell People Magazine that "Johnny will not respond to any of the salacious false stories, gossip, misinformation and lies about his personal life."
As the rep's statement shows, Heard's allegations against Depp have been met with harsh criticism from Depp's fans and friends, many claiming the reports are false or slanderous.
One of Depp's friends, comedian Doug Stanhope, even wrote an article for The Wrap in which he claimed that Heard was blackmailing Depp to get her way in the divorce. Heard has since sued Stanhope for defamation and emotional distress.
While Heard's and other celebrity abuse cases may seem like a world away, abuse happens on a daily basis. The National Coalition Against Domestic Violence released statistics that a woman is abused every 9 seconds in the United States.
Abuse can be physical and emotional
On Georgia State and Georgia Perimeter Campuses, abuse is reported at a much lower rate. In 2014, GSU Police only investigated 11 cases of violence against women, including one report of domestic violence, three reports of dating violence, and seven cases of stalking.
Overall, cases of violence against women were reported less frequently to Georgia Perimeter Police in 2014, with one case of stalking on the Dunwoody and Newton Campus, and one case of dating violence on the Dunwoody Campus.
Statistics for 2015 were not currently available online.
Of course, what goes into the statistics filed by GSU and GPC police are only based on incident reports. A lot of abuse goes unreported, either because victims fear the consequences or, often, because they don't realize they are in an abusive relationship.
When people think of abuse, most people automatically think of physical violence, but abuse comes in many forms. Verbal abuse can be easily masked as "teasing," or name-calling at first. The difference between calling your friend names as a joke and being abusive falls in the consent. If someone is uncomfortable with it and you don't stop, then it becomes abuse.
Emotional abuse is another form of abuse that is often disregarded. Emotional abuse is also harder to recognize than other patterns of abuse, because some people are naturally more clingy than others. However, there is a difference between "I don't want to live without you," and "I'd kill myself if you left."
While verbal and emotional abuse may be harder to recognize, they leave the same lasting damage as physical abuse, though they generally go untreated much longer. It's important to know what constitutes abuse.
Domestic abuse seminars at Georgia State
Georgia Perimeter helps to educate students about violence through annual, campus-wide domestic abuse seminars, led by the GPC police. These panels consist of guest lecturers, panels and Q&A sessions with subject matter experts.
However, for victims of abuse, public panels are likely not the place to seek support. Thankfully, Georgia State and Georgia Perimeter both offer one-on-one counseling for students being abused or students who are worried that someone they know may be getting abused.
Georgia State also offers Student Victim Assistance, a program which allows students to come forward with their experiences without having to file a report. The program also provides information to help students define their abuse, if they are unsure, and offers tips for friends to help victims of abuse cope.
Abuse is a scary thing, but facing the aftermath can be even scarier. The main thing to remember is you don't have to face it alone. Georgia State and Georgia Perimeter both offer incredible resources for victims of abuse to get out of an heal from bad relationships.
_____________________
Know the Signs
Abuse goes beyond physical violence. Here are some warning signs from the Student Health Promotion to help you decide if you or anyone you know is facing abuse:
Checking cell phones, emails or social networks without permission
Extreme jealousy or insecurity
Constant belittling or put-downs
Explosive temper
Isolation from family and friends
Making false accusations
Physically inflicting pain or hurt in any way
Possessiveness
Telling someone what to do
Repeatedly pressuring someone to have sex
________________________
Campus Resources
GSU
75 Piedmont Avenue NE, Suite 241
Atlanta, GA 30302
Main Line: 404-413-1577
Citizen's Trust Building, Suite 200A
75 Piedmont Ave, N.E.
Main Line: 404-413-1640
Emergency Line: 404-413-1640
GPC
Personal Counseling Access Line:  770-278-1300
Clarkston
Jennifer Smith, LPC
Building CN, Room 1547
678-891-3315
Decatur/ Alpharetta
Dr. Ca Trice Glenn, LPC, ACS, NCC
Personal Counselor
Building SA, Room 2104
678-891-2346
Dunwoody
Marquita Johnson, LPC, NCC
Personal Counselor
Building B, Room 1306
770-274-5166
Newton Campus
Ann Howard, LPC, NCC
Personal Counselor
Building 2N, Room 2308
770-278-1286
Dr. Rufus Larkin, LPC, LCSW, ACS
Associate Director of Personal Counseling
Building 1N, Room 3105
770-278-1366