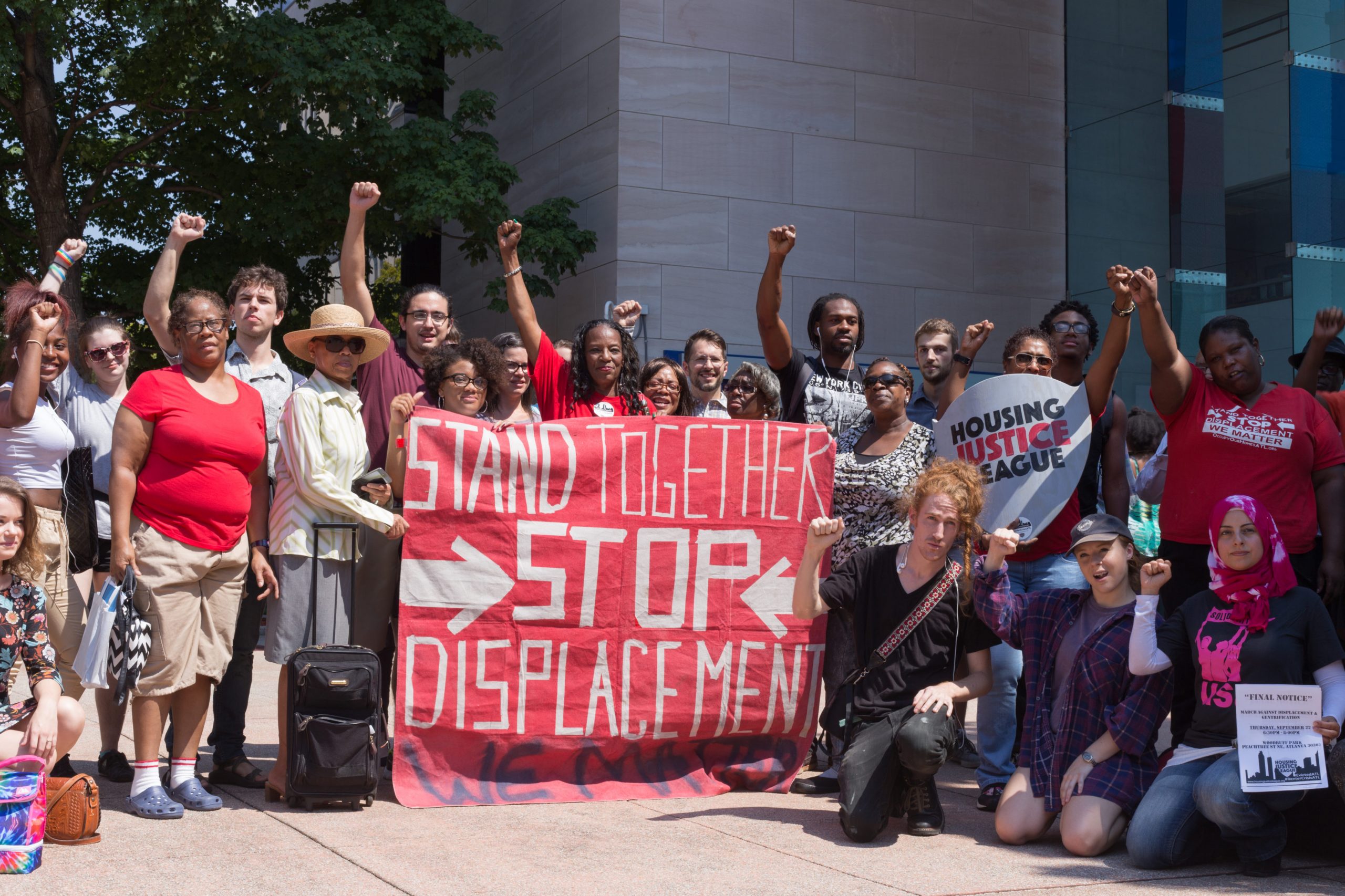 After some minor head-butting with campus police on Sept. 7 afternoon, advocates marched to Georgia State University President Mark Becker's office to deliver a letter demanding he sit down with neighbors of Turner Field to discuss their concerns.
Last month, Georgia State finalized a deal to take hold of the Atlanta Braves' stadium once the school forks over the $30 million agreed upon. But some residents are worried that, once The Ted changes hands later this year, they won't be involved in the school's redevelopment of the area.
The Turner Field Community Benefits Coalition (TFCBC), an advocacy group focused on ensuring neighborhood input, rounded up a few dozen people in Georgia State's Library Plaza at noon to "work to establish relationships within the community that currently do not exist [with the school]," according to the letter they brought to Becker's office.
Becker was off-campus, and his secretaries were unable to schedule a meeting with advocates when they filed into the lobby. However, supporters left with assurance from the office that Becker would be given the letter, which requests he helps "turn our Community Benefits Agreement proposal into a full-fledged agreement."
"He's not a dictator, but he is the figure that represents the school," said Tim Franzen, organizer and leading member of Atlanta's Housing Justice League. "Hopefully he's willing to sit down with people."
Franzen said, in addition to a formal sit-down with the school's head honcho, the Coalition and other supportive groups in attendance want decision-makers to weigh affordable housing and job creation when sprucing up Turner Field and its surrounding communities.
Some people at the rally denounced gentrification, claiming the city's recent redevelopment projects have spiked property values so much it's pushed less-than-affluent people out of their homes.
"Atlanta continues to be in the top two in income inequality," Franzen told The Signal. "This [development] is going to hit Adair Park, Pittsburgh, Peoplestown [and Summerhill and Mechanicsville]. You can already see developers frothing about it, buying up property."
But some residents at the event said they were eager for the rise in property worth. Summerhill resident Martha Nedderman said her property has almost doubled in value since she moved in some years ago. She suggested that neighbors fearful of displacement should head to Downtown's Fulton County Government Center to seek out tax breaks.
"All you have to do is go to 141 Pryor St. and show your income, and they'll help you out," she claimed. "If you present your income, they'll just reduce your taxes. I think this development is gonna be great; we'll have grocery stores and apartments and hopefully student housing. So I think it's gonna be a positive change."
Yet state Sen. Vincent Fort, D-Atlanta, said the property value increase is "a double-edged sword." "When property values go up, people get displaced," he said. "A university has to be concerned with issues outside of churning out students. It needs to care about the communities it impacts."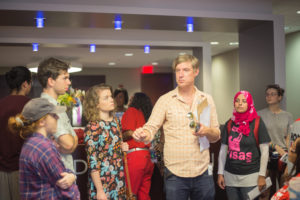 Georgia State student Christopher Hollis, a member of the Housing Justice League, told The Signal that Wednesday's march was "not an attack on Becker." "We're mostly worried about development that doesn't work with the current residents," he said. "It's very much a displacement issue."
Nick Langley, a Georgia State student and activist with Panthers for Bernie, said this development deal must have transparency if the school doesn't intend to send Turner Field neighbors onto the streets.
"Our money is going into this [development], so we don't want that to go toward people being kicked out of their homes, and we want to see affordable housing included in there so
it's not just these luxury apartments that nobody can afford," he said.
In the delivered letter, residents and supporters demanded Becker reach out within seven days to schedule some sort of meeting with the community. University spokeswoman Andrea Jones told The Signal that the university has been in talks with neighborhood leaders, yet it's too early to discuss specifics of a potential benefits package.
"We have worked with neighborhood and community leaders to move the project forward to this point. Community leaders were instrumental partners as we worked with the City of Atlanta on rezoning plans," she said. "Until we have Board of Regents approval for this project, further discussions of any next steps are premature."
Advocates clash with cops
Before the Sept. 7 event, as the rally crowd swelled, campus police officers formed a light perimeter around the plaza's congregation. GSUPD Maj. Anthony Coleman told the attendees of the rally that, in order to make speeches or loudly lead the masses, they'd need to migrate to the school's "free speech area."
Coleman said the attempt to suppress their expression was not a matter of the subject at hand, but rather an effort to ensure a safe environment in the library courtyard in the event of an emergency.
"It's not because of the speech," he said. "[Library Plaza] gets too bogged down over here, and everything is fine until something happens. If there's a fire or something, then there's a stampede."
Still, before heading towards Becker's office, the crowd held strong against police pressure.
"We've been told by police that this is not a free speech zone, that the constitution doesn't apply here," Franzen said before Coleman told him to set down his megaphone. "We've done this hundreds of times, and we've never been told that we can't do this. I've got a constitution that says I can do this."
"I understand you had plans, but this is not the free speech area," said Coleman.
But Franzen, citing the idea of "free speech zones'" youth, said such regulations are "ridiculous."
"The concept of a free speech zone didn't exist until about 2005," he said. "It's absolutely ridiculous that they'd say students aren't in a free speech zone elsewhere on campus."
"I was under the impression that the whole damned country was a free speech zone," he said with the megaphone in hand.