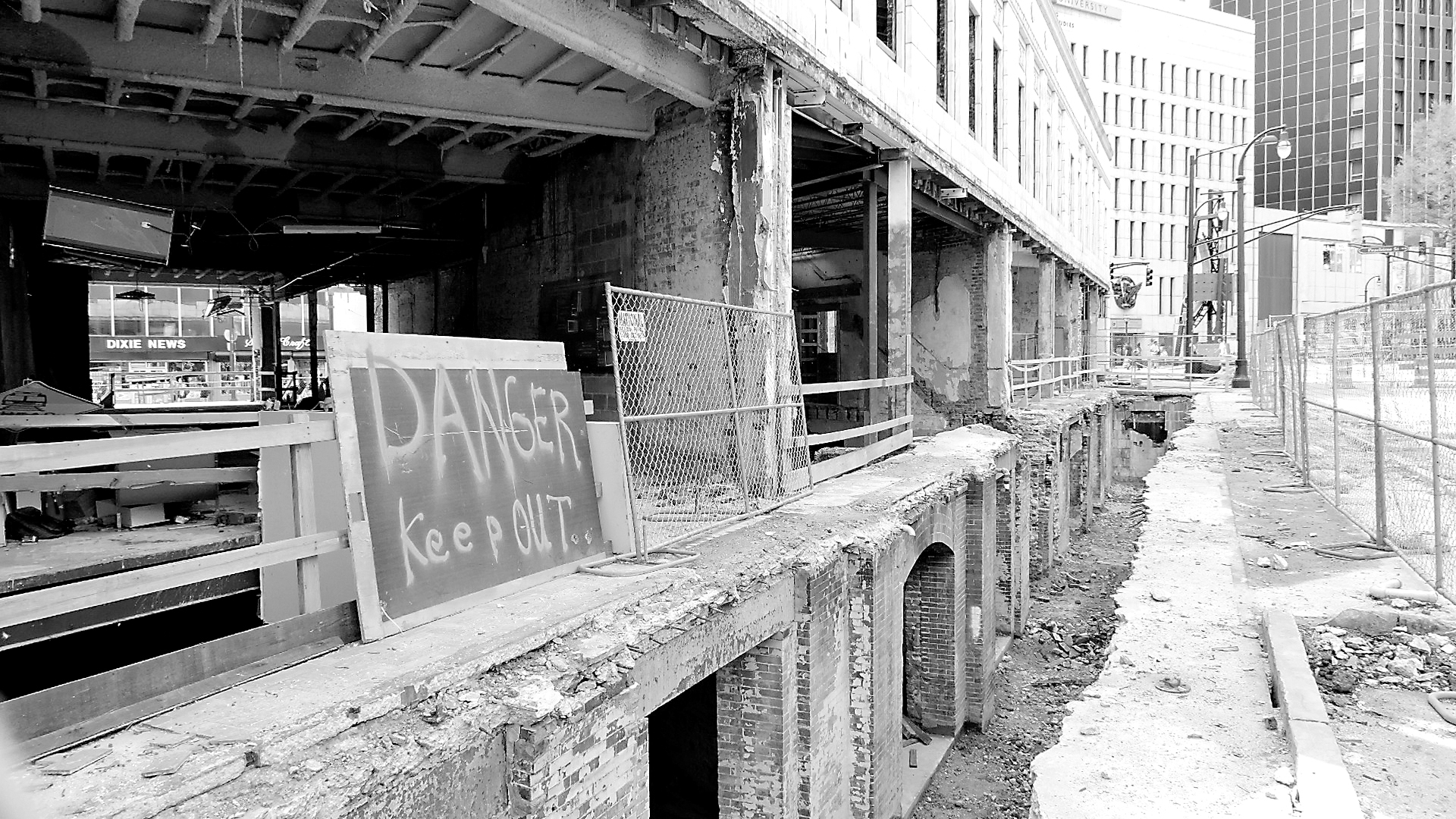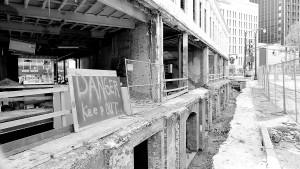 After a lengthy vacancy of the Olympia Building in Five Points, restoration of the historic landmark is underway. Encore Real Estate Development, LLC, headquartered in Safety Harbor, Florida, bought the building at 23 Peachtree St. for $2.2 million in the fall of 2013, according to Creative Loafing.
The company's final redevelopment plan is to restore the building to its former glory and transform it into a Walgreens Pharmacy, according to Skanska Construction, lead construction company for the restoration.
The Olympia Building was built in mid-1930s and was one of many architectural gems created by legendary Atlanta-based architects Ivey & Crook, according to The City of Atlanta's website.
The website also states the Depression era building remains one of few two-story buildings left in the area.
"The Olympia has become reminiscent of an earlier time, a reminder of a 19th century building in a 20th century world," the website states.
Michael Wirsching of ASD Inc., an Atlanta-based architectural firm on the project, said the historic quality of the building is a factor that guided redesign plans.
"It's had a series of renovations over the years and a lot of the original historical details were stripped away. The big push in the design was really going back to that," Wirsching said.
None of the original blueprints are known to exist so ASD Inc. had to rely on historical photos to recreate the design, according to Wirsching.
"We've taken those old black and white photos and brought them into Photoshop and traced over them and made 3-D models to replicate the filigree," he said.
Wirsching also said the original design will be replicated down to detailed ornamentation. They will construct a 1940s-style marquee sign and re-enclosure of the nose (or point) of the building facing Peachtree Street.
As a result, the block of the street in front of the building is currently closed to through traffic due to construction.
Darian Lyons, a Georgia State junior and nearby Westmar Student Lofts resident, said she is not fond of the construction due to delays.
"I feel like it's going to be more stressful now because that pathway gives me a couple more minutes to get to class," she said.
However, Lyons also said she believes the renovation will attract more business and brighten up the city.
Georgia State senior Kevin Hampton feels the new Walgreens would be a better alternative to other nearby grocery stores.
"There's a CVS next to MARTA and that place is pretty scary. So I guess this is a little better because it's right next to the police station," he said.
Although he did not know the Olympia building was also a historical building, Hampton said he is glad the restoration will give the facility a new purpose and recognition.
Katherine Hankins, associate director at Georgia State, said the Walgreens will be beneficial to local Five Points residents as well, according to an article previously published by The Signal.
Despite concern over the future of the iconic Coca-Cola sign staying atop the building, Wirsching said it will remain.
"That's going to remain fully operational throughout construction and will remain on top of the building as it is now," Wirsching said.
Wormser Hats was a long time tenant of the building but the site once housed Atlanta's first post office as well, according to the City of Atlanta's website.
"In the mid-1840s, Atlanta's first post office and general store were located in a wood structure on the Olympia site, run by George Washington Collier, the city's first postmaster," the website states.
Wirsching said one of the many historical plaques found inside the building was dedicated to the historic post office.
"We've saved that plaque and will place it back inside once we're done," he said.
Many have also wondered how a Walgreens would be a beneficial edition to an area that already has nearby pharmacies. Cullen Hawkins, one of the owners of the real estate company Encore, said they've been asked that many times.
"It's going to be unique relative to local competitors; and from a design standpoint, it's going to be above and beyond anything that this market currently offers," he said.
At completion, Hawkins estimates there will be 22,000 square feet of sales area compared to a standard 14,000-square-foot Walgreens.
Encore's vision is to service a need for Five Points residents and Georgia State students by offering grocery, retail and pharmacy, according to Hawkins.
"This school has grown from a commuter school to having many students moving into town," he said. "This store will offer daily conveniences and will be located right in the heart of Georgia State."
Encore's goal is to complete the transformation by this year's holiday season, according to Hawkins.