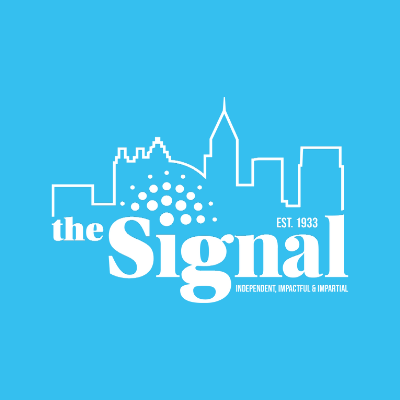 In late November of last year, thousands upon thousands of lights illuminated Woodruff Park. Projections of funky geometric shapes floated across the buildings overhead. Acrobats and gymnasts performed on platforms at neck-breaking heights. Modern dancers twirled and spun in the streets, and drummers played atop a luminous steamroller.
In 1994, Kelly Nelson imagined this spectacular vision of illumination. Coca-Cola commissioned Nelson and her team to create a traveling tour as a pre-show to the Olympic torch run. When the budget for the creation was shifted to another project, Nelson recommitted herself to fleshing out the idea of designing "a vehicle for building pedestrian traffic," as she called it, by way of an enriching, inspiring light parade. In an effort to bring a cultural and conscious extravaganza to a revitalized downtown Atlanta, Luminocity Atlanta was born.
Starring hip-hop superstar and Atlanta native Big Boi as the Ring Meister and featuring choreography by gloATL, 42 dancers, four acrobats, four BMX riders, two gymnasts, drummers, stilt walkers and a tree man, Luminocity's "Hinterland" entranced more than 20,000 spectators. As an elaborate light show danced across buildings, onlookers watched in awe as their concrete jungle was transformed into a brilliant tapestry of culture and creativity.
The company's debut production — a carnival and parade constructed with the use of movement, color, lights and energy — showcased an artistic display with a purpose. Reaching beyond the aesthetics of visionary artistry, Luminocity blend of community, education, economy, environment and culture was expressed throughout the Woodruff Park area.
Nelson's vision of downtown areas being brought to life surpassed just the cultural experience. To significantly impact the downtown community, the company hired 22 transitional homeless residents through First Staffing to assist on the production.
"You can't come downtown without doing something about the homeless. You can't ignore that," Nelson said.
By setting an example for large corporations, Luminocity hopes to bring about the change to help eradicate homelessness in Atlanta.
To fuel Luminocity's educational efforts, the production group provided 15 student dancers and three children with the learning experience of participating in the groundbreaking event.
On that cold, holiday weekend evening, Luminocity's effect was felt amongst business owners too. According to Nelson, after many calls to businesses in the area, "Hinterland" brought an increase of revenue to the otherwise faltering Fairlie-Poplar District. A hookah bar sold out of every flavor tobacco in stock. A diner sold 250 cups of hot chocolate and 100 cups of coffee. Some restaurants received back-to-back reservations.
And not only did Luminocity give back to businesses, it also did its part to show the environment some love. Service vehicles and floats were powered by electric energy. In a grand showing of conscious responsibility, Nelson said, "Whatever other carbon footprints we created, we purchased wind and solar credits to offset it." Partnering with Sterling Planet, a carbon offsetting company, Luminocity offered and continues to offer their patrons and other event sites the opportunity to purchase credits to counteract their own footprints.
For the 2011 season, Luminocity plans to bring that cultural experience back to Atlanta. A fall production is actively in the works; however, although funding is pending, a spring show is not inconceivable, if the demand is heard. For now, there are talks to tour the carnival nationally in select cities.
For more on Luminocity Atlanta, visit www.luminocityatlanta.com.