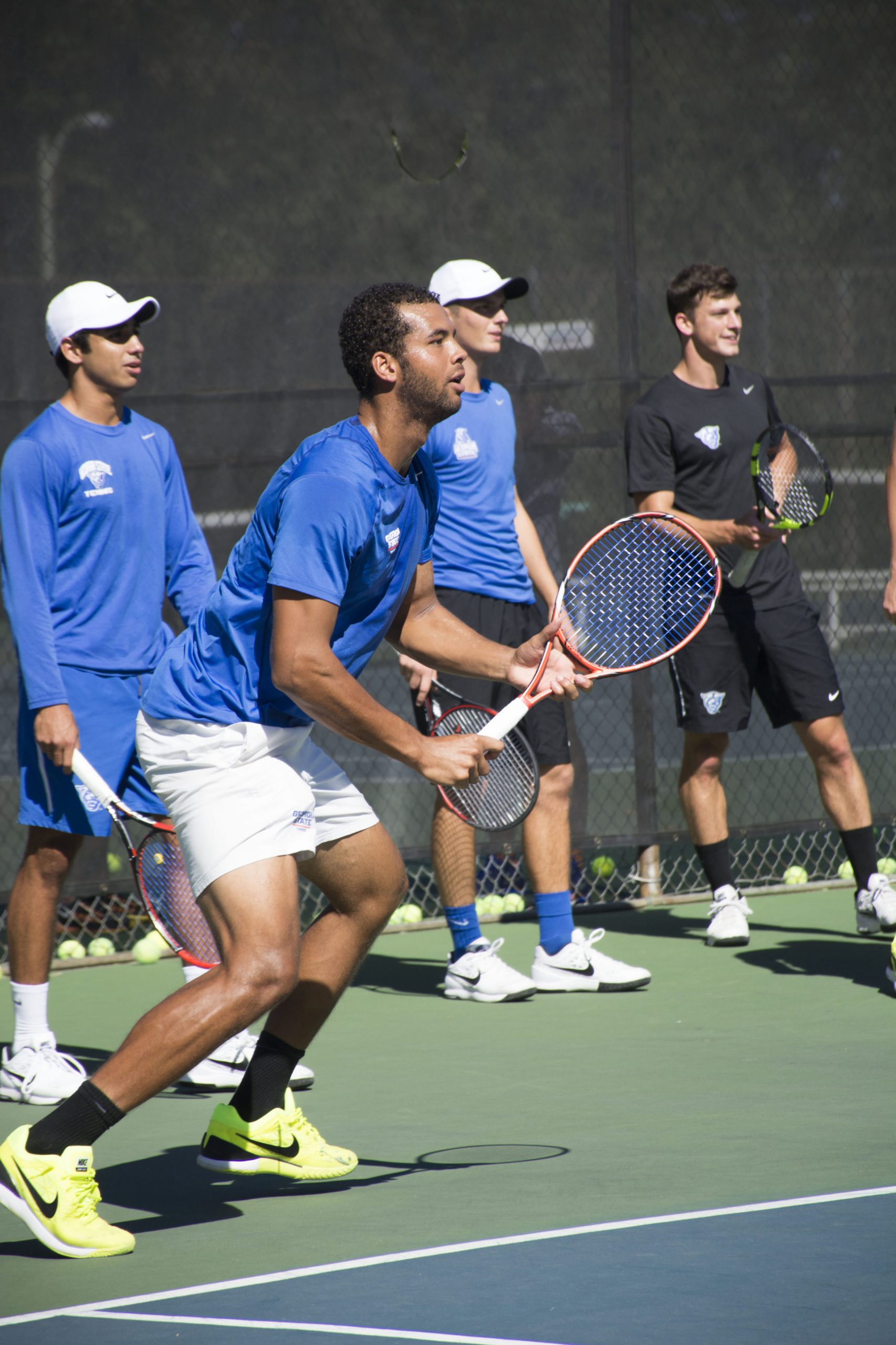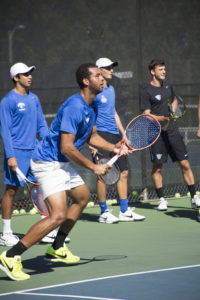 Georgia State men's tennis senior Zack Kennedy had an eventful last 365 days. Kennedy led the Panthers to a No. 1 seed in the Sun Belt Conference Tournament in the spring 2016 season. In June 2016, he made his professional debut at the ATP Tournament at Atlantic Station, pairing with Georgia Tech junior Chris Eubanks and the duo won their first match, making headlines around the city after the upset victory. Kennedy returned for his last season with the Panthers and the team opened its spring season with an upset victory at Florida State.  As the team's new No. 1 singles player, Kennedy spoke to The Signal about finishing his college career as a Panther after transferring from Clemson his sophomore season.
The Signal: Last summer, at the ATP Tournament, how was that experience with (Georgia Tech men's tennis junior) Chris Eubanks?
Kennedy: The experience was great. I got my first ATP debut with Chris and it was a wonderful experience. We got our first win and it was a great feeling. Putting in the work in college and as a kid, finally getting that opportunity to compete professionally. One day, hopefully, I can make a living in it. It was just a great start to everything.
The Signal: You guys were the talk of the city for day or two, after that upset win (over accomplished Brazilian Thiago Monteiro and Japan's Yoshihito Nishioka), right?
Kennedy: Yeah, it was crazy. I mean to have little kids wanting to sign autographs and stuff, it was really surreal, it was almost like a dream come true for me, you know what I mean? Ever since I was young, it was always, that's what I was always destined to do, that's what my parents wanted me to do, that's kind of what I had a passion for and what I fell in love with. So it was great to have that accomplishment.
The Signal: How long have you known Chris?
Kennedy: I've known Chris since we were eight and nine years old. I remember playing Chris in a tournament in 10 and under's at South Fulton Tennis Center, just outside of Atlanta, on the southwest side of town. We grew up in College Park, East Point together and we went to high school together at Westlake. So, I've pretty much been through every level with Chris and he's been through it with me, so it's been great.
The Signal: Now, going back to fall season, how was it coming back to Georgia State, after finishing close last year (Panthers lost in Sun Belt Tournament as No. 1 seed)?
Kennedy: It's been fun. It's been work. Coming from the pro level to the college level, it's not that great of a difference. It's really about focusing and just going out there and doing it. It's not like they do it a lot better than we do, it's just the little things. Staying focus and making sure you're on top of what you need to be on top of.
The Signal: As a senior, this is your last go around, your last semester, last season. How has your entire college experience been from Clemson until now?
Kennedy: I mean, yeah, looking back at Clemson, I didn't really play that much. I was overlooked. Coming here, Brett Ross, the coach here gave me a wonderful opportunity from the beginning as soon as he came here and started as Head Coach. I have only him to thank for this opportunity for believing in me and my parents for believing in me. Really, it's everybody around me that's given me the opportunity to be here and given me the opportunity to be focused and pushed me to get to where I am.
The Signal: Clemson winning the championship this year in football, were you still excited about that?
Kennedy: I mean, yeah, of course, I'm excited about that. I still keep in contact with my coaches up there, I still have ties up there. But it's really just something to look back on now. I'm really trying to look forward into my career here and my professional career after.
The Signal: Now with Georgia State, you guys are raising up in the national rankings. How does it feel to come back home and put the home team on the map, after being overlooked at Clemson?
Kennedy: Yeah after being overlooked…Clemson, right now they're not even in the rankings. So it feels pretty great. It was a wonderful decision that I made and I'm glad I made this decision. Most people overlook us as a school, as a program and I think that it's important that we go out there and show that we can compete with the ACC and SEC conferences. I think it's important that we keep working hard and try to get into those conferences because those are the teams we want. We don't want other teams. We want the top five. The Pac-12, the Big 10, those are the teams we want. Those are the wins that feel good.
The Signal: Speaking of those wins, where did you guys get the confidence from when you're going down 0-2 at Florida State?
Kennedy: I think the confidence comes from our coach. Coach Ross is really hard on us. He makes sure we're focused, he makes sure we're conditioning every day, he makes sure we're eating right on the road. We're focused, no matter what, even when we're down, we're focused. Even when you're down 0-2, there's still five more matches to be played. So really it's just getting down and getting gritty, staying in the matches. Knowing that you're playing for your team, but it's also an individual thing. You know what I'm saying, I can't be focused on my teammate's court. If I focus on my court and I get my job done and he gets his job done, then we win as a team.
The Signal: What do you want people to remember about Zack Kennedy?
Kennedy: I guess the hustle mentality. Being gritty, just not giving anybody anything. I think that's really what our team brings to the table. If you're gonna beat us, you're gonna have to beat us. It's not going to be given to you. It's going to be the toughest match you've played. That's what I like about the team and that's what all of us have kind of created in the locker room and around everybody is that no matter what, we're going to work as hard as we possibly can for every point.
The Signal: Where do you see the future of Georgia State Men's Tennis?
Kennedy: After I leave, it's only up. Hopefully, we solidify ourselves in the ranking, that helps us with recruiting. That's all up to Coach Ross and what he plans on doing for the future, but they will have my support and my help from here on out.
The Signal: What's your favorite song right now?
Kennedy: I've been listening to "Blood on the Money" by Future. I listen to a lot of Future. I've been listening to the new Cole album. That's just good music. I'm not into 21 Savage and all of those guys. I like more content, but there's a time and place for that kind of music.
The Signal: How do you feel about Atlanta right now, just as a city? With the entire TV show getting recognition…
Kennedy: Oh yeah, I love it. I love it. Born and raised in Atlanta. Never been outside of the city for more than a couple of weeks. This has always been home for me. It makes me so proud seeing the city and being a part of Georgia State and being a part of the growth of this program. Not only tennis but football and basketball. It's good to be a part of the building process for the people that are to come after me and the people that are to come after all of the athletes here.
The Signal: Growing up, was it difficult playing an individual sport, where you usually have to put a little more time in versus a basketball or something, to be great?
Kennedy: Really the thing that I struggled most with was the recognition. Growing up, nobody really looked at high school tennis or USTA matches that I played growing up and I always struggled with the recognition part because you work so hard and you don't get any glory. Now, to finally see it pay off to where me and Chris are the storyline of the city, that's where the happiness comes from. That's where it's like, "Okay, we're getting recognized now. All that work I put in wasn't for nothing."
The Signal: Who does Zack Kennedy play for?
Kennedy: I play for Zack Kennedy. Tennis makes me happy, when I'm out there on the court, it's pure happiness. I don't worry about anybody else. I play for me.
The Signal: And what does Zack Kennedy represent?
Kennedy: I'd say I represent Atlanta. The kids that look up to me at the tennis center that my dad works at because there's a lot of kids that look up to me and idolize me. I think it's important for me to always be on my game and show those kids that, hey. You don't have to play basketball or you don't…you know as a black kid you're taught to play basketball or football, but there's another way out. There are other ways to get scholarships. Not even like tennis, not even sports, you know what I'm saying…education wise. I think that that's important to stress to kids, that there are many ways out. You don't have to be a football player or a basketball player, or a rapper. Those chances are really slim and it's really important for them to understand to get your education first. That's I'm doing. I've had many opportunities to turn pro, but my parents have stressed that since I was young, that I would get my education because if I would twist my ankle tomorrow, this is all over.
The Signal: Did you ever struggle with that, growing up, being from Southwest Atlanta and being one of the few black kids really known for playing tennis?
Kennedy: I didn't really struggle because I had good parents. My mom and my dad were always there to talk to me. The main thing I struggled in was high school. Like not being accepted, being kind of the loser and it was tough at times, but my dad never really gave me the option of quitting. I wanted to play high school basketball and my dad told me, "No, you're not playing." Now that I look back on that, it's like that's the best decision that he could've made and I thank him every day for it.