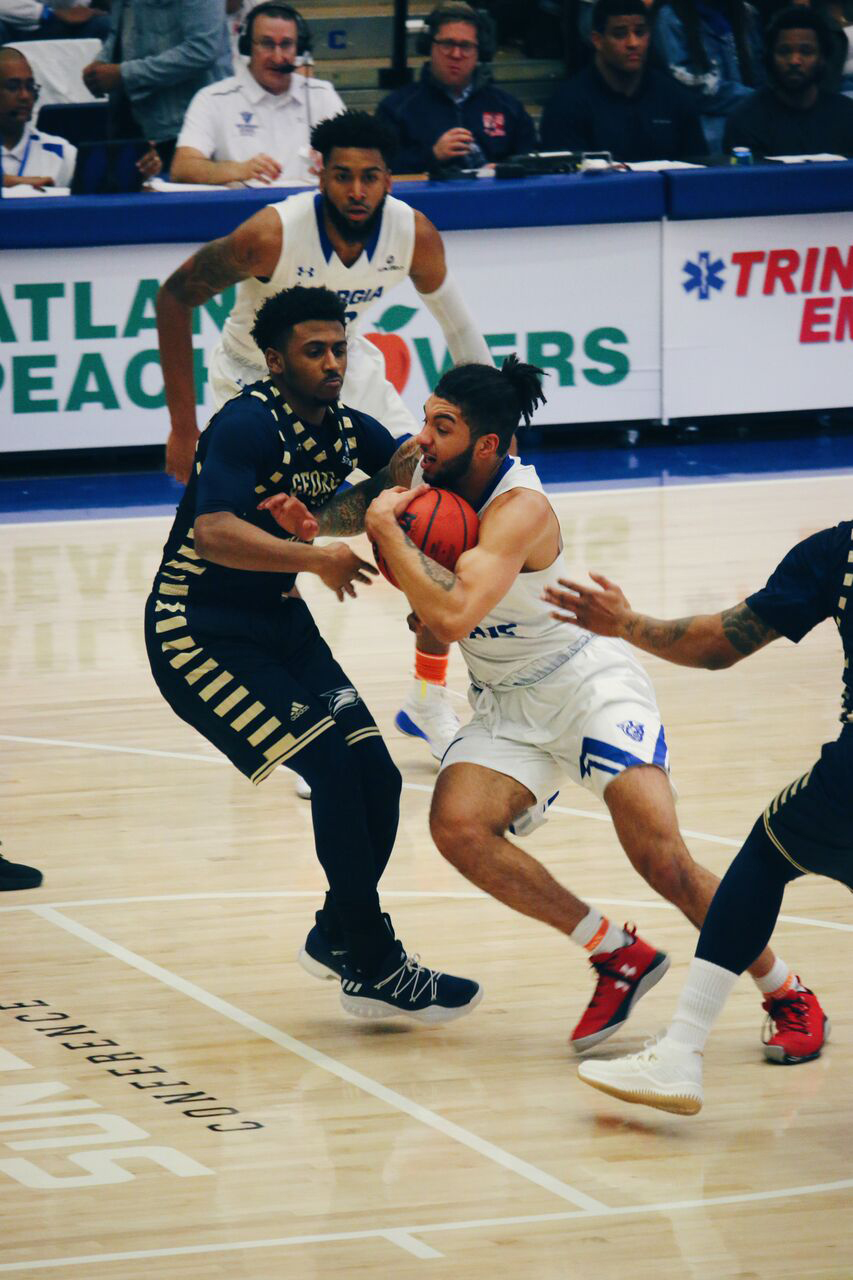 Before the final horn sounded on Georgia State's 90-75 win over South Alabama, head coach Ron Hunter threw his sports jacket to the floor. He earned his first technical foul of the season.
The move wasn't strategic, but worked like it for the Panthers who were in a 1-4 funk over their last five games. They outscored South Alabama 34-28 the rest of the way in the second half thanks to some inspired play.
"It wasn't necessarily a purpose, but for about a 3-minute gap there, I didn't even know we were playing. I just wanted to talk to him, I wanted to put my hands on him and tell him how much I loved him. He stayed away from me man, I just wanted to apologize and say 'Hey, I love you, I really really do. And Happy Valentine's Day,'" Hunter said.
Hunter was speaking on an official after becoming irritated when Malik Benlevi and Isiah Williams picked personal fouls on separate plays just one second apart.
"But they're a good veteran crew and they kept him on the other side. Then I look up, we're up 19. Then in the timeout, I said 'I told you I was gonna get a technical,'" Hunter said.
The jacket was done for the night and the Panthers had a different look in their eyes. On Georgia State's next possession following the technical free throws, Devin Mitchell nailed his first of five second half three-pointers. He shouted he couldn't be stopped to the crowd. Georgia State stretched their lead to 20 at its largest and held on to win.
For the first time in nearly 20 years, Hunter held practice the day before a game. The Panthers responded well to the challenge and importance of a playing a complete game. They held the Jaguars under 40 percent shooting, something they hadn't done to an opponent in
Williams went out in fashion on Senior Day with game-highs of 23 points and three steals. Starting senior Jordan Session didn't have the statistical game he desired, but he completed a career best regular season averaging of 7.5 points, 6.1 rebounds and a team high 1.2 blocks.
Mitchell and D'Marcus Simonds had just five points apiece in the first half but they'd finish with 20 and 21 points respectively. Last Saturday's game was the sixth time in program history three Panthers scored 20 points or more.
Georgia State is the No. 2 seed in the Sun Belt Conference tournament and earned a first round bye. In the quarterfinals, they'll face the winner of No. 7 Troy vs. No. 10 South Alabama. Tipoff is at 5:00 p.m. on March 9 inside New Orleans' Lakefront Arena.
"It's a lot of goods teams. I feel really good about going into this tournament. If you wanna play Georgia State, we're ready. 5 o'clock. We'll be ready Friday. I don't care who we play. We're gonna be ready to play at 5 o'clock on Friday," Hunter said.