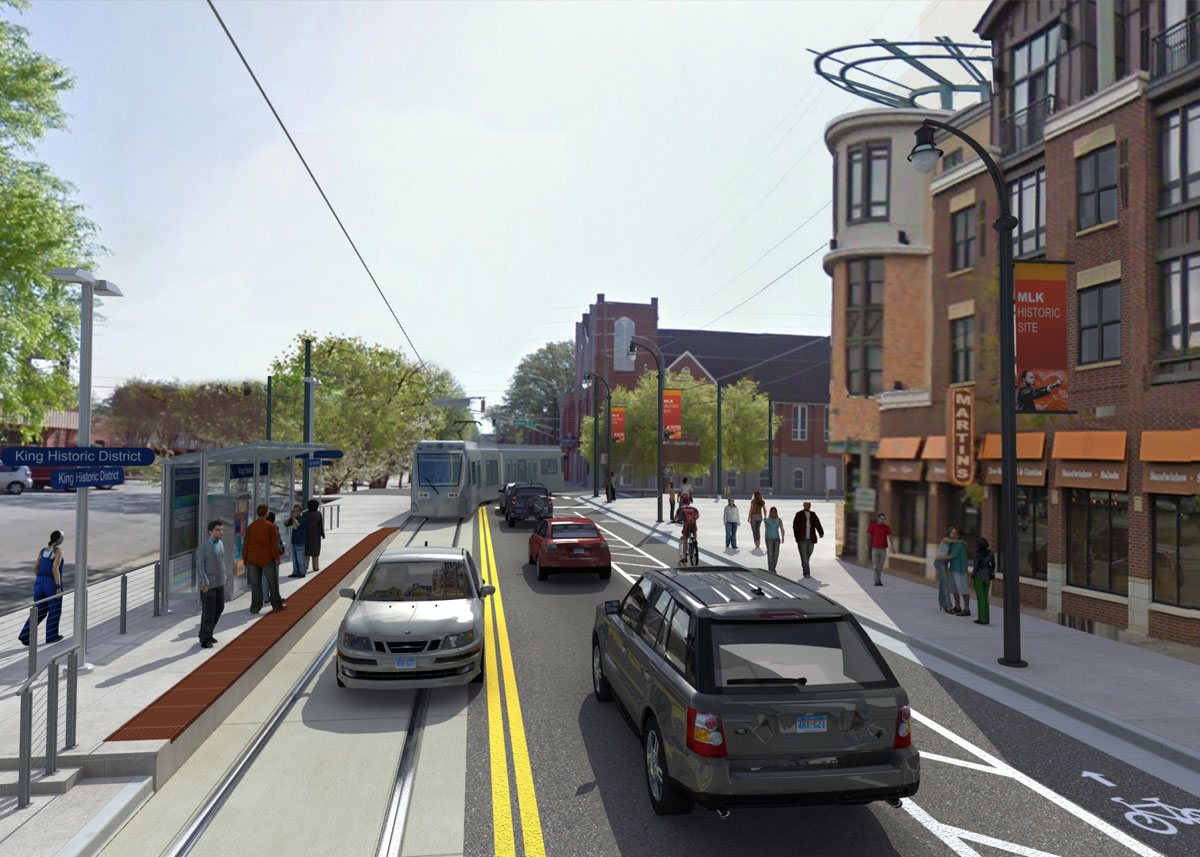 Despite negative attention from students concerned about the Atlanta Streetcar Project Team (ASPT) is working to inform the public about the construction and provide solutions for safer riding.
On Tuesday, Nov. 20, the United Research Services (URS) ASPT had an update session about the current construction for the streetcar in the Auburn Ave. Research Library.
When asked to comment on previous and recent bicycle accidents involving the streetcar's railing system, ASPT said streetcar railings and cyclists do not go well together.
"There were two incidents this week, and we acknowledge that cyclists and streetcar tracks don't mix well; other cities have learned this as well through bicycle accidents of their own," ASPT said. "We are working with Atlanta Bicycle Coalition, URS Corporation, City staff and ADID to put out a short-term campaign to address those issues and educate cyclists."
Junior Jason Youngblood said he rides his bike through the same route every Monday, Wednesday and Friday. He noticed the construction for the streetcar on Edgewood Rd., but never thought it would have as large of an impact as it did on him one afternoon on Nov. 18.
Youngblood was knocked unconscious and taken to Grady Memorial Hospital after doctors informed him that he got in an accident and was bleeding between his brain and skull.
"The construction doesn't stop people from driving or biking off of Edgewood, so I continued to cycle across the road to get onto Hurt Plaza, which seems to be a popular route for other students to get to Aderhold or Woodruff Park. As I was crossing by the streetcar railing, it caused me to land face first on the pavement," Youngblood said.
Although it might seem like an isolated occurance, Youngblood is not the only Georgia State student to be affected by the newly installed railings as well as the construction. A few minutes after Jason's accident, another cyclist wrecked on the same road, suffering from similar injuries.
Mr. Youngblood expressed that his accident and future accidents could be greatly avoided if the Atlanta Streetcar Project Team and Georgia State made a serious initiative to inform students about construction work.
The ASPT will launch a short-term campaign that includes more flyers and posters, and, once the streetcars arrive, they will create a broader campaign for affected citizens.
The ASPT also warned cyclists to simply stay away from the streetcar tracks and take different routes, since the tires on bicycles can slip into the flange-space of the railing and cause injuries.
Another alternative the ASPT suggested was once the streetcar is completed, cyclists could bring their bikes on the streetcar as a way to avoid accidents and get to their next destination.
The Atlanta Bicycle Coalition (ABC) posted a short guide on "how to cross streetcar tracks safely on a bike." The ABC warns bike riders to be cautious around tracks, which are wider than a general bike tire. The guide also says that bicyclists should cross the tracks at a 90 degree angle, and that it is better to not ride when the roads are wet.
The ABC's official website also claims the streetcar will provide a bike lane on Edgewood Ave. from Boulevard to Park Place as well as an eastbound bikeway on Auburn Ave. from Park Place to Jackson.
The two streets will function as a two-way bike route. Cyclists are warned to ride on the opposite sides of the street from the streetcar at all times.
Dillon Safer, a Geosciences graduate student with a concentration in geography, said he has been researching information about bicycle safety as well as trying to create comprehensive bike routes for areas outside of the Beltline.
"The ASPT says that there are signs all on Edgewood Ave. warning bicyclists about the streetcar railing, but I don't think that they are appropriately placed, or even at the view that a cyclists would be able to see it," Safer said.
Safer claims that he has witnessed one bicycle accident while on a tour with his Urban Geography class and has heard about many other bicycle accidents during this construction time.
Safer suggested that the ASPT should appropriately place the signs at both ends of Edgewood and on every street to get their message across about bicycle safety. He also suggested the ASPT should do more to educate drivers on how to travel with cyclists on the road.
Safer said that companies such as Marta and the Atlanta Streetcar Project do have a positive effect by helping the areas around them.
"According to some of the information I researched online about Marta, approximately 220,000 individuals use the Marta train system to get around different parts of Atlanta everyday, and about 139,000 people use the bus system," Safer said.
Though Atlanta has making positive progress with the opening of the Beltline Eastside Trial and the 5th Street green bike lane, bicycle fatalities rose in the year of 2012, according to the Atlanta Journal-Constitution.
The University of Georgia's statistical research center had similar findings, concluding there were large percentages of Georgia citizens who would ride a bicycle more frequently if their community had better bike lanes and/or multi-use paths.
"13 percent of adult Georgians ride a bicycle at least once per month, and 88 percent believe that bikes are reliable and efficient means of transportation," the research said.