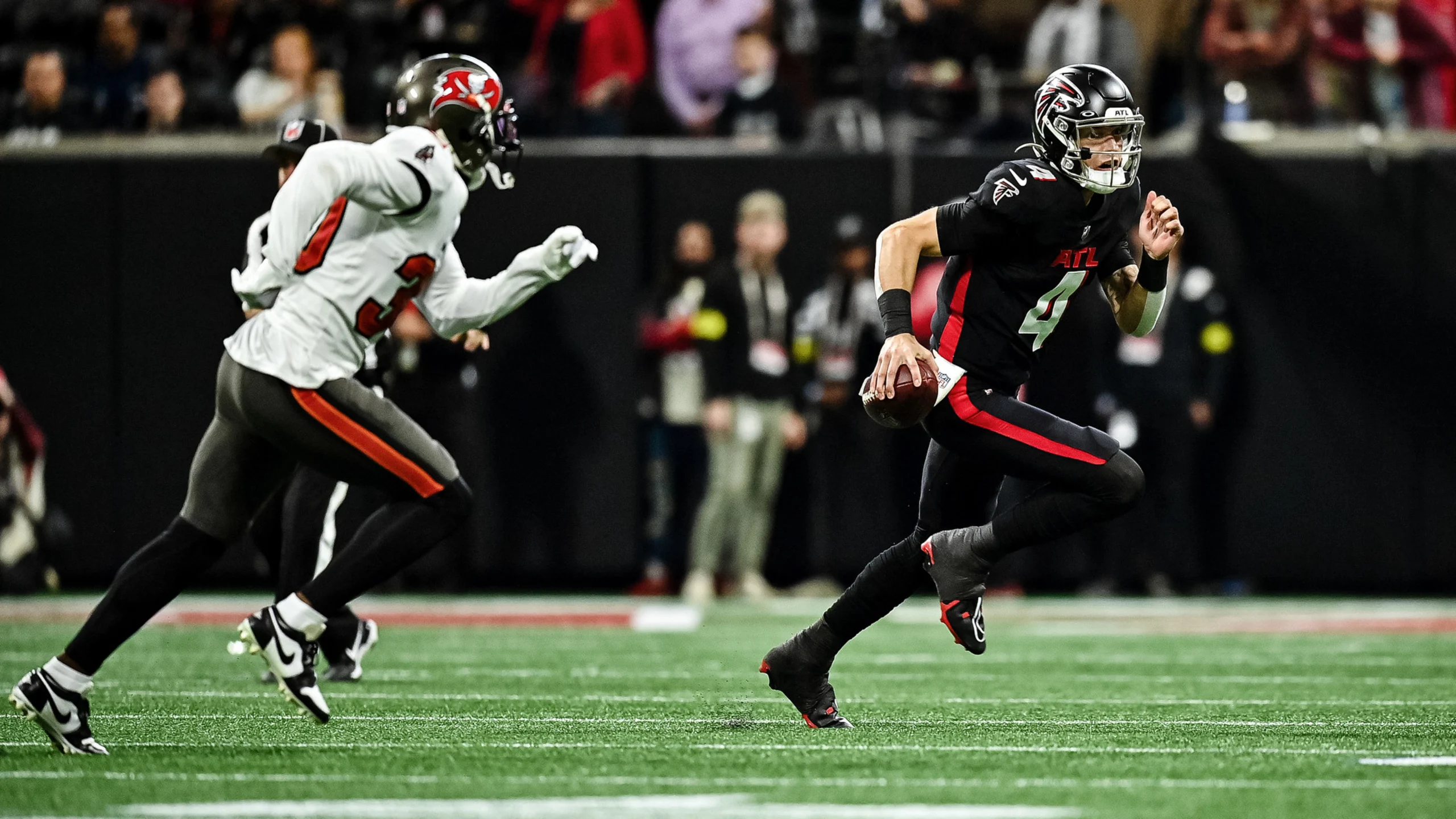 During the 2022 NFL draft, the Atlanta Falcons took Cincinnati quarterback Desmond Ridder in the third round. In his final season with the Bearcats, he set the record for the most wins by a college quarterback in FBS history before he ultimately led his team to its first appearance in the college football playoffs. With the trade rumors surrounding Lamar Jackson seemingly disappearing, Atlanta has made it clear that it will be utilizing the draft or moving forward with Ridder as the 2023 starter under center.
Ridder assumed the starting role with just four games left in the 2022-23 season giving the fans and coaches an idea of how his play would translate into games after only seeing his ability in practice and preseason. His first game played was a loss against the New Orleans Saints where he threw for just under 100 yards and completed 50% of his passes. 
In his first official start, Ridder was able to exceed over 200 yards passing, completing 66% of his passes in the 17-9 loss against the Baltimore Ravens. Ridder didn't pass for his first touchdown until the last game of the season against the Tampa Bay Buccaneers where he was able to throw two touchdown passes, helping the Falcons close the year off with a 30-17 win.
So what does this all mean for the Falcons' future? Early into the free agency period, Atlanta made a splash bolstering the defenses with their most notable signing coming in the form of former Cincinnati Bengals safety Jessie Bates III. On the offense, however, the Falcons were able to not only keep the supporting cast around Ridder intact but trade for former Patriots tight end Jonnu Smith in exchange for a seventh-round pick in the upcoming draft.
Atlanta also added former Washington Commanders quarterback Taylor Heinicke to help provide a veteran presence to mentor the young quarterback. "As a young guy coming in this league, there's a lot of things that get thrown at you from every different direction," said Heinicke. "And it's hard to kind of balance what's going on. So, you know, Sean [Hill] was a great mentor for me. He helped me a lot through that process, and I just hope to be the same to Desmond." The eight-year vet played a significant role in the Commanders' push for the playoffs in the 2020 season as Washington even gave the eventual Super Bowl champion Tampa Bay Buccaneers a hard time in a hard-fought loss.
Atlanta was also able to retain All-Pro guard Chris Lindstrom and top-rated run blocker Kaleb McGary,  causing the chances of a lack of protection hindering Ridder's development to drop significantly, allowing him to display his skill set for a full season.
The Falcons also signed former Raiders' wide receiver Mack Hollins to a one-year, 2.5 million dollar deal to pair alongside Drake London and Kyle Pitts as another weapon for Desmond Ridder. Hollins (29) had the best year of his career last season as he recorded 57 catches for 690 yards and four touchdowns.
As for Ridder's outlook for the future, head coach Aurther Smith has high hopes for the 23-year-old quarterback. "He didn't repeat a lot of the same mistakes, there are a lot of things that go on playing late in the season like that, going on the road," Smith said. "I thought he did a nice job handling those critical downs."
Through all the signings by Atlanta this off-season, it is evident that they want to build around Desmond Ridder and give him as many weapons as they can to help not only his success but the organization's long-term success as well. The upcoming season will be Ridder's chance to prove to the Falcons that he is their franchise signal caller.