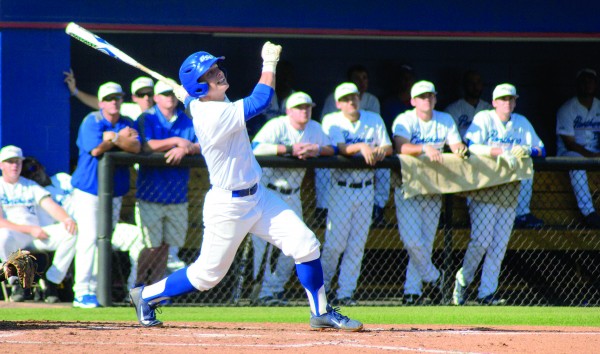 David Mayo launched a game winning home run in the bottom of the 10th inning on Sunday to give Georgia State a 7-6 victory over the Xavier Musketeers.
The win was much needed after the Panthers dropped the first two games of the weekend series on Friday and Saturday.
Chad Prain came off the bench to tie the game at 6-6 in the bottom of ninth inning with a single driving in pinch-runner Trae Sweeting.
Kevin Burgee (1-0) recorded the last out of the 10th inning to secure his first win of the season.
First baseman Nic Wilson paced the Panthers at the plate, grabbing four hits, a pair of RBIs and scoring one run.
Saturday
The Panthers used a three-run ninth inning rally to pull within one run, but still came up short and fell to the Musketeers by a final score of 11-10.
Caden Baily led the team with three RBIs, while Prain and Greg Bowder each drove in two runs.
Friday
The series opened in forgettable fashion, as Xavier pounded out 17 hits in route to a 16-1 victory of GSU.
Wilson plated the lone Panthers' run with a single in the first inning.
Up next
The Panthers now sport an 8-7 record. Their next six games are at home, starting with a two game set versus Siena on Tuesday and Wednesday before opening Sun Belt Conference play versus Western Kentucky this weekend.
The Panthers also host cross-town rival Georgia Tech the following Wednesday, March 19, at the GSU Baseball Complex.