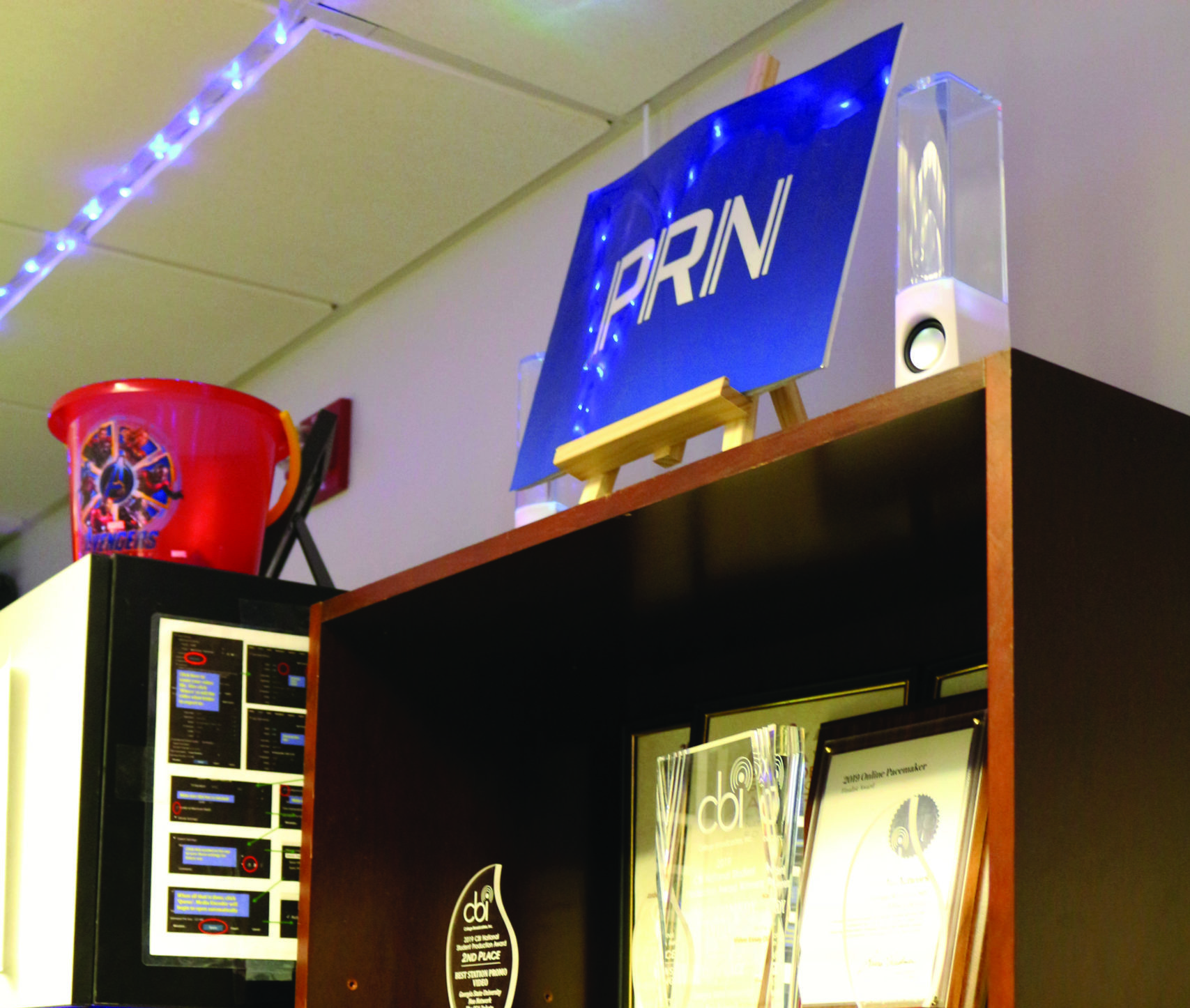 Students interested in journalism, writing, art, film and almost any other major can find a home in Georgia State's student media. 
In addition to The Signal, there are four other student-led media organizations on campus: Album 88, Neo Network, New South and Underground.
Neo Network, or NeoN, is a platform for journalism and film and media students to develop their talents. 
The history of NeoN goes back many decades, but not many people know of it. 
"Of all of the groups I advise, this is the one I have the least history on," Bryce McNeil, student media advisor, said.
According to McNeil, Georgia State's student television broadcasting dates all the way back to the late 1970s and early 1980s when student media began housing the broadcasting organization, then called Closed-Circuit Television. However, the records of CCTV are inconsistent. The organization functioned on and off until the early 2000s.
"I know because of yearbooks and other documentation that Student Media housed CCTV," McNeil said. 
The name was eventually changed from CCTV to Georgia State Television, operating as a private channel that broadcast to university housing. 
"It was primarily for students that had either an interest in journalism, live broadcast or both," McNeil said. "In the pre-internet era, newsgathering was very segregated [because] TV news didn't collaborate with newspapers often, and GSTV was reflective of that."
In 2007, GSTV was temporarily shut down due to inactivity and equipment theft but eventually resumed production in the spring of 2008.
"A review committee was assembled to discuss what to do and eventually a new general manager was hired in the spring of 2008," McNeil said. 
In 2009, GSTV rebooted with a new website.
As the 2010s approached, GSTV decided to broaden their reach and put more emphasis on releasing online videos. According to McNeil, later in the decade, they decided to solidify two divisions, one for news and sports and the other for the creative aspect, seemingly more geared towards film students.
Georgia State aired its first-ever Panther Report News segment on YouTube nine years ago on Sept. 2, 2010, with then-students Crystal Jordan and Joseph Shepherd. 
According to McNeil, "Sophomores," an original GSTV production, finished and screened an episode at the Plaza Theatre in 2011.
In 2014, GSTV launched Primetime Sportz. The same year, Georgia State entered an agreement with Georgia Public Broadcasting, leading to the creation of GSUTV, a separate entity from GSTV, prompting a need for a name change.
According to McNeil, Many students commonly mistook GSTV for GSUTV. Though its name was officially changed to NeoN this past year, McNeil claims it was discussed prior to this. 
"It was decided as early as 2016 that a name change was eventually going to be necessary but a lot of workshopping and logo development happened first before we committed to the new name," McNeil said.
In 2018, GSTV officially rebranded itself under the name NeoN.
Short for "Neo Network," the acronym NeoN was created for logo design reasons and to emulate the trend of two-syllable on-demand content providers like Hulu.
Though there are similarities between GSTV and NeoN, such as the student body being its primary audience and the news and sports team being their primary segments, there are also a few differences as it has evolved over time. 
The focus of NeoN is more so on the entire student body rather than just student housing. Additionally, NeoN also has a whole section for creative filmmaking — something GSTV did not always have.
According to Alexandria White, NeoN's general manager, the student volunteers who work at NeoN are driven storytellers who want to advance their network and skill sets through applied practice.
"Members of Panther Report gain real-world experience by participating in pitch meetings, filming weekly broadcast in a studio and field reporting with industry-standard equipment," White said. 
With respect to its creative areas of production, students are given all the necessary resources to give life to their ideas. 
"Whether they [are] producing their next award-winning short film, assisting our marketing and social media team with promotions or anchoring a news broadcast, NeoN volunteers have access to portfolio-building opportunities that tend to set them apart from their peers," White said. 
Although White has a background in public relations and marketing, being the general manager of NeoN has given her opportunities to advance her knowledge on managerial and project management skills while giving her insight on the broadcast profession.
According to Kevin Sanchez, NeoN's news director, when looking at new potential members the first thing he notices is how hungry they are and if they are passionate about the craft of journalism.
"A lot of times, students can be a bit hesitant to join because they have a job or they don't live on campus," Sanchez said. "But we try to remind them that we've seen people from those same circumstances graduate and receive a job offer right after."
Sanchez began working at Panther Report News his freshman year at Georgia State. When Sanchez first began there was no weekly newscast. 
"We published our content every few weeks, but we wanted somewhere to showcase the news on a regular basis," Sanchez. "It wasn't until December that our News Director Breana Albizu and Team Leader LaDarrius Heath helped lead a dedicated team to make it happen."
This dedication and teamwork have lasted since it began and runs down the chain of command through members such as Jett Parker and Kara Nelson.
Jett Parker is the sports director of PRN. Parker has been working at NeoN for a year and a half. He entered as a videographer for Primetime Sportz before it merged with NeoN.
"I decided to join because I had just changed my major to film and I was looking for opportunities to gain experience," Parker said. 
"My favorite experience since joining PRN would have to be going to either the NFL Draft or watching the upset against Tennessee," Parker said. "Both felt like an out of body experience, simply because, this is it, this is what I want to do and this amazing organization has allowed me to do this."
Kara Nelson, NeoN's executive producer, joined PRN in 2017 during her sophomore year. Similar to Sanchez, Nelson has seen PRN go through similar changes. 
"The introduction of the newscast was the first step in our organization's growth," Nelson said. "All of the other changes I've witness would be our growing social media presence, graphic and camera quality and professionalism of our reporting."
Nelson views Panther Report News as a big family, something that is only growing and getting better.
"My two most recent accomplishments are having the chance to intern with Fox 5 Atlanta and participate in the 2019 NABJ Student Multimedia Projects," Nelson said.
Although students at PRN have different goals in mind, they all come together to support each other. 
"I do have to say that PRN wouldn't be close to where it is without Kevin and Kara," Parker said. "The leaps and bounds we have made over the past year has been nothing short of remarkable."