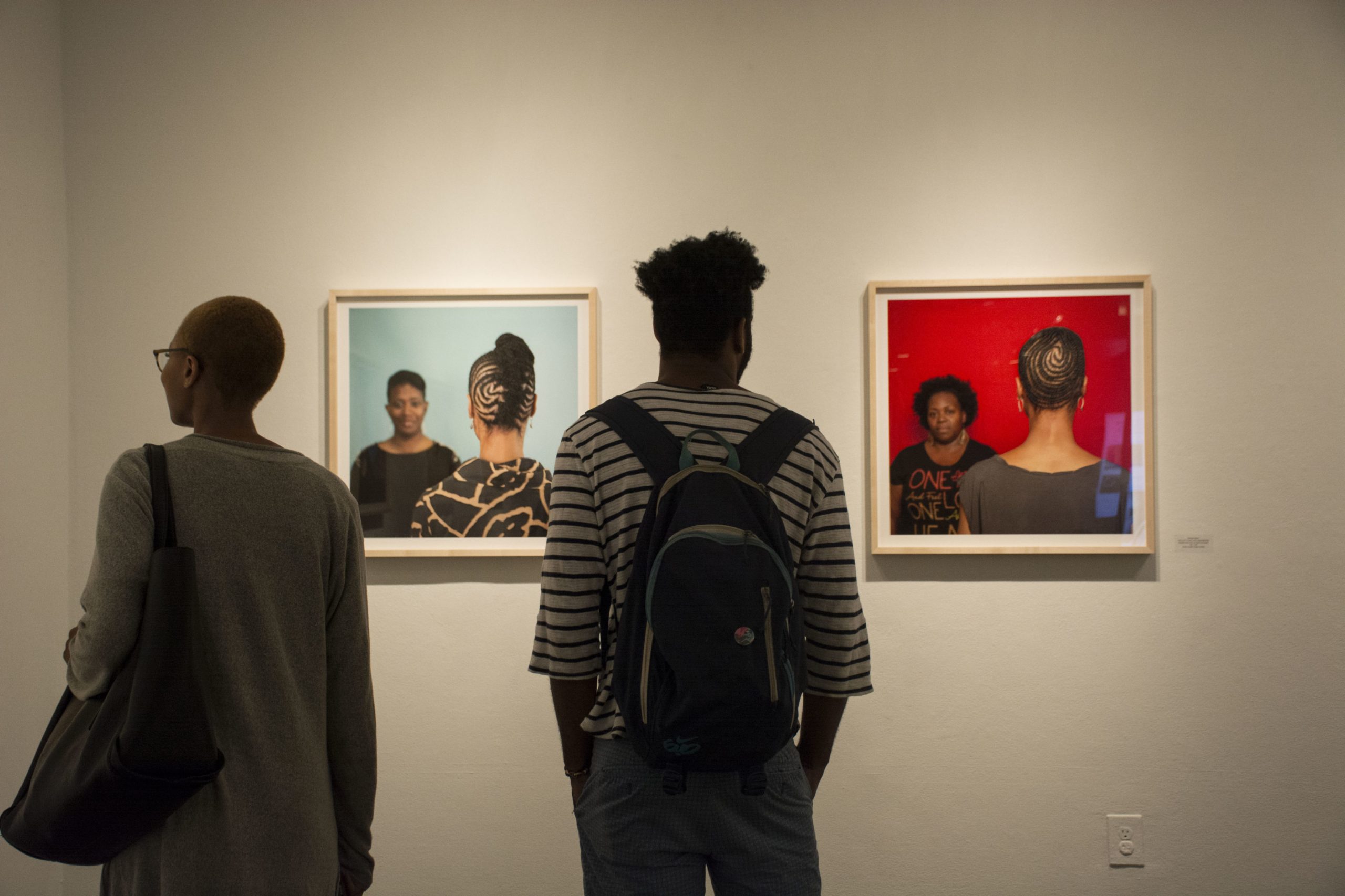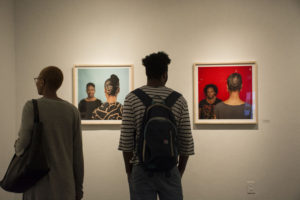 Hair is really a huge part in all of our lives, although we tend to not to give it much thought, unless there's something special coming up. Artist Sonya Clark wants to change that through her "Hair Craft Project," currently on display at the Welch Gallery.
"Sonya Clark is a visual artist working with fibers as her primary material," gallery director Cynthia Farnell said. "In this exhibit, she is thinking of hair as our most basic fiber."
The two-part series was then made with the help of professional hairstylists and includes work from Kamala Bhagat, Dionne James Eggleston, Marsha Johnson, Chaunda King, Anita Hill Moses, Nasirah Muhammad, Jameika and Jasmine Pollard, Ingrid Riley, Ife Robinson, Natasha Superville and Jamilah Williams.
Each stylist first created their styles on Clark. Then, they were given a canvas which was stitched with silk thread to emulate a head of hair. Their job was to create an innovative – but temporary–  style on Clark and then transfer that style to the canvas. Naoko Wowsugi and Diego Valdez then captured photos of Clark's hair as she posed with the stylists.
Although the canvases are not currently in place at the exhibit, all 11 photos taken of the hairstyles Clark modeled for are now on display at the Ernest G. Welch Gallery, thanks to Farnell.
"There has been a tremendous interest from our students," Farnell said. "We've had a great response on reserving free tickets for her lecture from faculty, students and the wider Atlanta community."
Despite opening recently, Farnell said the exhibit has received "a steady stream of visitors already," and she hopes that "all of the students on the downtown campus (and Perimeter campuses also) will come in and check it out."
About the Artist
Clark's work has centered around Black hair, so Clark set out to create something that highlighted Black hair and the art of dressing it.
"Hairdressers are my heroes," according to Clark's website. "These artists have mastered a craft impossible for me to take for granted."
Clark's website stated the project is aimed at bridging the gap between art galleries and hair salons in order to show that they are both "sites of aesthetics, craft, skill, improvisation and commerce."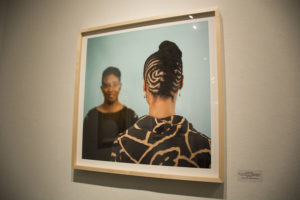 The exhibit's impact
Farnell enjoyed the exhibit immensely, so much so that she said she can't choose a favorite piece.
"They are all marvelous," Farnell said. "It would be difficult to choose from such a wide variety of creations."
According to Farnell, Clark's exhibit was chosen based on "the curriculum of the Welch School of Art & Design, which is a part of the newly formed College of the Arts. We have a faculty committee that generates ideas and considers proposals. School of Art & Design Student exhibitions are built into our schedule such as the BFA exhibits, Annual Juried Student Exhibition and MFA thesis exhibitions."
Ashli Trammell and Jarret Goodly, Georgia State students who were visiting the gallery, also said they enjoyed the project.
"I like the message behind it," Trammell said. "There's different personalities within each different style."
Goodly agreed, saying the project was "pretty cool," but left room for improvement. Goodly suggested the addition of "live models" would have amped up the display.
"Or a video of [the hairdressers] doing it," Trammell said.
Farnell, on the other hand, thinks the exhibit is perfect as it is: "I'm very satisfied with how the photographs fit so elegantly in the space."
You can see the exhibit and judge for yourself now through Nov. 11 in the Arts and Humanities building. Clark truly highlights the work and craftsmanship involved in hairdressing, while also bringing African-American stylists to the front of the conversation about Black hair.
Gallery Hours:
10 Peachtree Center Avenue
Atlanta, GA 30303
Monday – Friday: 10 a.m. – 6 p.m.
Closed weekends and university holidays.
Admission is free and open to the public.
Visiting Artist Series:
The "Hair Craft Project" exhibit will be in place at Welch Galleries now through Nov. 11.
Sonya Clark will be on campus as part of the Welch Gallerie's Visiting Artist and Lecture Series on Nov. 10. The event is free, but tickets can be reserved through Eventbrite. There will also be a reception immediately following the lecture.
Lecture:
Nov. 10
4 – 5 p.m.
Speaker's Auditorium
Student Center East
Reception:
5 – 7 p.m.
Welch School Galleries
For more information, you can check out the gallery website at: http://artdesign.gsu.edu/artgallery/.
Upcoming Shows:
Fall 2016 BFA Exhibition
Dec. 1-16
Reception: Dec. 1
5 – 7 p.m.
The BFA Exhibition will show off work by students graduating with a BFA from the School of Art and Design. The event is designed to celebrate the students' accomplishments and provide them with public exposure.
Dear World Exhibit
The Welch Gallery will also be hosting a display of the Dear World photo series taken at Georgia State. The exhibit will be on display for a month early on in the spring semester.