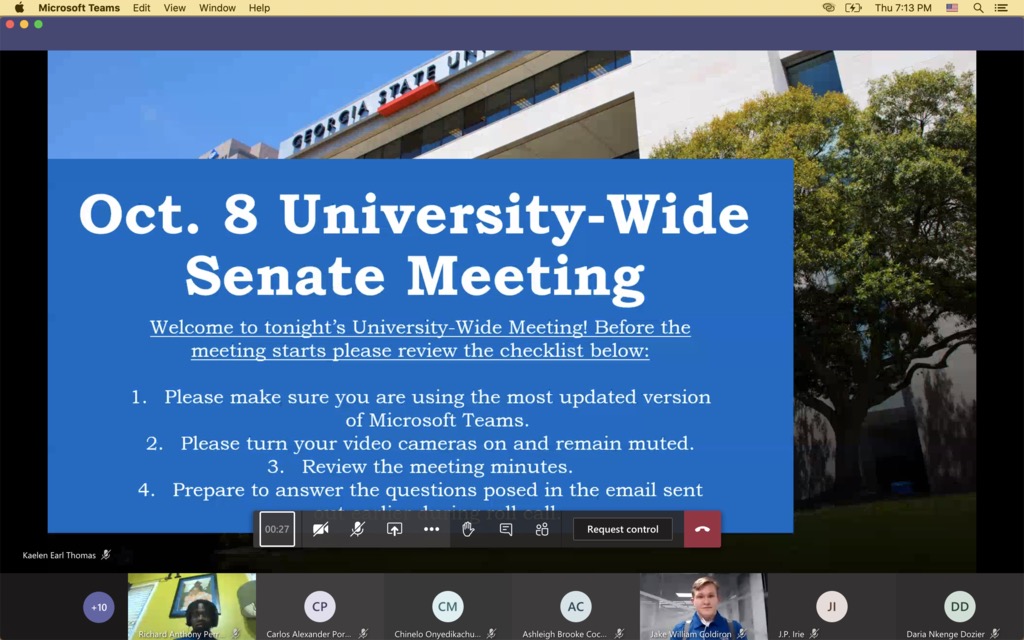 On Thursday, the Student Government Association's 91st administration held its third University-Wide Senate meeting of the semester. 
The meeting began around 7:15 p.m. with the usual roll call; however, executive vice presidents and senators were asked to answer two questions before proceeding.
Hoping to keep students "F.I.R.S.T," SGA University-wide President Kaelen Thomas's first question to SGA members was "how can we effectively reach out to students?"
The majority of members believe that heightening the student government's social media presence will increase student involvement. 
One senator said that, because Georgia State is such a large campus, social media is "for sure a go to." He believes that reaching out to the masses is "always going to be important." Him, along with other members, want to become more active across varying social media platforms, especially because the pandemic has limited in-person communication.
"I think for the first question, I would definitely say that reaching out through social media would be such a great way to engage with students," Atlanta Senator Samuel Pittman said. "I think student takeovers [and] featuring some of our officers would be great. It's really personable and really effective with reaching [out to] people."  
SGA members suggested there be a student of the week, to "match a face to a name" and share a member profile once in a while. Other suggested methods for effective communication were weekly newsletters, utilizing current platforms like iCollege, and mass text messages and surveys.
However, the student government association hopes that social media is not the only outlet they use to reach out to students.
"I know I talk to my friends and they'll tell people … 'if you have a concern let me know and I'll let my friend in SGA know," Atlanta Senator Ashleigh Cochran said. "What people are saying about social media will help, but I feel those really personal connections [also help]."
Atlanta Senator Hewitt Mesfin echoed the sentiment by agreeing that it should be made apparent that SGA is for the students. 
"I agree with everything everyone has said. I do believe that it's our duty to reach out to students rather than wait for them to come to us," she said. "I feel as though we should, like everyone has said, reach out to our friends… and advocate for SGA and let everyone know that they can come to us."
The second roll call question addressed communication within the group: "what is the best way to communicate with other SGA officers?"
Senator Pittman believes that finding ways to meet in a "more informal way" will improve the communication within SGA.  
"I think making sure that we're having hard work, but we also have 'nice time too' like leisure [will help]," he said. "Our work is really important, but sometimes if we are not taking the time to actually get to know each other outside of our work, it really infringes on our ability to get things done."
SGA members agree that applications like GroupMe, Microsoft Teams and Slack are useful, but members want a setting where they can discuss unofficial business.
SGA members also want the communication to get compacted, seeing that SGA uses more than one outlet to communicate with each other.
After the 40-minute roll call, quorum was met and the meeting continued as usual.
The group approved the minutes of the Sept. 10 university-wide senate meeting, and then began the "special report section."
This meeting's special report was the student emergency response team, or SERT. 
Dr. Kim Ramsey-White, a clinical assistant professor in the School of Public Health, advises the team. She prefaced the presentation by introducing SERT and its student ambassadors.
"We have a phenomenal team of [Georgia State] students who have been working very hard to deliver the proper COVID-19 public health facts to the [Georgia State] student body," White said. 
Over the summer, the School of Public Health recruited students who were interested in learning and sharing COVID-19 information to help the Georgia State community stay safe during the pandemic. 
SERT ambassador Jake Coldiron shared how the pandemic is affecting the amount of students on campus, and that "if [a student] ever wanted a small college feel in an urban center, now is the chance."
Coldiron also shared the methods of COVID-19 testing and how testing at the university is selective.
"The only testing location on the [Georgia State] campus currently is the student health clinic and they're fairly restrictive on who can get a test," he said. "However while there are those heavy restrictions on the [Georgia State] side, there are testing sights around the metro area."  
Coldiron said that COVID-19 testing efforts decrease while positive cases increase on campus. Georgia State students should be concerned about the restrictions on testing and should push for unrestricted testing. 
SERT ambassador Daria Dozier then showed a video titled "How Students Can Protect Themselves: COVID-19 Info Module" by Georgia State Campus of Care Committee, from SERT's 7-step campaign. 
After the video, Dozier talked about being a college student during a pandemic.
"During this portion, I just want to offer tips on managing academics during a pandemic [and] discuss how to socialize safely," she said. "[I want to] gently remind you to prioritize your mental health and offer some resources if you need any extra assistance."
There were five tips for managing courses during COVID-19: create a realistic routine, mark important dates in a planner, create a workspace, ask questions, and don't be afraid to ask for help. 
Dozier said that asking for help goes beyond the classroom and that "everybody needs somebody."
University-wide President Kaelen Thomas's closing remarks touched on this idea. 
"I, myself, have also been finding it difficult to stay positive and motivated while also juggling the competing demands of school, work and life," he said. "Remember, the Counseling Center and Student Health Clinic are resources that are available to you. To be a student leader, you must first be a student, so please remember to take care of yourself."