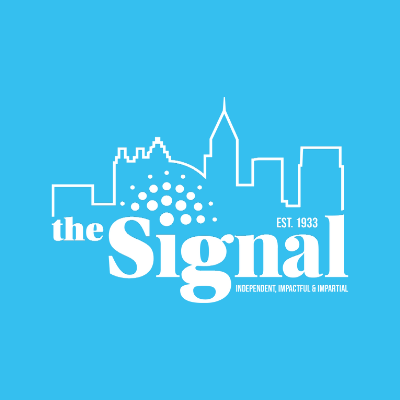 The sandstorm will begin its next sweep through campus when Georgia State's sand volleyball team dives head first into its second season on Tuesday.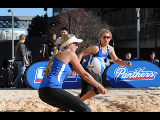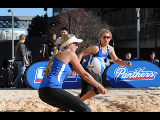 The sand volleyball season only runs from March until May, which leaves plenty of time for practice in the offseason. Since last season, the inaugural season, the women have been brushing up on their skills, practicing pulling, defense and arm swings.
Sophomore Jansen Button, who was recruited as a freshman from California, said the team has advanced from the basics to more advanced practice regimens.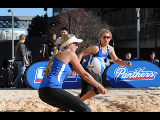 "Last year, we were working on fundamentals. This year, we just stepped on it and we're getting right into game mentality," Button said. "It's a better mindset this year, more go-getter," she said.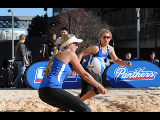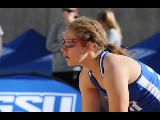 Senior Katie Madewell agreed that the team's offseason has helped prepared the team for their first home match on Tuesday.
"We've been working so hard and have such a short season—the offseason is such a long process of us brushing up on skills," Madewell said. "People are expecting big things from us, as they should."
Madewell said Tuesday will be a statement of all the hard work from last year and this year combined.
The team's goal for the second season is to continue defining the program and getting its name out.
"We want to make teams know that we're definitely a competitor," Button said. "We have nothing to lose, we're going to go in and play our best. I think we're going to surprise a lot of teams with the talent we have this year."
Recruitment and growth
Former Assistant Sand Volleyball Coach Beth Van Fleet was promoted to head coach when Tami Audia became the director of volleyball at Georgia State.
Madewell said that Van Fleet travels and recruits the best of the best for the program, which is part of the reason the 2014 season will be promising.
Lane Carico and Nikki Senopoulos are the only members who left the team after the 2013 season. There were 12 teammates last year, and now there are 16––something Van Fleet said they're most proud of.
"It's an incredible strength for our team and gives us a lot of potential," Van Fleet said on the team's size. "Across the board, having that much depth makes us that much more of a threat."
Since the team is young, it recently spent all of 2012 recruiting. With the majority of the team made up of sophomores, Coach Beth Van Fleet said they are the nucleolus and culture of the team.
"The sophomores are maturing and growing within the game and within themselves as students, and as human beings at an incredible rate," Van Fleet said. "There's a huge difference between last year and this year. We're very excited that we have that group for another two years after this."
The NCAA's fastest-growing sport
Fourty colleges and universities have now adopted sand volleyball, which is the milestone for the NCAA. Once 40 schools have adopted sand volleyball for two years, it will become a fully sanctioned NCAA sport.
Until sand volleyball is an official NCAA sport, the American Volleyball Coaches Association (AVCA) will continue providing a national tournament for the colleigate sport.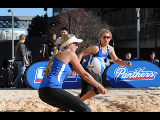 As a coach, Van Fleet's goal is to take it day-by-day and piece-by-piece. She said if the team is successful in that, they can be successful in accomplishing the team's goal: qualifying for AVCA at the end of the season in May.
In 2013, Madewell and her partner Lane Carico made into the AVCA tournament, but fell in the quarterfinals to a pair from South Carolina.
The Panthers' inaugural match in 2013 had almost 1,000 fans packed in the facility.
The energy that the students exuded was unlike anything the women of sand volleyball ever expected, but this year, they're hoping for an even bigger turn out.
"It's our hope that they remember how much fun they had and want to come back out and support," Van Fleet said. "It's just a fun atmosphere and it's not something that most college students have the opportunity to attend."