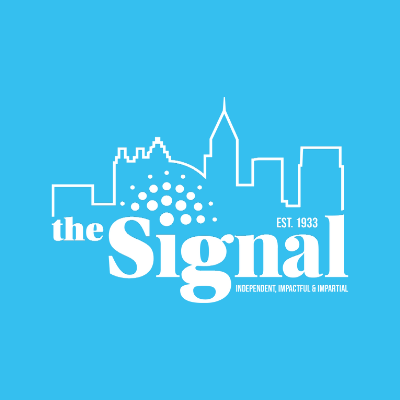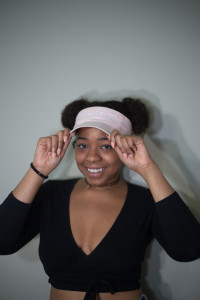 Clothing can be a bane necessity for some, used for artistic purposes, or as a way to piece together an identity. Clothing with a message can be used as a catalyst to carry and broadcast whatever the wearer wishes. For Atlanta clothing brand Pussy Power, the message is pretty clear and succinct.
Taylor, or Tay, Tousana is the founder of a local start up clothing brand called Pussy Power.
"Pussy Power is a lifestyle brand based here in Atlanta," Tousana said. "We promote unity, self-empowerment, and being active members of the community."
The phrase may seem bold and brass to some, but that is the essential point. Inspired by everyday surroundings, the phrase seems simple and powerful enough to become a notable catchphrase.
"I wanted to choose words that were aggressive and quick to catch the attention of anyone walking past someone wearing the merchandise," Tousana said.
The brand currently sells five items of headwear, three caps and two visors. The three caps come in pink, black and white. The visors, in black and pink. Each clothing piece bears the aforementioned slogan, Pussy Power. The attitude and boldness in such a phrase resonated enough with Tousana to inspire her to gaslight and found the lifestyle brand.
"My vision for this company is to obviously expand on merchandise, but most importantly impact the world," Tousana said. "That's why pussy power is so much more than a brand; it's more of a lifestyle. It's about self-empowerment and treating all genders races and nationalities with respect."
Robbie Callens, the photography intern for Pussy Power, became a part of the creative team after hearing about the brand at a bonfire with a group of creatives. The intern call was being held at Edgewood's Joystick Gamebar, and from there he got an offer.
"I am the photography intern, so I attend all the meetings and as many of the events that they host and take pictures for their social media content," Callens said. "Like Instagram, Tumblr and their website."
Callens works under the main photographer, Nayquan Shuler, and is shown the ropes of setting up shoots and choosing his own creative vision.
"They give me the freedom to set up my own shoots with setting and models of my choosing or sometimes they will provide that," Callens said. "Their main photographer is further along in his career and will do some of the bigger shoots for the website, and I'll add secondary angles and content for behind the scenes or just extra content."
Their artistic vision? "The aesthetic sticks to pink, black and white. And it's got a bit of a neo-punk vibe to it," Callens said.
With a pink pastel feed covered in daily motivation pictures and filled with attitude, Pussy Power's Instagram serves as a curator of their image.
"Pussy power is simply the most simple way to put it," Tousana said. "I combine influence from my creative process, along with the Pussy Power team member's creative process and come up with a direction from there."
The intended wearer and demographic of Pussy Power, despite the name, is for everyone who connects with the style.
"I envision everyone wearing my brand's merchandise," Tousana. "Pussy power stands for equality. So I see people from all races, genders, shapes and sizes rocking our brand name with confidence."
——-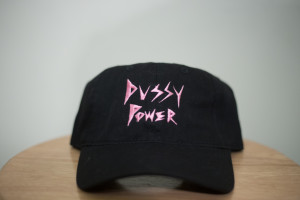 Their Place in the Community
Pussy Power and associated friends have put together events in the past for the community, ranging from the art community to the philanthropic.
"They have hosted full moon mixers at the Artlanta Gallery, a clothing drive over the holiday break, and had [a] part in a recent female photography exhibit at Studio No. 7," Callens said.
They have also hosted a toy drive with artist Raury, where all proceeds went to a local women and children's shelter.
Pussy Power also dips their toe into the Atlanta music community, with sponsoring female acts around the city. Tousana is the manager, and subsequent sponsor on behalf of Pussy Power, of local act Eri Soul.
On April 16, Pussy Power and Eri Soul participated in Souls' EP release party that held performances from other local artists like Nai Br.Xx and Exit Culture.
———
Feminism?
Pussy Power is about women empowerment, but the term feminism can be rather polarizing, where people either take on the title proudly or reject it.
"Over the past couple years feminism has become more of an extremist perspective," Tousana said. "Almost to the point where people just assume feminists hate men. When really feminism is about equality. Men are equal to women and women are equal to men."
For Callens and others who work for Pussy Power, believing this is what begins the basis of their involvement.
"I told them when I first joined, what is man without the strength of women? Which, as a question, defies the primary separation of identity for humans," Callens said. "And when you try and answer I guarantee you, it always ends up at nothing. I grew up in a place where identity was what you made it, not what others perceive onto you. I believe that feminism deconstructs the systems of structuralism and patriarchy where they have grown out of control."
Thought in sync and ideology with feminism, the brand itself doesn't consider themselves a political feminist clothing brand, but simply a potential vessel for some empowerment.
"It's about equality, it's more of a female empowerment brand," Tousana said. "For me, starting a business was all about claiming my independence. All you have to do is get up and actually do it, and that goes with anything you want to do in life."
———
Find the power
Besides sporting the bold caps, a good way to learn more and hear of any announcements or events is to keep a close eye on their social platforms.
"Best way to get involved is to follow us on social media and stay up to date. We are always looking for help when we get involved with the community," Tousana said.
Instagram: @puss.ypower
Snapchat: puss.ypower