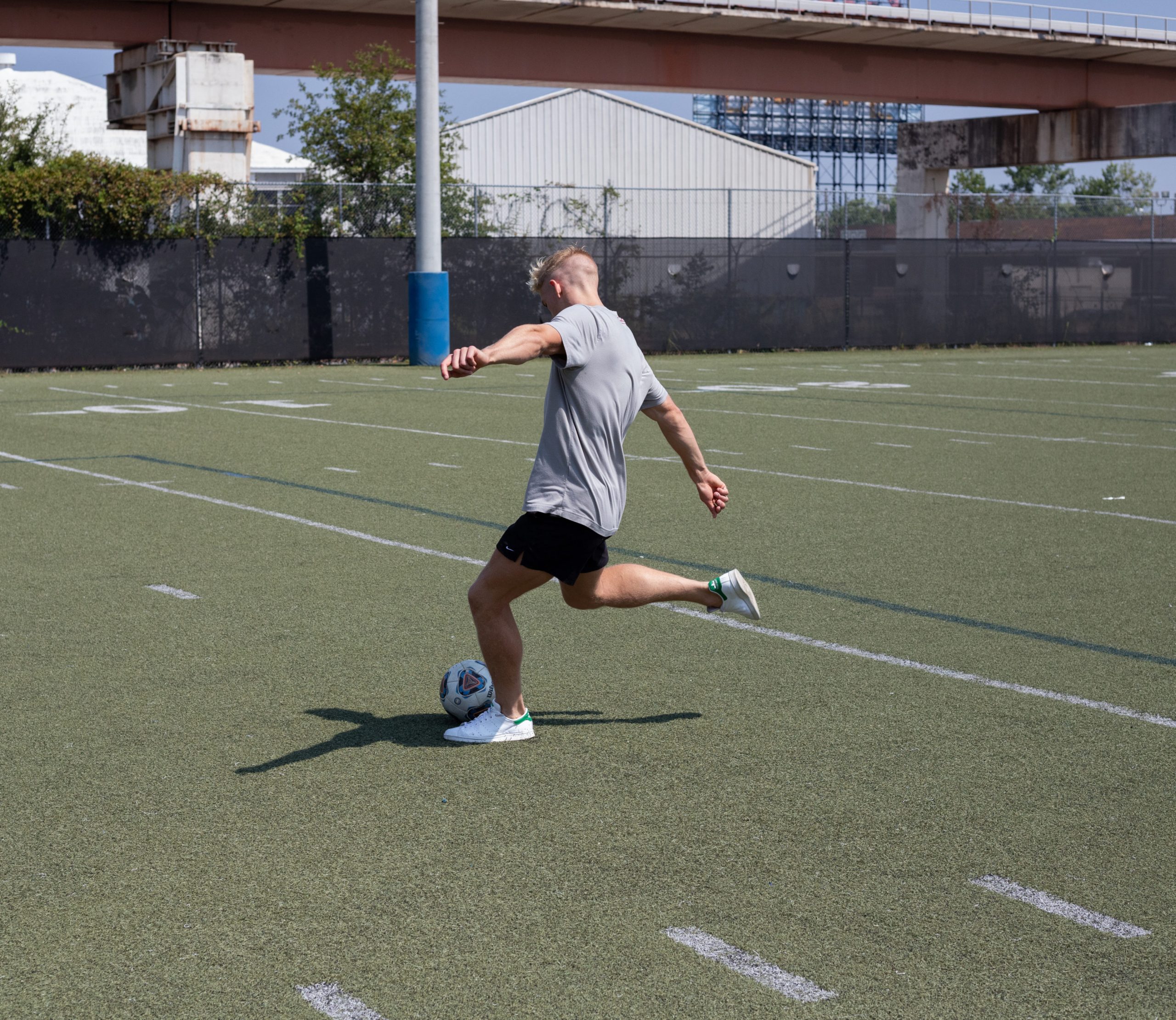 We're changing things up a bit on this week's Lunch With. On this installment, no food is involved. Instead, my guests played a bit of football — that's the real football, by the way — and chatted about their careers and lives at Georgia State.
My guests this week are Paul Tyson and Frank Rosenwald. Tyson is the starting goalkeeper and Rosenwald is a starting forward and midfielder on the men's soccer team. 
Both come from England and are big fans of Liverpool Football Club — a club I have also been supporting for as long as I can remember. We talked about topics ranging from English football to balancing sports and academics. First up was Tyson. We started by talking about the current season. What follows are highlights from our discussion.
Espen: First, can you talk a bit about this season and how it has started?
Paul: We've done really well. We are still unbeaten and have won all our home games. We just had a tough tie against UNC Asheville.
Espen: The match went to extra time, didn't it?
Paul: Yeah. We didn't take our chances. They scored two good goals against us, but we managed to earn the draw. We are doing well and I am enjoying it so far. Our last game was our first shutout as well.
Espen: So, how have you enjoyed putting on the jersey and representing Georgia State over the last couple of years?
Paul: It is an honor. Obviously, Georgia State has become one of the top Division I schools in the country and it keeps growing. 
Espen: So, talk about what it has been like to compete and study at the same time. This is something that is unique to the [U.S.] that I don't believe you can do in England.
Paul: Yeah, it was the main draw for me coming to the [U.S.], to begin with. Being able to play a decent standard of football as well as working towards a degree was always the main thing for me. In England, you either have to pick the education or a good level of football and here, you get to have the best of both. Obviously, it is a different lifestyle. It has been a really good experience.
Espen: What has the sport meant to you throughout your life?
Paul: I always played Sunday League growing up, but it was never my main sport until I was 15 or 16. I became a goalkeeper at 16, so I was really late to the professional well of footballers. But I always grew up playing it and loved it. I was a massive [Liverpool FC] fan growing up and went to a lot of games. So, from 16 onwards, I started to take it a lot more seriously. From there, it just became my whole life. I played for two years at Oldham Athletic and went to Nike Academy for a year. Then, I came over here.
Espen: So, for those who may have no idea, speak a bit about the goalkeeper position and what makes it unique.
Paul: I get to use my hands. Traditionally, goalkeepers were simply there to save shots, but as the sport has progressed, it has become more about playing out from the back. So, being good with your feet is very important; it is not all about making saves these days.
Espen: So, I want to talk a little bit about your home, Liverpool. Where in England is the city located and what it is like?
Paul: So, Liverpool is in the North [of England] and on the coast. It is about 4 hours away from London. It is a great city. It has two football teams, Liverpool and Everton Football Club. We're only 40 minutes away from Manchester United and Manchester City, so football is obviously a massive part of the city. Music is [also] a big part of the city. The Beatles came from Liverpool.
Espen: Were you back in Liverpool this summer?
Paul: So, I played summer league in Greenville, South Carolina. I was there this summer, but at the end of the season, I got to go home for 10 days. I usually go home at the end of summer and at Christmas time, I go home for a month.
Espen: So, can you talk about the term 'Scouse'? What does it mean to call yourself Scouse?
Paul: So, Scouse is obviously the dialect of Liverpool. We have a very distinct accent compared to everyone else in the country. A Scouser is someone who comes from Liverpool. I am obviously very proud to be a Scouser. I am the only one on the team now. When I first came here, it was me and two others. Hopefully, when I move on, [head coach Brett Surrency] gets another one in. 
Espen: And you mentioned earlier that you're a big Liverpool fan. I assume that is the club you have supported your whole life?
Paul: Since I was a baby. I have always supported Liverpool and that is just how it seems to go in England. You just follow the team your dad supports. 
Espen: What is the matchday experience in the city and at Anfield like?
Paul: It is great. The atmosphere in England, especially in Liverpool, is quite different to any American sport. We don't have the American "razzmatazz," where you have all these different games and stuff going on at halftime; it is all about enjoying the sport and the atmosphere. We sing a lot of songs.
Espen: Where did you catch last season's Champions League final?
Paul: I was here, actually. My parents came over for it and we went to Fado, the Irish bar in Buckhead. A couple of my friends went to the match in Madrid, so I was really jealous of them.
Espen: So, looking forward, do you see yourself trying to pursue a further career in football?
Paul: Yeah, I would like to stay out in the States. Hopefully, I could be able to gain a contract after playing at Georgia State. But, obviously the idea of coming out here was that I would always have a backup with a degree. If it doesn't work out, I may try for a master's and look at maybe coaching.  
Next up was Rosenwald.
Espen: Same question I asked Paul. Talk about this season and how it has been going for yourself and the team.
Frank: It has been great. We set ourselves a target to get the first six games won. We are four in now, and we're unbeaten. We are going to try and keep these things going and just push on for the rest of the year.
Espen: This being your senior year, what has it been like to represent the school for the past few years?
Frank: It is really weird being a senior.
Espen: Isn't it?
Frank: Yeah. It has gone by so quickly. It doesn't feel like I am in my last year, but I am going to just try and cherish every moment now because it is going to be over soon. 
Espen: Obviously, football has meant a lot to you. Talk about the role it has played in your life.
Frank: It is huge. It was noticeable when I picked up an injury last semester. You only realize how big a part of your life the sport is when you lose it for a bit. The sport is like a part of my family and has been there since I was 4 or 5. I am never going to be able to let it go. 
Espen: So, I want to get your perspective on studying while competing.
Frank: It has been ok for me because before I came here, I was actually doing a similar thing, in playing most days of the week and also being in school. So, it is hard, but the travel is where it becomes difficult. 
Espen: How have you enjoyed being in Atlanta and getting to explore the city?
Frank: It is cool. I come from a really small place. So, I have never been a city boy, but there is so much to do here. It is loads of fun. You're just never bored. You can just go outside and go somewhere. 
Espen: Were there any culture shocks you had to adapt to? Or was it fairly easy to transition?
Frank: I think it was more about how people perceived me. Some of the stuff I was saying people did not understand. That was quite difficult, but it is alright.
Espen: So, I want to talk about where you come from in England. For those who probably have no clue where the Exeter area is, describe it for us.
Frank: So, it is in the Southwest of England. It is a small-ish city — nothing like Atlanta. It has a small football club, where I played when I was younger. There is one main street, but apart from that, you basically have loads of farming villages. I do like it. I like that it is small.
Espen: You mentioned you played for Exeter City FC. You played for their U-18 squad, correct?
Frank: Yeah.
Espen: So, what was like to play for your local club and how do you think it prepared you for Georgia State?
Frank: That was cool. It was a really tough, professional environment, which gets you ready to play over here. When I was released, it was really cutthroat. I learned a lot from that, especially professionalism and respecting your elders.
Espen: I hear you're quite the Liverpool fan. Talk about what the club means to you.
Frank: I wouldn't be able to support anyone else. That is another huge part of my life. I watch all of their games and I just fell in love with them from the start.
Espen: Have you been to Anfield?
Frank: Yes. I try and go at least a couple times a year and see them. Tickets are really hard to get, though.
Espen: I have been to Anfield before, but for the many that haven't, talk about the typical matchday experience. 
Frank: It is ridiculous. It is even better than you imagine every time you go. You just wouldn't even imagine what it would be like to actually play there.
Espen: So, what does your dream future look like? Do you hope to continue with football?
Frank: So, football is not the be-all [and] end-all. If I don't make it, I won't be stuck. Obviously, I am focusing on my potential careers. I like sports and exercise psychology, so I am looking at master's programs for that. My dream job would be [as a] psychologist at Liverpool FC. If I can keep playing and earn a bit of money, that would be great. But, hopefully, I can stay within the game and hopefully work within the game as well.