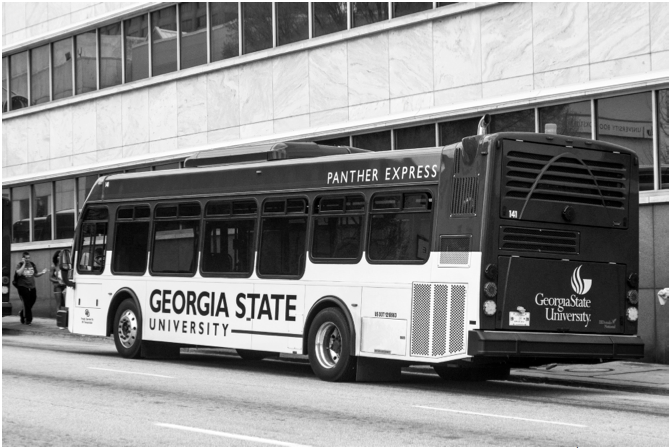 Last month, Panther Express was upgraded with brand new buses. The blue and green routes were the first lines to receive improved shuttles followed by the purple and red routes.
The features include a new air conditioning and heating unit, a kneeling feature, automatic passenger counting and "Drive Cam," which place more emphasis on preventative measures to ensure safe driving practices.
The buses are also larger and have more seating and space to safely stand when the seats are full.
Chris Connelly, director of Marketing and Administrative support in the Auxiliary Department of Georgia State, gave some insight on the process behind the changes in our transportation system.
He said the previous fleet needed to be serviced often, wasn't easily accessible to people with disabilities and had reached the end of their cycle.
"We needed more heavy duty buses that were more accessible and functional," he said.
The buses came from a provider that is separate from the school. Their services include providing the buses and hiring and training drivers.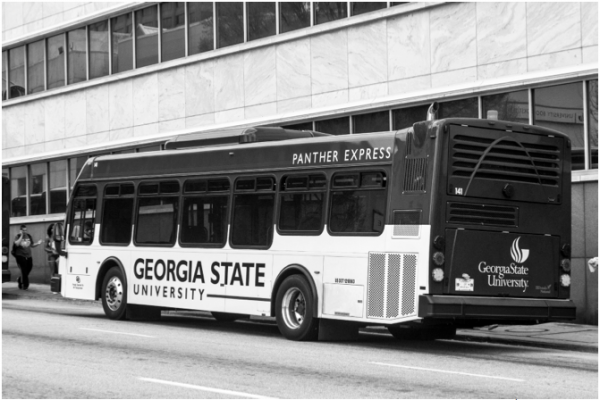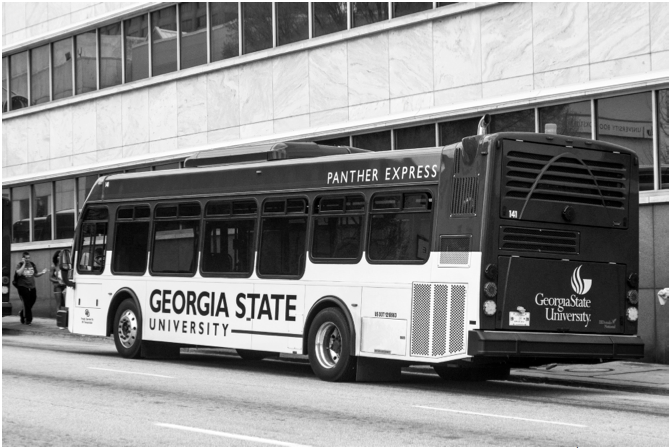 Georgia State recently started a 10-year contract with the provider. This company is paid for, along with other auxiliary services, through student fees.
"Our objective is to access these services for our growing enrollment. Georgia State has the second largest student body next to UGA at over 30,000 students. We need to continue to look for better ways utilize our resources to provide better parking and transportation services for our students," Connelly said.
Due to the fact that the bus drivers are not Georgia State employees, they have different company policies and are not authorized to comment on the new fleets to the press.
Georgia State students are able to share some thoughts and opinions about the new fleets.
Some Georgia State students felt that while the new fleet is great. Parking and Transportation Services should invest in improving parking services for students.
"I love the new buses, they're great. I would've however liked to have seen improvements in other areas of our parking services," senior Andrew Bishop said.
"I like the individual seats and the second level of seating available as well. However, I believe it would have been a better investment to have more parking options available," senior Margracious Brown said.
Junior Rebecca Price said that she likes the new features.
"It's good that they are handicap accessible and can lower down to be level with the ground. That will make getting on easier," Price said. "I know some of the old ones had a big step up and at 8 AM before coffee, that step up can become an embarrassing trip up the stairs! They do look bigger and I know that Turner Field shuttle gets packed really quickly, so having extra space is great."
Price added that she is pleased with the new wraps on the buses as well.
"I know before, some of the buses were plain white with little to no description on them. Now, it's pretty obvious that this is a Georgia State shuttle because it says 'Georgia State University' on the side," Price said.
Nilam Wazir, a senior at Georgia State, said he likes the new busses.
"I like them, they're really cool. It always kinda sucks when new things come along your last year of school. I would have liked to see more buses or more routes," Wazir said.