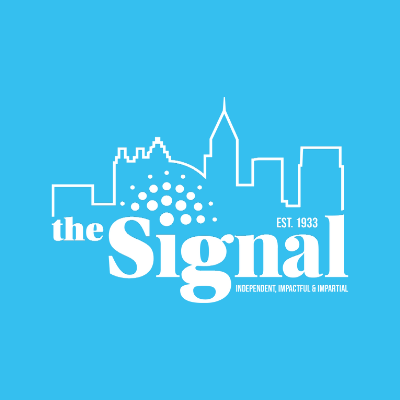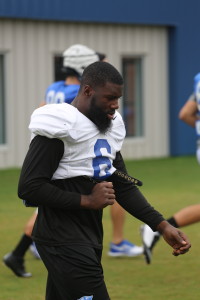 The position of middle linebacker is one of leadership, just as quarterback is on the offense.
A middle linebacker is the voice in the huddle. A middle linebacker serves as the link from coach to the defense. A middle linebacker makes all the play calls, assists in lining teammates up and physically making plays as well.
Panthers' senior middle linebacker Joseph Peterson is one of the cornerstones and faces of Georgia State football.
Known as "Joe Pete" among fans and teammates alike, Peterson is the model of what the Panthers want in a leader
"He's going to practice really hard, he's going to watch film, he's going to study, all the things he needs to do football wise as well as off the field," linebacker coach P.J. Volker said.
Peterson has grown into the role of leader since steeping foot on campus in 2012. For the last three seasons, he has been in a mainstay in the starting lineup when he first arrived from Dothan High School.  
Peterson came to Georgia State following one of his high school coaches. It is not uncommon for players to follow coaches because the sport of football is such a scheme dependent sport, players must find a system that works for their skillset.
"I actually came when my defensive coordinator in high school came here. I came to follow because I wanted to play for him," Peterson said.
Listed at 210 pounds in as a freshman, Peterson remembers first stepping on the field for the Georgia State Panthers. Peterson made his college debut as a starter against South Carolina State with eight tackles during that game.  Despite all the plays the young linebacker made, he still remembers the play that he didn't make in the first snap of his career.
"I remember the first snap. I believe Demazio Skelton was at safety my freshman year and he comes down. He smacks the receiver, the ball pops out of his hands and it's up in the air and I don't even see the ball and it goes right by me," Peterson said. "That could have been my first pick of my college starting as a freshman. I remember that play like it was yesterday."
Peterson is now a senior and his college career is coming to a close as there are only four games remaining in the 2015 season.
He will leave Georgia State as the most productive and most experienced defensive player in program history.
Peterson, before 2015 had 265 tackles which was already a Panthers' record. That total has grown this season as he is leading the Panthers with 78 total tackles.
The productive linebacker has had a good college career. The growth he has experienced is not just physical as he has added about 15 pounds since his freshman season but it has also been mental.
Peterson has grown as a in his time with the Panthers. That growth has come naturally because of the nature of the position he plays and because the coaching staff saw it in him from a very early age and looked to develop that leadership ability.
"Joe and I talk about leadership quite a bit. Since we got here as a staff we identified that he is a guy with leadership potential and we've really worked with him to blossom as a leader," coach Volker said.
So naturally a player that is constantly having to talk will grow into a voice for the other players in the huddle. The middle linebacker can also be the one that is asked to rally the team in tough situations and Peterson is no different.
"Whenever we need a guy to rally the troops he's the guy that's going to bring everybody up. He doesn't just do it on the defensive side of the ball anymore. He does it for the entire team," coach Volker said.
Peterson has taken the on the field voice and turned it into a leadership role and recognizes that his position doesn't describe where he's lined up on the field but also the role he must play for his team.
It also helps that he is a speech major when called upon to rally his team in tough situations.
"As a freshman coming in, I really just wanted to play football it wasn't about being a leader at that time I just really wanted to play because I love the game," Peterson said. "It was big for me to become a vocal leader other than by just my play, but it's worked out well and I'm getting better at it."
With only four games remaining in a great college football player's career the next level of football begins to become a possibility.
Peterson has had a good college career and as he enters the final stages of his senior season the possibility of him playing in the NFL get closer to becoming reality.
Peterson has the makeup to be earn a shot at the NFL level. Peterson is not the biggest or most powerful combine player that shoots up draft boards because of raw athletic ability.
"When you look at Joe, it that he can run when you watch his film. He's a guy that can get all over the field with his feet and make a lot of plays," coach Volker said. "He diagnoses well in the box and then he can run with the receivers and tight ends on the outside and on the perimeter."
Not many middle linebackers can cover in space like Peterson does. The sport is becoming more about open space.
The age of the big lumbering linebacker is done. Peterson fits the modern day mold of linebacker.
He's fast and his instincts allow him to matchup with running backs and tight ends.
"He's a guy that's going to get an opportunity to play professional football at some point. I don't know in what capacity but he's a guy that runs well, guy that's physical, guy that uses his hands and guy with great leadership that comes to work hard every day," coach Volker said. "He's done everything that we've asked him to do and I think he's going to get a shot and when he gets a shot he's going to take it and run with it."
Sidebar: Peterson's message to teammates
Peterson has had a good career for the Panthers. He also makes sure he holds his teammates accountable and holds them to high standards.
Having a leader like Peterson is essential to building a program because players like Peterson will teach the younger players what to expect, how to put in the work and be coachable by buying into what the coaching staff is selling.
Peterson recognizes that his leadership can set the stage for later generations of Panthers' players.
"Be able to take coaching. A lot of young guys don't understand that now coming in. They think they know everything. They want to mouth off back, they want to talk.  I just want guys to understand that here if you take coaching it gets you a lot of places and if they understand that they'll be fine. I just want to leave with them that to continue to work hard, because when you work hard at practice it shows in the game. So, that's just the preparation that coach taught me. Coach Volker, coach Miles tells us everyday about preparation so I just want to leave those guys with that. Just prepare the right way you'll be fine," Peterson said.