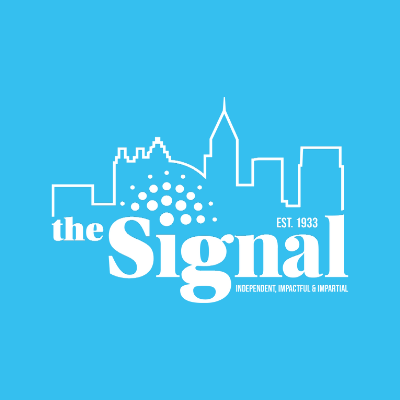 (Video Credit: Grant Mac Neil)
On Georgia State's open campus, many individuals can be seen walking through the courtyard and Library Plaza, but not everyone is a student.
On Oct. 8 a non-student who wished to remain anonymous was detained by Georgia State police and given a Criminal Trespass Warning (CTW) that would ban him from campus for the next two years.
CTW's are written notices that an individual must leave university property and not return during the duration of that notice, according to Georgia State's 2014-15 Student Code of Conduct (SCC).
A video of the incident shows the anonymous individual being questioned by university police officers and then being detained and escorted off the property.
Note: The full video can be seen on The Signal's website.
Freshman student Grant MacNeil said he was the individual who recorded the incident.
"He just happened to be at the wrong place at the wrong time," he said.
MacNeil also said he is an executive board member of Georgia State's Young Americans for Liberty organization.
The male detained said he visited Georgia State to see Minister Derrick Grayson speak about U.S. foreign policy at one of the organization's events that day, according to MacNeil.
"This isn't uncommon for people of neighboring schools, smaller schools [and] even the general public to hear about our meetings and want to come meet these people, because these are very important people, very famous people and very intelligent people," he said.
The organization said that if the individual wanted to come watch Grayson speak, he was more than welcome to, according to MacNeil.
Page 55 of the SCC states that attendance is limited to Georgia State students and their guests in noticeable prominence during events.
"Now when we say he was in the wrong place at the wrong time it's because after this meeting ended, our friend decided to step out into courtyard plaza and see if he could bum a cigarette off of someone," MacNeil said.
The individual hadn't approached anyone yet before Georgia State officers approached him, according to MacNeil.
MacNeil said police approached the individual and questioned why he was on campus, to which the individual replied he was going to ask to bum a cigarette off someone.
MacNeil also said officers then told the individual that he looked like he was engaging in suspicious activity.
"That was the ground they used to detain him," he said. "That was the grounds they used for their probable cause to detain him and question him and this is where the events of the video pick up."
University officers also never said anything pertaining to the new university-wide smoking ban according to MacNeil.
"I don't believe the act of looking around for a cigarette or intending to ask someone for a cigarette was the suspicious activity they were using against him as probable cause to stop him," he said. "If that's the case slap me in handcuffs and throw me in jail already because I'm a very suspicious character in that regard."
Deputy Chief Carlton Mullis, director of university police, said there were a few people stopped on campus but Georgia State police didn't make any arrests.
Mullis also said if people return to campus after being given CTW's they are subjected to arrest.
"People get a Criminal Trespassing Warning because they are on campus doing something they aren't supposed to be doing and shouldn't be there," he said. "And if they come back, they are subject to being arrested."
With a potential rise in the amounts of CTW's handed out there is nothing university police can do, according to Mullis.
"People will come on campus and do things, misbehave or do things they shouldn't be and they are [given] a criminal trespass [warning]," he said. "It is a part of our way to handle what happens on or around campus."
However, students and invited guests are permitted to be in Library Plaza, according to Mullis.
Frank LoMonte, executive director of the Student Press Law Center (SPLC), said although the video was hard to follow, it appears that the two officers held the suspect for a senior officer to arrive on scene.
"Police probably can do that as long as the detention period is very brief as long as there's a reason for it other than to engage in a custodial interrogation," he said. "For instance, it's possible that the late-arriving officer had seen a police sketch and wanted to compare the suspect's face against the sketch."
He also said that under those circumstances, a brief investigatory detention is potentially constitutional.
LoMonte also said people are not required to obey random nonsensical police orders unless there is probable cause to believe they are hiding a weapon.
"And nothing in his posture or movement suggested an imminent attack, judging by the film — than a simple failure to obey an order to remove a hat is not grounds for arrest," he continued.
However, colleges can legally limit the use of facilities to members of the school community in the sense of making sure students have enough desks and computers to use, according to LoMonte.
"If a person is coming onto the campus and is regularly interfering with other people's use of the library — harass them and refusing to leave them alone when asked, for instance — then it's possible to issue and enforce a trespass order," he said. "If the person is simply using the library during a time when it's reserved for students, then two years seems like a pretty harsh order, but without knowing what behavior he's accused of, it's hard to say whether that is an excessively long punishment."
However, MacNeil said university administration never told the organization that outside guests weren't allowed at the Young Americans for Liberty events.
"In fact, if this were the case, it can be reasoned that many fellow student organizations would cease to function optimally," LoMonte said. "If this is indeed a rule, the prohibition of outside guests from attending student organizational meetings, then student organizations beware."