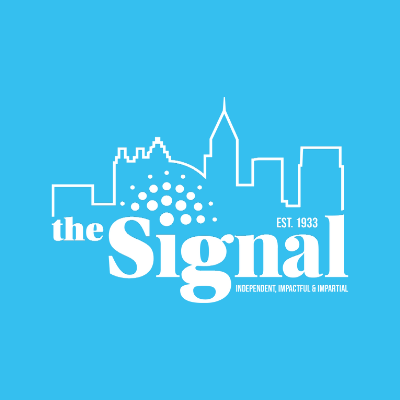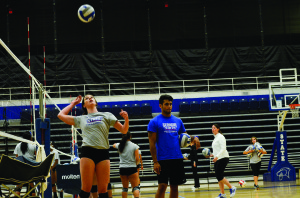 After finishing the 2013 season on a low note, Georgia State volleyball enters a new season. The Panthers hope that the return of all but one of last year's players and the hiring of a new head coach will put them in position to be a force this year in the Sun Belt.
Last season, Georgia State finished the season with a 9-23 record along with a 4-14 record in the conference. The team finished with a six game losing streak to put them on the outside of the eight teams that qualified for the conference tournament.
The Panthers bring in a new coach, Sally Polhamus, who coached for three consecutive years for NCAA tournament teams as an assistant for Florida and formerly coached at Georgia Tech.
"We love Atlanta. We love the volleyball that is in Atlanta," Polhamus said. "And we feel Georgia State has something special here."
Among this year's notable players include junior offensive hitter Deidra Bohannon who received Second Team All-Sun Belt honors last season. Bohannon was also the Panthers' leading scorer with 388 kills, putting her at fifth in the conference in scoring.
"I'm just looking forward to playing with my team. We've been training really hard in the offseason and this is how we get to show everyone what we've been working towards. We want to get back on the court and put together the systems we've been learning to use," Bohannon said.
According to Bohannon, Polhamus stresses how there is more than one leader on the team and that she is embracing her particular role.
"As an underclassman, you had to take a step back and get a feel for everything. Now, being a junior, I feel I have to step up now. If anybody is going to teach the ways and traditions of how to work hard and lead by example, it's going to be us," Bohannon said.
Her teammates also have high praise for her, including one who has known her prior to them becoming teammates at Georgia State.
"I've known [Deidra] for years since I first started playing volleyball and I've always looked up to her," said Outside Hitter Brianna Jones, a transfer student from Pfeiffer University in North Carolina who attended Dunwoody High School. "She's a very smart athlete and she helps each person on the team with things inside and outside of volleyball."
Another one of the notable upperclassmen on this year's team is junior Setter Natalia Nieto who once played for the Voleibol Vaqueros Bavamon club team in Puerto Rico. Last year with the Panthers, she was second on the team in digs with 291 and led the team in the assists category.
"We just want to start getting to know each other on the court and get the system out there because we've been practicing it for quite a while," Nieto said. "They've included two practices a day. We just want put it all out there on the court."
Nieto says she is focused on being the best player she can be for the team and that every one of her teammates has the same focus instead of focusing on individual accomplishments.
"I want to see the level we can reach as a team," Nieto said. "I think we're getting together very well. The pieces are getting there with a new staff and new coaches. I'm just really excited to play with my teammates."
Also joining the squad are four newcomers that are either freshmen or transfers. In addition to Jones, they include sophomore Setter Annie Ellis who played for UC-Riverside last season and a pair of true freshmen, sophomore Sydney Mauer and Middle Blocker Kaylyn Torain.
"The four newcomers have been great," Bohannon said. I love Brianna [Jones] and Annie [Ellis]. They fit right into our little sisterhood and family. The two freshmen are amazing too because they have fit right in as well. I couldn't ask for a different group to come in because we've already become so close in such a short amount of time."
Nieto echoed Bohannon's sentiments about the team's four new additions.
"They're really great assets for our team. They all play different positions, so they're just filling up really good spots on the team," Nieto said.
Polhamus knows that one key element of molding any newcomer onto a team playing against other upper-echelon competition like Georgia State will be to get them adjusted to the frenetic flow of the game.
"With any newcomer, it's all about getting into our system's speed," Polhamus said. "That's the biggest thing between the college game and the high school or club game is the difference in the speed and the physicality of the players and making those adjustments. All of our incoming players have made impacts in certain ways and we're excited about the continued growth of those steps forward."
As a first-year head coach, adjusting to a new team and new players can take some time. Polhamus said her players have bought in the system she wants to implement.
"I feel like we've won the lottery because the buy-in from our players has been so great from the moment our staff got here. From the work ethic, to their ability to absorb the knowledge we're giving them, to the technique, they have really bought in and wanted to learn the system," Polhamus said.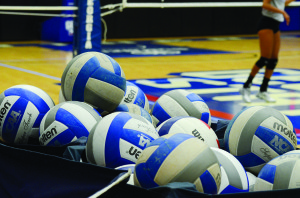 The team believes a goal of understanding Polhamus' system is knowing their strengths and weaknesses through the correct combination of players. Knowing how an opponent sets up an offensive or defensive play also can play a key role.
"We want to look at a play before it happens. We've been working a lot on eye sequencing and understanding the game of volleyball," Polhamus said. "If there's one play our opponent seems to be setting up for, we want to be able to read and respond to that. A lot of emphasis is put on anticipation and volleyball I.Q."
In the preseason, Polhamus is observing that the team is also immersed in sharpening its play on the defensive side as well as being able to execute soundly in one of the fundamentals of the game.
"Passing and serving is foundation of volleyball," Polhamus said. "If you can pass and serve, you can control the game. We're continuing to develop our technique and our execution of both passing and serving."
Another attribute that has been stressed plenty of times to the Panthers is to always give maximum effort regardless of what the scoreboard says.
"Coach [Polhamus] always lets us know to keep pushing. Don't let down or let up," Bohannon said. "Don't change your attitude or your game because the other side is doing something different. It's all about staying in our system and execution, basically."
Jones gave similar sentiments on Coach Polhamus' emphasis on effort and also praised her for always maintaining an optimistic tone with the players.
"We're going to try to give total effort no matter what. She says we could be losing in a set twenty to one and she still wants to see effort from us," Jones said. "She's an amazing person. She's very positive and optimistic all the time. We rarely see her have any negativity in practices or on the court. She's very influential. We listen to everything she says and respect everything she says."
The Panthers enter 2014 as their second season in the Sun Belt. The University of Arkansas-Little Rock is currently picked to win the conference this year with Georgia State ranked tenth out of eleven teams.
"We'll improve from last season based on our attitude and the way we come on the court," Bohannon said. "We were so close in some games last year, but this year it's different. We're a totally different team."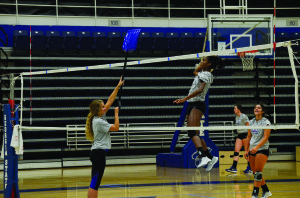 The team has not done a great deal of scouting other Sun Belt teams at the moment as they say that will occur as they continue to go through the season. Polhamus said she has done some scouting of Georgia Southern whose team won the Southern Conference championship last season and has been ranked third in the preseason standings.
"The level of the Sun Belt is very high. We have teams that are ranked in the top 100 all throughout the RPI. It's going to be a test for us every match," Polhamus said.
The Panthers recently took to the court competitively for the first time in 2014 in their annual intrasquad Blue-White scrimmage that also featured a pair of Georgia State alumni. Sam Holowka was on the team from 1995 to 1998 and became the first Panthers player to record 1,000 career digs and kills each. Carol Mattos played from 2003 to 2005 and was named for two All-Conference Academic Teams throughout her career.
"The two alums did a great job," Polhamus said. "Both of them are just excellent players and really made impacts in the game."
After the scrimmage, Georgia State volleyball went on the road for its first regular season tournament of the year when it played Samford, Jacksonville State, and UAB in Birmingham, Alabama over the weekend. The team lost to Samford in straight sets but defeated Jacksonville State in four sets on Friday. They lost to UAB on Saturday.
The Panthers will play its home opener on Wednesday, Sept. 3 against Western Carolina at 6 p.m.
On Sally Polhamus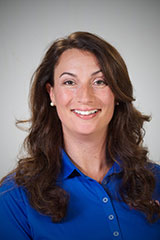 Sally Polhamus was a three year letterwinner at Xavier from 1993 to 1996. Her first coaching job was as an assistant at Georgia Tech from 2002 to 2006 in where the Yellowjackets reached the NCAA tournament three consecutive years. She then became head coach at Winthrop from 2007 to 2011 in which she compiled a 64-59 record. Polhamus then spent three years as the offensive coordinator and recruiting coordinator at Florida before arriving at Georgia State.