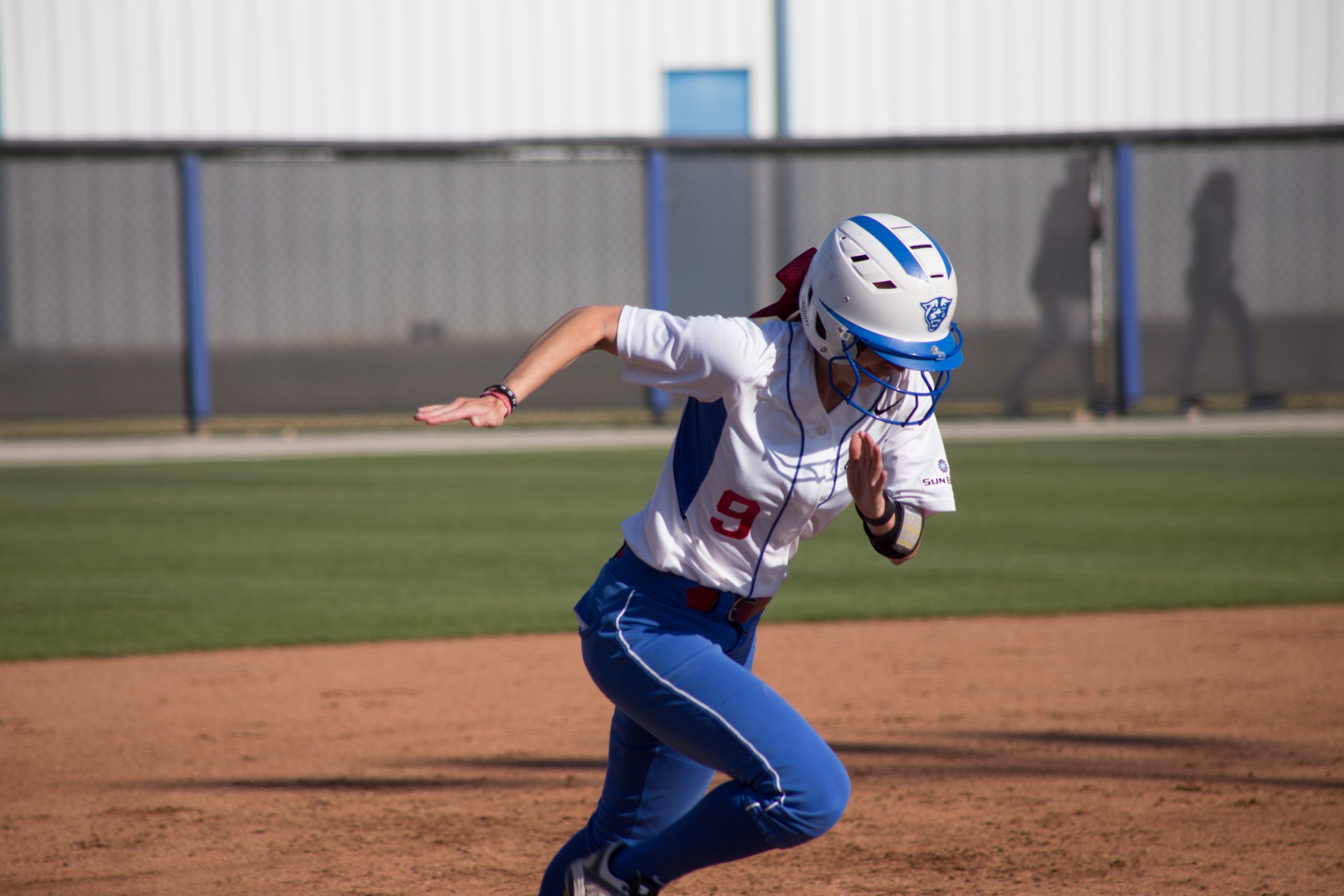 What can Brown do for you?
Currently batting .300 this season
Tied for fourth on the team with 27 hits
Hasn't missed a game since her 2014 freshman campaign
Born in Lawrenceville, Georgia
Morgan Brown is living out her dream of playing Division 1 softball in the heart of the city of Atlanta. However, she stays true to who she is, a southern country girl who enjoys the outdoors, spending time with her family, and singing. 
"I'm for sure a country girl," Brown said. "I'm funny I guess that's what other people say, and I'm very loud. People hear my voice and laugh and know it's me. I love to sing, not legit, I just love to sing and my favorite song is Dibs [by Kelsea Ballerini] by the way [laughs]. I like to go hunting with my parents, and duck hunting with my boyfriend."  Born and raised in Monroe, Georgia, Brown spent most of her days working with her family and spending time with them.. It was all about family, sports and food for Brown.
"My grandparents and whole family all lived really close to me in Monroe," Brown said. "I'd wake up and go eat breakfast at the local store and then go eat lunch with my grandparents. My grandparents had goats and chickens so I might go out there and help them out or I'd go work with my parents in their business. My parents own a wholesale electrical equipment store called Allen's Electric. Otherwise it was school and softball."
Brown has been playing softball since her T-Ball days. She didn't always like playing softball at a young age because of her competitive nature. In fact there was a time when her parents didn't let her play because she would always get so mad during her games.
"When I started T-Ball I really hated it because I used to get so mad when I would get out and my parents ended up making me stop for a little bit," Brown said.
However, her passion for the game got her right back into softball and she kept playing and even started on her new high school team.
"I just love being competitive and have always loved the game," Brown said. "I've always played travel ball and I went to a new school and decided to play there since it'd be cool to be on the first ever softball team for that school. We were pretty good and made it all the way to state my sophomore year, but that was the furthest we've ever gotten."
Brown moves to the big city
After graduating from high school, Brown decided to take her talents to the city of Atlanta. A place that is unfamiliar to her countryside lifestyle, but her reasons for the change explain why she made such a decision.
"Georgia State was close to home and I didn't want to go far away from home, plus it was Division I so it was like a dream come true," Brown said. "The city is something different than what I'm used to and that's why I chose GSU."
After being in Atlanta for more than two years, Brown got the experience to realize how living in the city is way different than living e in Monroe.
"I couldn't imagine living there in the city for the rest of my life," Brown said. "But it's a good thing to do for four years. It's not bad, it's cool to get out because I've never been in the city that much, and I get to try things I haven't done before. I don't miss home too much since I get to visit often and I love the city, but I just couldn't imagine living there forever."
Brown started playing softball at Georgia State in the 2014 season. Her daily process of being an athlete and a college student is a busy one, thankfully this semester she has some online classes.
"I have a lot of online classes this semester, so I don't have to go to class that much plus Monday's I have no class so I just go home," Brown said. "Other days I wake up and go do weights, and Tuesdays I actually have a class on campus and then I have to do four hours of learning lab since I have four online classes. After I do that, I'll go to my apartment eat lunch, do homework, go to practice, comeback eat and chill a little bit and then do some more homework."
Majoring in interdisciplinary studies, Brown plans to end up helping kids in some way and after she graduates, it'll probably be the end of her softball career.
"I want to work in a hospital environment and do something with kids," Brown said. "After my senior year, I think I'll put the cleats up for good or maybe play slow pitch later in life maybe."
Brown, the athlete
As an athlete, Brown is a player who is constantly improving after each season and the statistics prove it. In her first year at Georgia State, she had a hitting average of .262 and had 28 hits on the season. The next year, she improved dramatically hitting an average of .297 and had 51 hits on the season.
This season, Brown is hitting an average of .287 through 31 games and has 25 hits on the season and it's only the midpoint. Expect her to end up breaking some of last year's statistics again.
Not only is she improving but her team is as well, currently the Panthers are 18-14 on the year and 4-2 in conference play. In Brown's eyes, this season is one where the team is constantly improving.
"I know we started off kind of bad, but I feel like we are progressing each game," Brown said. "We're 4-2 in conference, which pretty good right now, but I just want to get those sweeps because each game is important."
The Panthers next conference game is against South Alabama, a team Brown feels they can beat and hopefully sweep them.
"We're about to play South Alabama, which we've only won one game in the past few years against them," Brown said. "I don't think they're as good since they lost a lot of players. So we just need to come out fire it up and sweep them. I want to sweep them so bad!"
Brown is definitely a team player, as her goals reflect that of what a team player should be.
"Team goal is to win conference and go postseason," Brown said. "It'd be great to win conference regular season and the tournament.