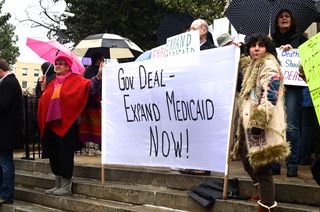 Moral Monday and the NAACP partnered to host an expansion rally in front of the state capitol building today.
Moral Monday is a coalition led by local citizens, raising awareness for people in marginalized circumstances.
Speakers and presenters included Georgia NAACP President Francis Johnson and North Carolina NAACP President Rev. William Barber, who started the Moral Monday coalition.
The event focused on persuading Gov. Nathan Deal to expand Medicaid.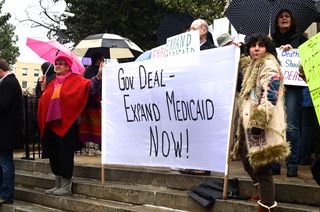 According to Rev. Barber, 600,000 Georgia citizens are currently without healthcare. He said that without the expansion of Medicare many Georgians cannot afford a plan from The Affordable Care Act marketplace nor do they qualify for Medicaid.
Protester Chris 'Cholu' Bondurant said, "Me, personally, it would help because I don't make enough to pay for Obamacare and I go to Grady Hospital … which caters to the poorest most vulnerable people in this community."
According to Bondurant, if Medicaid is not expanded in Georgia, Grady Memorial Hospital will lose up to 100 million dollars in federal funding.
During his speech Rev. Barber said that Gov. Deal's decision to not expand Medicaid was "extreme and immoral."
Rev. Barber challenged Gov. Deal to look out for the poorer Georgia citizens and challenged the attendees of Moral Monday to always use moral judgment.
When asked if she believed Gov. Deal would acknowledge the protest, Robin Hill, a Moral Monday supporter, said, "Well let's put it like this, we'll have to make him listen."
At the end of the Rally Dr. Francis Johnson said, "I have a message for Gov. Deal. Let our people go."