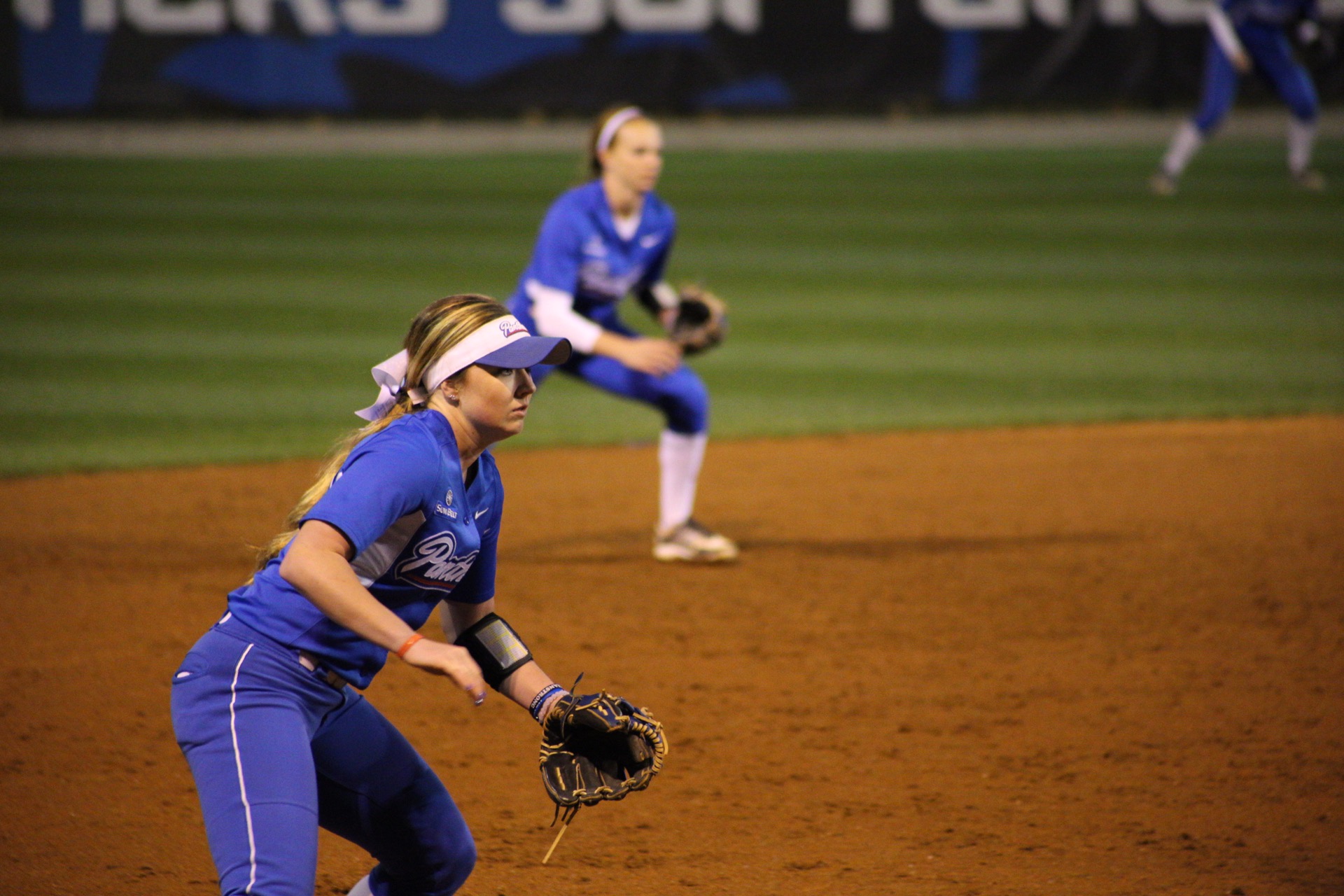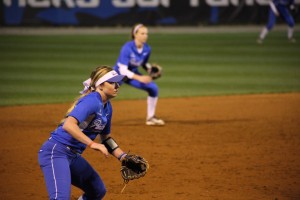 Never doubt the competitiveness of junior Georgia State softball infielder Kensey Caldwell. Caldwell grew up playing softball since she was a four-year-old and has been coached by her dad throughout the years.
People get the wrong impression of her and think she is very intimidating or a stand-off type of person, but in reality she is just a competitor.
"I think people get that impression of me based on how I come off on the softball field," Caldwell said. "I'm there to compete and I'm there to win and I'll do whatever it takes. And if it means me getting a little mean, then that's what it is going to take. I don't mean it in a mean way, I mean it in a competing athletic way."
Caldwell has been an athletic competitor all her life and some of that can be attributed to where she grew up.
"I grew up in Loganville, Georgia out in the boondocks," Caldwell said. "It's a very small town where high school softball was taken very seriously and sports in general were the face of the town. We never won any titles but we got close and I have friends from my team to this day. It's a good place to grow up."
Being a competitor, you have to have passion for the sport and Caldwell has just that.
"Passion for the game motivates me," Caldwell said. "I love the game and always have. It's frustrating at times when you don't succeed, but that one time you do succeed is why I love to play the game."
In her eyes, Caldwell knew she was meant to play softball and her dad was that role model for her to keep playing the game she loves.
"My dad is my role model and has coached me since I've been playing and he's always been there for me even now," Caldwell said. "I just felt like it was something I was good at and put all my effort into playing softball and playing in college."
In her 15-plus years in softball, Caldwell has only played in the infield.
"I've always played infield and my favorite position is shortstop, but I've played a bit of second base when I was younger," Caldwell said.
Even now at Georgia State, she is still playing infield, and perhaps playing around the same position all these years has contributed to her success at the collegiate level.
Competing at the collegiate level
Caldwell's effort finally paid off as a competitor, as she joined the Georgia State Softball team as soon as she left high school.
"I chose Georgia State to be close to my family and make sure they can come to my games," Caldwell said. "Just want to be close to home just in case I have any trouble I can go home and see my family."
In her freshman year, Caldwell gained a lot of experience and playing time as she started in 47 games. She had a hitting average of .292, hit six home runs and had 23 RBIs. In her sophomore year, she started 56 games and hit at an average of .229, 10 home runs and 36 RBIs. She was slowly improving and gaining more confidence in her ability at the collegiate level.
"Biggest difference between freshmen year and now is my confidence," Caldwell said. "When I was a freshman I was timid and didn't really know my place. [Now] I know I can compete out here and I can be as good as anyone out there with hard work. I go up to the plate or out on the field with more confidence and it's helped me."
Indeed the confidence has helped her this season, as she is having a better season than last year at this point. She is hitting at an average of .271, has two home runs, seven RBIs, nine runs and four doubles; all in just 16 games played this season.
The Panthers are currently 9-7 on the season and they begin conference games on March 12th. Caldwell's expectations are high, but being the competitor that she is they always have to be that way.
"I want to win conference and I want a ring," Caldwell said. "I want to go out there and show everyone that we can compete and we can win a title."
Not only does she have conference and team expectations, but as a competitor she makes sure that she has her own personal goals to motivate her to become a better player.
"Personally I just want to compete and make a name for myself, as well as my team," Caldwell said. "Maybe I can make first or second team All-Sun Belt or something that I can look back on and say that I accomplished it."
Caldwell makes sure her team is on the same page, as she is the leader of this team and shows that on and off the field.
"I think I do a good job of motivating the freshman and being a leader on the field," Caldwell said. "I try to be a leader on the field, off the field, in the dugout, in the locker room, and in the weight room. I hope they'd think the same thing."
Caldwell's leadership is strong and it has been evident this season, especially in the recent University of South Florida Series Tournament. In their first game of the tournament the team lost to Villanova 15-2. However after the loss, Caldwell motivated the team as they won three straight and had their chance for a rematch in the championship round against Villanova. The Panthers won that game 15-2 and got the best of both worlds, revenge and the trophy.
"When we first played them we didn't really know what to expect", Caldwell said. "We kept saying oh they got lucky and that they didn't really see the REAL Georgia State Softball and I know for sure they saw the real one the second game. We got a little bit of revenge and it felt good."
Caldwell is currently majoring in human learning development, with a focus on sport coaching.
"I want to coach my dad's organization, the East Cobb Bullets," Caldwell said. "I eventually want to work with them or take over the organization or just do something with softball."
Being the competitor that Caldwell is she'll never leave the game she loves, softball.