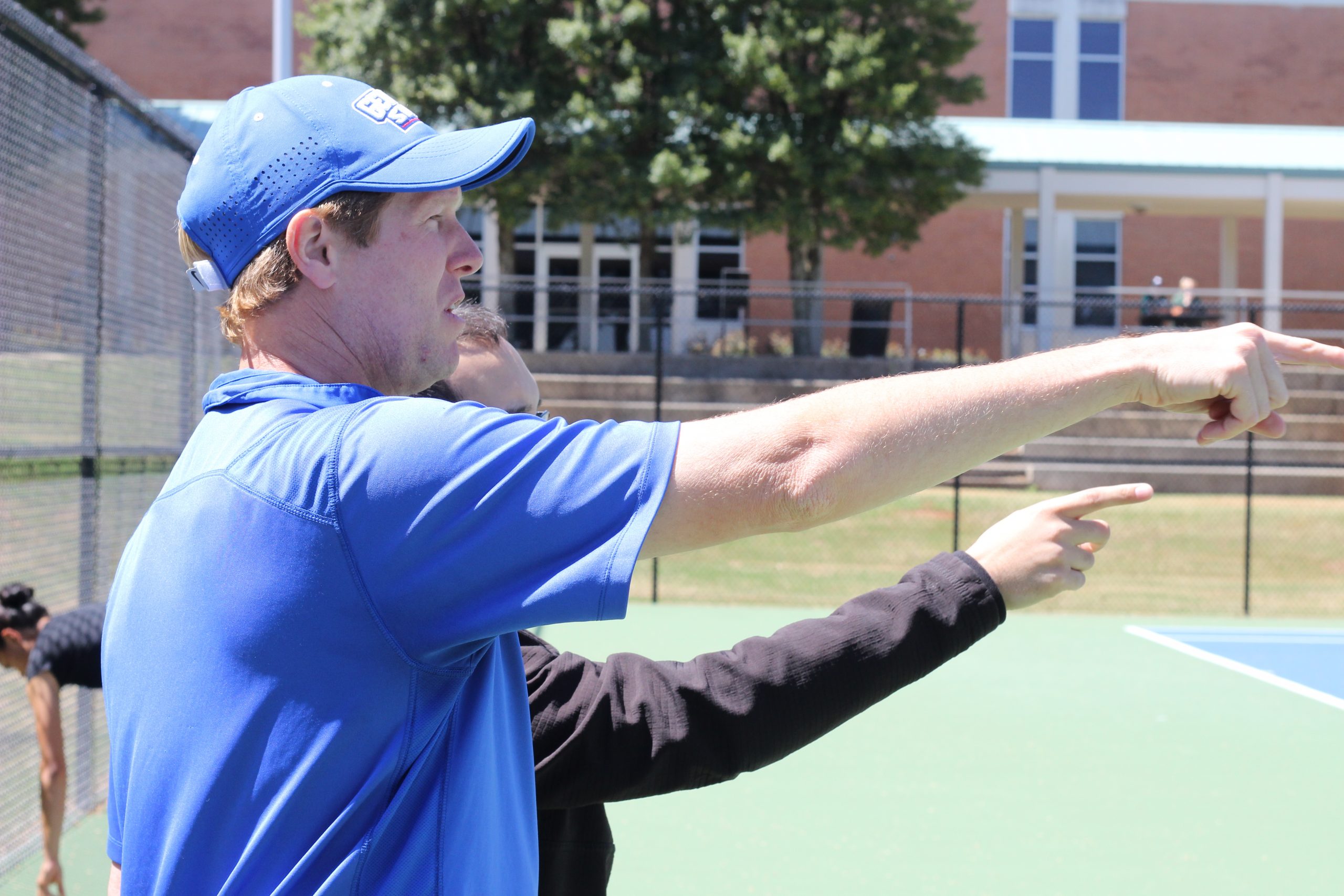 Women's tennis head coach Jason Marshall is currently in the midst of his second season at Georgia State, but his tennis background extends back into his early childhood.
Born in Dallas, Texas, Marshall was introduced to tennis by his mother at age eight.
"My mom started me in tennis," Marshall said. "Then I had private coaches, but when I got more serious I started training everyday. I actually went to a junior development program."
Continuing in his tennis career, Marshall attended J.J. Pearce High School in Richardson, Texas. Having only played one season in high school due to injury, Marshall was not heavily recruited. Wanting to stay in state, Marshall was looking at colleges and universities around his hometown.
"I just got recruited randomly," Marshall said. "Like how did I get from Texas to Indiana? The coach saw me play at one of the national events, and he invited me to come on a visit and to see the university. I really enjoyed it. I would have never known about Purdue if I wasn't recruited. It was never on my radar. I was thinking of schools in Texas or schools in the south. It was the best fit for me educationally, the team and my level of tennis at the time."
While attending Purdue, Marshall began playing on the professional level during the summers. This competition helped him improve his skills and become a leader. Marshall credits his incline in the sport, to his time playing in the pros. One of his greatest accomplishments came from his time at Purdue.
"Winning the Big Ten singles championship," Marshall said. "Especially the first time, I won it twice. I was ranked No. 7 or 8 in Texas, which is OK. I was probably around number 15 in the nation, but when I went to Purdue, I was around No. 4 on my team. I went, in one year, from being No. 4 on my team to winning the entire conference."
Marshall majored in small business at Purdue University and then went on to receive his master's degree through an online program provided by Texas A&M. While working on his master's degree, Marshall was simultaneously teaching private tennis lessons as well as serving as assistant coach at Texas Christian University.
"That was the most brutal year and eight months of my life," Marshall said. "While I was running a team, going to school and teaching on the side it was like three jobs."
Serving as the men's assistant coach for two years and moving over to become the women's assistant coach for four years, Marshall spent six years with the Horned Frogs.
"It's very different," Marshall said. "It's a private school. Only around 8,000 students. It's a great facility, for tennis it's beautiful."
Professional Career
Hanging on his wall lies one of Marshall's honors from his pro career. This is his competitor badge from the Wimbledon.
"It was when all the hard work, all the trophies, all the lessons, all the soreness, all the sweat paid off, "Marshall said. "When I made the cut off to get into Wimbledon, I knew I was with the big boys. I am on the grass. I am in the draw. That moment hit me that it was no longer a tennis court anymore. This is a special court. When I realized that in 2004, it really hit me that I had done the impossible."
Marshall has competed in more than 35 states and 40 countries as a member of the Association of Tennis Professionals and the International Tennis Federation. Some of these locations include Peru, Argentina and Mexico. Reaching as high as No. 101 in the world in doubles play as well as defeating top-10 ranked Marcos Baghdatis in Vietnam, allowed Marshall to create a name for himself.
Throughout the tournaments and the rankings, one specific match sticks out to Marshall. Marshall gained a victory in the third round of the Classic $15,000 Men's Future Event against one of Mexico's most prestigious players.
"I won that tournament," Marshall said. "It was in Mexico. A small professional tournament. I remember playing the No. 1 player in Mexico. He was one of the top 100-200 players in the world. I was playing him in his city, and there were about 3,000 people there."
"Imagine you're playing their best player and their home favorite and every single person is cheering against you. So it's one versus 3,000. I beat him in the third round and went on to win the tournament."
Post professional tennis
Winning this tournament not only taught Marshall to deal with adversity, but it also made his belief system stronger. Marshall participated in pro tennis from 2001-2007. Having to stop due to increased injuries, Marshall decided to use his tennis connections to get a job in inside sales.
After interviewing to be a sale representative for AT&T and shadowing an employee, Marshall went on to spend a day on the job. After working the job, he soon realized that his passion was still tennis.  
"I can't sit behind the computer for eight hours a day and make phone calls," Marshall said. "It wasn't what I wanted to do. Even though I had a great contact, and it would be a great career. It was at that moment I realized coaching would be a good deal. The moment you find out what you want, is the moment you find out what you don't want."
Marshall continued to coach tennis and gave back his knowledge and love of the sport to younger players.