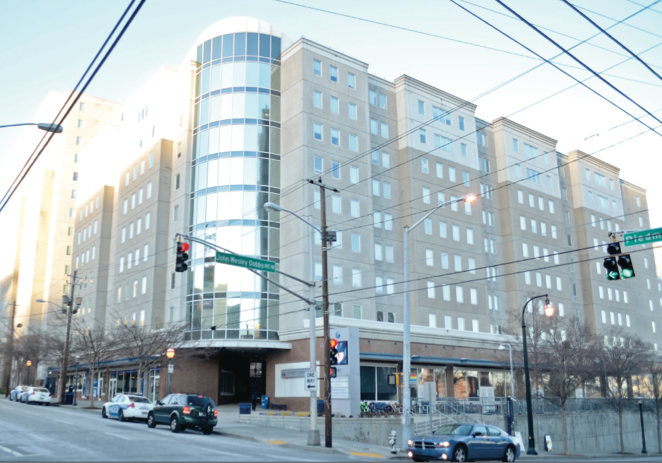 Piedmont Central
The latest and greatest residence hall offered by Georgia State is Piedmont Central, located on the corner of Piedmont Avenue, neighboring the Commons. This state-of-the-art housing option holds 1,152 beds yet its most notable feature is the brand new dining hall on the main floor. Some attractive qualities include study rooms and community kitchens on every floor. Laundry and wifi are also available to residents.
Patton Hall
Patton Hall is a freshman preference for students with its convenient location at 160 Edgewood Ave. NE. The 325 residents it houses enjoy the dining hall which is on the lowest floor. Furniture included, this housing option is perfect for those looking for a starting point at the university. Each suite shares a bathroom, with one room being a single and the other a double. Some amenities include cable, mailboxes, free laundry machines, Internet, and covered parking. Per semester, pricing vary starting at $4,000.
University Commons
Another student housing destination on Piedmont Ave, with over 2,000 student residences are the University commons. . Expect move-in day to be simple with furnished bedrooms, a living and dining room and full kitchen. Amenities include laundry, cable, internet, mailboxes, and a phone on each floor as well as a study lounge.The cost of a unit ranges from $2,000-$5,000 depending on the room layout and number of roommates.
Piedmont North
A renovated hotel, Piedmont North is a Panther favorite due to its layout of the rooms, with each having its own bathroom. Furniture is included, cable and internet is provided, there's free laundry, and a phone on each floor. Positioned at 175 Piedmont Ave and consisting of two buildings, Piedmont North has its very own covered garage for $400 a semester. Each of the 1,200 residents will pay between $3,000-$5,000 a semester, depending on room size.
The Lofts
Located in the heart of campus at 135 Edgewood Ave SE, the Lofts offers a wide variety of apartments anywhere from a studio-style layout to a 4-person suite. Each unit has a kitchen set with all appliances and a full-bath. Not to be missed is the free laundry, internet, mailboxes, and cable, some of the many perks offered.
Greek Housing
The cluster of townhomes located adjacent to Patton at 156 Edgewood Ave SE holds nine sororities and fraternities. Residents have access to the Lofts parking deck at its standard rate, and must be first initiated into Greek life to enjoy this housing option.
Where Does A Panther Live Off-Campus?
There are many alternative ways to achieve a close proximity to campus and feeling of a communal vibe thanks to off-campus student housing options in downtown Atlanta.
200 Edgewood
Brand new as of fall 2016 is a student housing duplex located at 200 Edgewood. Wifi, parking, a gym, study rooms, and a computer lab make this one of the hottest student housing options. Built right on the Trolley rail lines, this mixed-use development will hold retail space in its bottom floor. 1-2 bedroom units are available, each with their own bathrooms and kitchens, at rates of $1,000 and upwards per months.
One12
At the north end of campus sits One12, a Georgia State student destination at 112 Courtland Street renting bedrooms with 1-4 beds per unit. Each space includes the luxury of a bathroom, a kitchen, and a walk-in closet, with hidden pleasures like a rooftop pool, wifi, gym, and covered parking that's included. Monthly rent averages around $1,000.
City Walk
City Walk, at 171 Auburn Ave NE, is surrounded by historical landmarks yet inside is a modern haven to student housing. Included with being a resident is access to a tennis court, a pool, a gym, and gated parking. To commute to Georgia State campus everyday, City Walk is ideal with being a short distance from MARTA and the Trolley. Bedrooms are offered from 1-2 beds per unit with each having its own bathroom, so fittingly, the cost ranges from $1200-$1800.
Pencil Factory Flats
Pencil Factory, located towards the South end of campus at 349 Decatur St SE offers 1-4 person bedrooms, each with their own bathroom. Favorable amenities for this building are its  pool, gym, and kitchen. Monthly rent averages around $1,000 per person.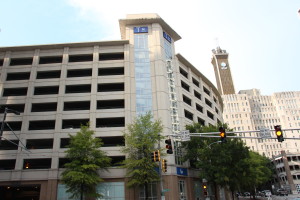 To park your car…
With a parking permit, Georgia State students can enjoy parking spaces at the K,M,N,S, and T decks, as well as Piedmont North, and the University Commons. Students can get a parking permit by registering their vehicle online or through the University Housing office.

According to the Turner Field schedule, students can park their cars in the Turner Field parking and grab a Georgia State shuttle bus back to campus. Shuttles run all day from and to campus for students who choose this option.

For residents of the University Commons, an attached covered parking deck is attached at the back of the building for a fee of $400 per semester

For the loft lovers, there is a covered parking deck attached to the Lofts building which costs $90 per month for residents, and includes 24/7 overnight parking.