The 2019 SGA presidential race brings the largest candidate pool in over 10 years. The winner will succeed President Franklin Patterson and lead the 90th Administration.
Who's running for SGA President?
The 2019 SGA presidential race brings the largest candidate pool in over 10 years. The winner will succeed President Franklin Patterson (above) and lead the 90th Administration.
---
By Ada Wood | Photos by Daniel Varitek
Who's running for SGA President?
The 2019 SGA presidential race brings the largest candidate pool in over 10 years. The winner will succeed President Franklin Patterson (above) and lead the 90th Administration.
---
By Ada Wood | Photos by Daniel Varitek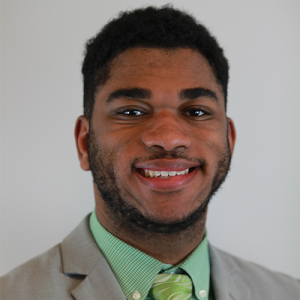 He was SGA's speaker pro temp, then moved to fill a vacancy for speaker of the senate. He ran for EVP and lost, then became a senator due to a vacancy in 2018.
Jones was an SGA member last semester but was ousted from his position after acquiring too many points.
He has worked with Panther Ambassadors, the 1913 society and the Pi Alpha Chapter of Phi Beta Sigma Fraternity as the director of fundraising.
Jones was born in Brooklyn, New York, but has spent most of his life in Georgia. He hopes to one day be an immigration lawyer to help people acquire their citizenship. He believes in leading by example.
He is running on the platform of A.C.H.I.E.V.E – Adapt, Challenge, Heights, Innovate, Engage, Variety and Effort.
Reach new heights by creating more interaction with student constituents and reaching out for insight before passing bills related to them.
Initiate the Pounce Convocation Walk. Beginning in Unity Plaza, each freshman will touch Pounce's nose on the way to convocation.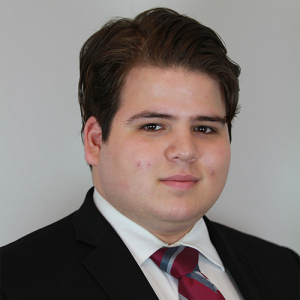 "I am running for SGA President because I believe that I can genuinely improve the student experience here at GSU. I am a freshman, yes that's true. What that means, however, is that I am not looking at another job opportunity or resume decorating. I have another 5 years at GSU minimum because I intend to go to law school here as well. No other candidate is as invested in the outcome of this election as I am. I will make a difference that will improve every student's day to day experience here at GSU."
He has no previous SGA experience.
Livnat is the youngest candidate at 19 years old. He was born in Tel Aviv, Israel, and immigrated to America when he was three years old. He has three years left at Georgia State and says he's "not going anywhere."
Livnat has served as CEO of PantherHackers since his first semester here at Georgia State. He boasts that membership has increased by more than 200 members. He intends to expand student involvement with SGA to the same capacity.
Increasing inter-campus transportation with bus routes between Atlanta and Perimeter campuses.
Improving student organization engagement by launching the United Student Organizations.
Amending the funds allocation process toward organization's active membership count and needs.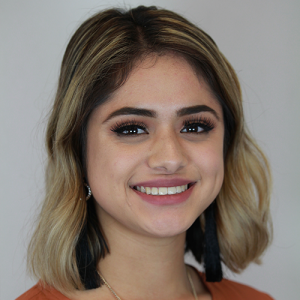 "My involvement on campus has greatly increased my understanding of what it means to be a part of the Georgia State community. From the Newton to Atlanta campus, I have been engaged in various activities and decisions that affect Georgia State. I am running for Student Government President to work to advance every single students' potential and not let anything hold them back."
She was elected an SGA senator in 2018 and currently holds the position.
Mejia is a first-generation student and a proud Latina. Her hometown is Gainesville, Georgia, and her life goal is to become a humanitarian through servanthood and determination. She was one of five SGA representatives to attend the recent trip to Israel.
Mejia is very involved on campus, specifically through her role as Daytime Chair for Spotlight Programs Board. She organized two large events on campus, Orgullo Hispano, a celebration of Mexico's and Central America's independence day, and Love Affairs, a self-love plaza. She is also the Alumni Networking Chair for the Phi Alpha Delta Law Fraternity.
Give students the resources they need to be financially literate by working with programs from the Office of Financial Aid.
Increase collaboration between student organizations to expand inclusivity and create community on campus.
Make SGA more transparent by implementing town halls that allow students to speak to officers directly.
"I am not afraid to roll up my sleeves and do the hard-work no one wants to do. I am not running for office to dictate. I am running for office to be of service to our students, an active listener who executes solutions to their concerns, and to be my peers' number one supporter as we all strive to succeed in our endeavors."

She has no previous SGA experience.
Fields had experience with film and TV at the young age of 13 years old. Born in Miami, Florida, but raised in Georgia, she once interviewed Michelle Williams from Destiny's Child, Trayvon Martin's parents and Michael Brown's family after the Ferguson shooting.
Fields is the founder and CEO of Operation 50 Speaks, a nonprofit organization that works to strengthen civic engagement between young adults and their local government. She was involved in her previous campus at the University of West Georgia as the Political Action Chair of the NAACP and Team Jesus Ministries.
Ensure the safety of students on campus by working alongside campus police, including for the prevention of sex trafficking.
Implement International Campus Cookouts as a space for students and SGA members to communicate over a diverse meal.
Enact the Unite Blue and White initiative to celebrate a new culture on campus with bi-monthly events, like cook-offs or dance shows.
Nashbi Grand-Jean, Junior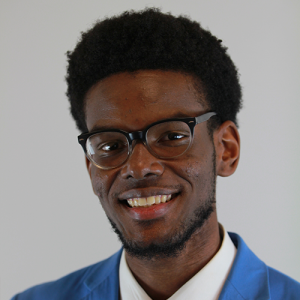 "I have a special vision for the university which can only come to past with the right people and specifically the right person at the head. Someone humble, who is not going in with the intention of self, but rather the intention of us. Someone effective, who will make sure that the voices of students are heard and are brought to actual solutions. I believe God has called me to be that one. The one to once more place service above self, and leave Georgia State University greater than we came."
He was an SGA freshman liaison in 2016-17, then moved to senator in 2017-18.
Grand-Jean's hometown is Jonesboro, Georgia. His brother, Ammishaddai Grand-Jean, is the University of Georgia's SGA President.
He hopes to be a servant to the Georgia State community. His religious influence through Christianity is of high importance to him.
Grand-Jean was involved with SGA for two years before taking a break to become president of the Adventist Christian Fellowship and serve his faith-based community. He also interned for the attorney general currently interns for the governor.
Make SGA more accessible to students through establishment of new offices within SGA.
Build SGA's presence on campus through partnerships with campus faculty and student organizations.
Increase school spirit and pride by implementing new traditions to help students show their pride as a Panther.
Update (02/25/2019 at 11:45 a.m.): A previous version of this article incorrectly identified Fields' previous experience with SGA and her involvement. She does not have any experience in SGA and is no longer involved with A Different World ministries. She was involved on her previous campus at UWG.