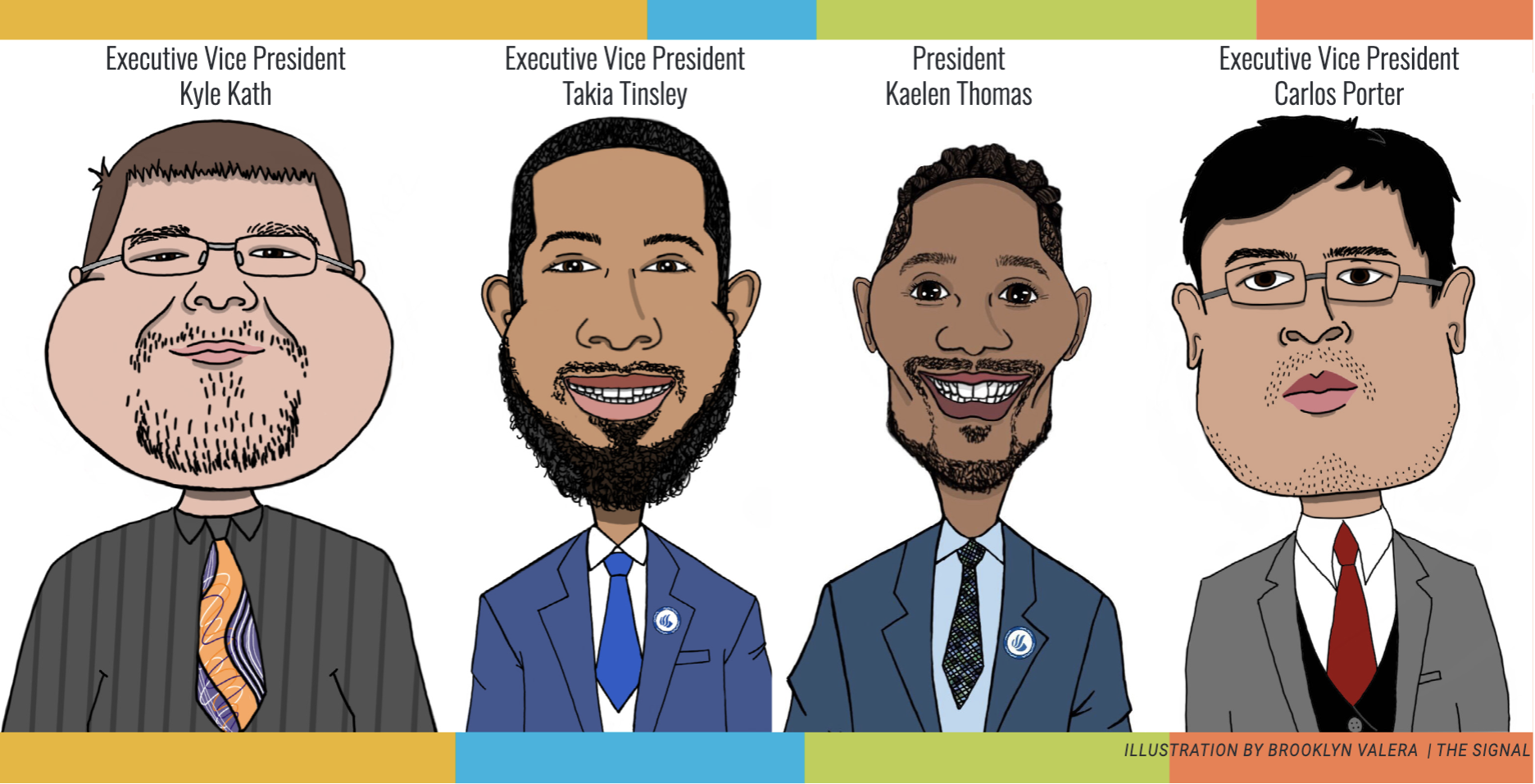 "We are living in a drastically different world than we lived in before," Student Government Association University-Wide President Kaelen Thomas said.
As Panthers prepare for fall 2020 in less than ideal circumstances, members of SGA commented on how they plan for this year to look.
According to Thomas, the administration will go about a multi-prong approach by educating and enforcing CDC guidelines, such as distributing masks and promoting social distancing. 
He said that Georgia State purchased 7,000 disposable masks and 100,000 reusable masks, which will be distributed in the first few weeks of campus reopening.
 Thomas said that his primary concern in dealing with the pandemic is to not only provide for students from a leadership perspective, but to also provide future SGA students the required information.
In a conversation with The Signal during the elections, Thomas discussed keeping students F.I.R.S.T. in which his priorities would entail free menstrual products, increasing on-campus jobs, reducing student housing and increasing sustainability and transportation. 
Despite the pandemic, the administration has made strides in fulfilling that platform. The Flower Initiative will be offering free menstrual products to students on all campuses.
Embark at Georgia State assists students who are facing eviction or homelessness through the Emergency Assistance Fund. The donations are need-based with multiple withdrawals but cannot help with tuition and school fees.
In terms of sustainability, Georgia State has started a Dormroom Energy Competition to promote recycling. They will be purchasing bins to place on each floor instead of on the bottom floor of residential houses. Winners of the competition could get perks like discounts on housing or room TVs.
Though Thomas will not be present on campus for his classes, he encourages students to stay in contact by visiting him during his office hours. He also suggests students send their inquiries to the asksga@gsu.edu page for more information.
"I encourage students to be aware and vigilant by contacting people in charge if there are any problems," Thomas said.
Atlanta
Atlanta Executive Vice President Takia Tinsley commented on this year's goals and developments as well. 
Tinsley admitted that the COVID-19 pandemic has hindered quite a bit of his plans for this semester, but he still wishes to promote policies, such as the library hour extension, GSUPD accountability and a sexual assault task force committee. 
Tinsley stressed accountability from the entire student body during the pandemic, strongly urging Panthers to wear masks and practice adequate safety measures. 
"I know it's not ideal, and believe me, I would much rather enjoy my last year of undergrad being social and enjoying the culture of [Georgia State]," he said. "But at this moment we have to think about … not only ourselves, but the greater Atlanta community."
Clarkston
Clarkston Executive Vice President Kyle Kath discussed his plans of unity and inclusivity this year. 
"The SGA is the voice for students, and I want that voice to be blind to campus association, gender, race and religion," Kath said in relation to the cultural inclusivity on the Clarkston campus.
The pandemic has hindered the board from planning events that can keep students safe but still give them a feel for student life. He insists, however, that students attempt to ensure student safety while attending classes. 
Though Kath notes that he cannot take adequate measures to keep students safe, he ensures that he and SGA will provide the best response for their students. 
"My door is always open, and my email will remain accessible to every student if they wish to share any concerns or provide ways to serve the community better," Kath said.
Newton
Newton Executive Vice President Carlos Porter elaborated on some of the practices the Newton campus has in place for this semester.
While maintaining the motto of "Students First," Porter notes that student safety is key while re-examining and canceling many campus-wide events for the semester. 
One of the biggest concerns for Newton students is the building layout, which remains open and exposed to onlookers. The campus plans to restrict certain areas and limit the number of students that congregate. Masks are highly recommended and the lawn area between the two buildings will be open for the time being.
"The more prepared we are, the more we are able to serve efficiently and effectively," Porter said.
Editor's Note: SGA Alpharetta EVP Muskan Virani, Dunwoody EVP Michelle Martinez and Decatur EVP Mariyah Cummings did not respond to The Signal's request for comment on the matter.