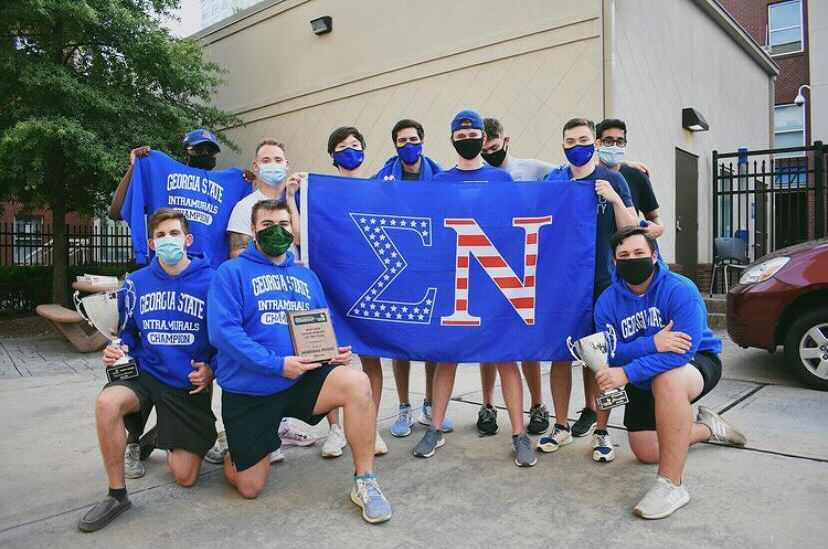 The online switch has been difficult for many clubs and organizations. Some decided that taking a break would be the best course of action, and others, like Greek life, have continued operation.
Greek life at Georgia State comprises four councils: the National Panhellenic Council, National Pan-Hellenic Council, Interfraternity Council and National Multicultural Greek Council. All councils had to operate online and social distance for the first time during 2020's fall recruitment. Greek life students have had to learn how to pitch their organizations more than ever to continue their appeal to gain new members. 
Now that it's spring, these students are ready to take what they learned from the online fall semester and bring it to their new spring pledge classes.  
Some Greek organizations received smaller pledge classes due to the online shift, while others pledged more new members than they had in person. National Multicultural Greek Council sorority Sigma Sigma Rho had the opportunity to bring in one of their larger pledge classes despite being entirely online.
President Ishani Patel spoke about her excitement for the organization's future due to its recruitment success.
"I want to be able to make this sorority the best that it can be, and this is just another chance to be able to do that," Patel said. "I feel pretty confident about spring recruitment, especially since now we know what to expect after this past fall."
Many students may question whether they should join Greek life if all memberships and event opportunities continue to be online. Recruitment chair Justin Kim of Sigma Nu shared what he would tell students considering joining the fraternity.
"I would tell them it's worth it because it is essentially the same thing," Kim said. "Online or not, in the end, you're going to meet people that are going to bring out the best of you." 
Highlights of Greek life, such as the constant flow of events, have to be done more creatively than before. Previous popular occasions like formal events, date nights, new members getting a "big" sibling, and so many more events had to adapt to the circumstances.
Several organizations have had the chance to take a step farther than being only online to hosting safely social distanced events. Brenda Cruz, Zeta Tau Alpha's social chair, describes how her sorority plans to move forward in creative ways.
"Last semester, the social chair actually came up with the idea of doing a drive-in movie, which was very creative and safe," Cruz said. "I plan on finding more creative ways to make socially distanced events."
As Greek life and many other organizations continue to stay afloat and gain new initiates online, it's up to the individual whether they choose to join during this time.
Sometimes the need for adjustments can bring out the best within an organization that couldn't happen if the circumstances hadn't changed. Situations can still blossom during what can seem to be a setback, and organizations will continue to have the chance to be creative and make history.