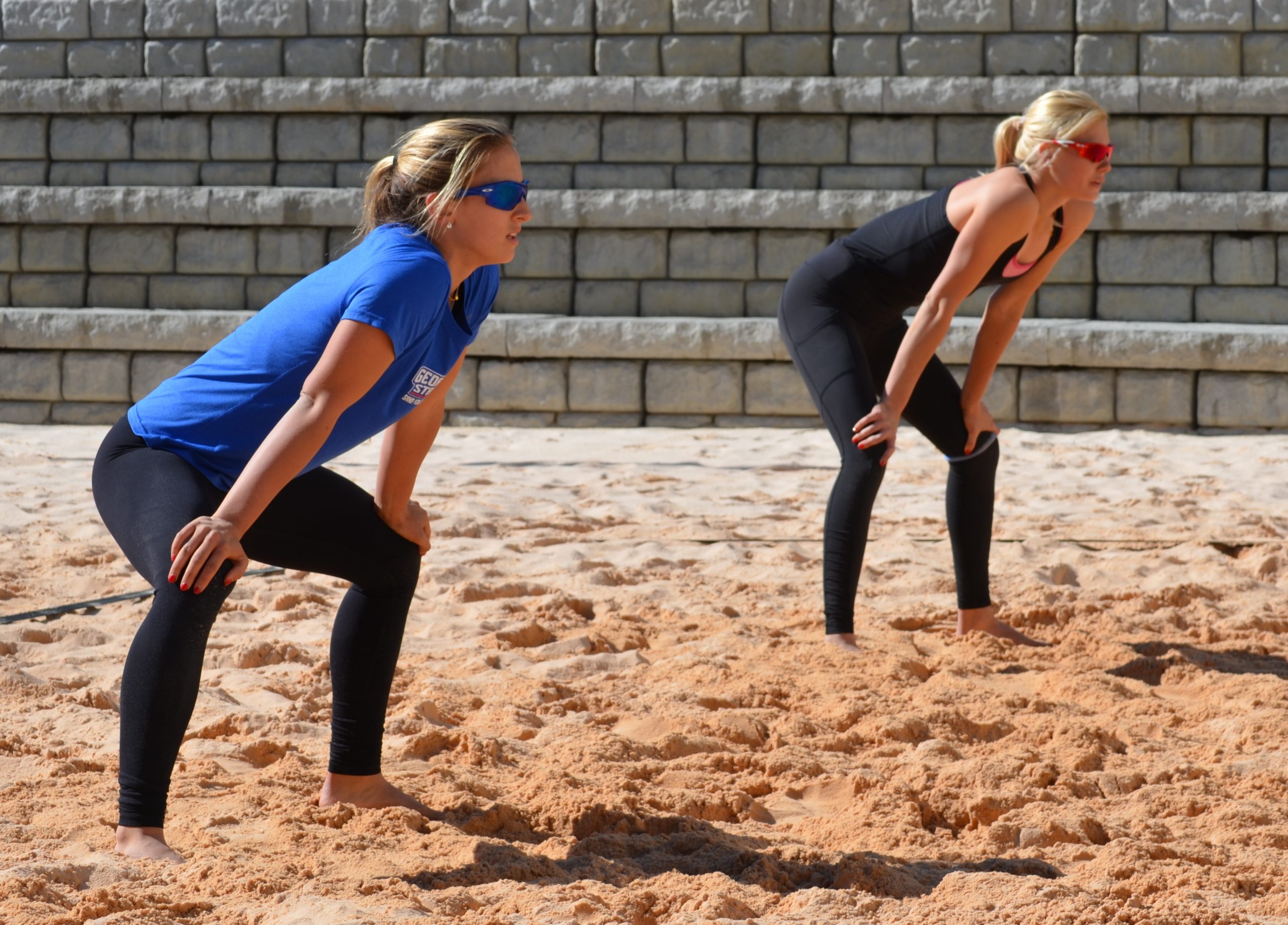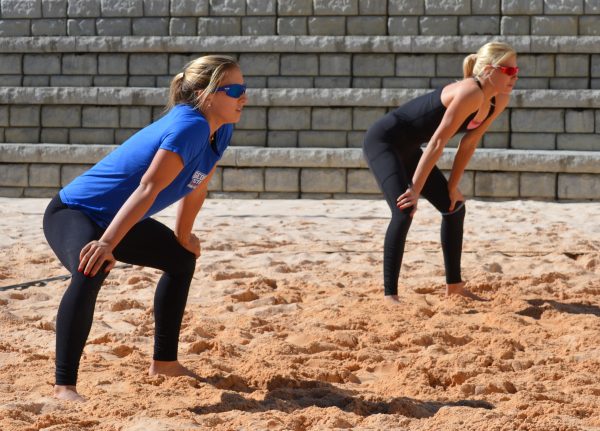 The sun is about to rise on another season for Georgia State sand volleyball.
The 2015 season will be the third that the Panthers have fielded a sand volleyball team. Its inaugural 2013 season saw Lane Carico and Katie Madewell advance to the American Volleyball Coaches Association [AVCA] National Championship.
Last season in 2014, Georgia State finished the season with a 14-5 record and finished with a Top Ten ranking on the AVCA charts. The Panthers have earned a Top Ten preseason ranking by the AVCA for 2015.
Georgia State is entering its second season with head coach Beth Van Fleet at the helm. The second-year Panthers coach feels that the 2015 campaign will see her team continue its ascent in the realm of collegiate sand volleyball.
"We are very excited," Van Fleet said. "Our team is much more prepared than in years past. The girls are hungry and ready to compete."
Returning players
Twelve players from last year's squad will be returning to the sand for Georgia State in 2015. Those returning include last year's top pairing Sara Olivova and Jansen Button. The Panthers' primary duo, both juniors, notched a 23-9 record in 2014.
"To play with my best friend and someone with the same goal, mindset and ambitions is what any beach volleyball player looks for," Button said. "Us as individuals are good but as a pair we make each other great."
The 23-9 mark proved to be an improvement over an 11-17 season that the duo posted in Georgia State's inaugural sand volleyball season of 2013.
"I can't be more excited to be back on the sand with Sara," Button said. "It's been a long time since May and we are both so hungry to get back out there. The best part is that we are not even near the peak of our partnership and we continue to get better every time we step on the sand."
The returning Panthers also feature last season's No. 3 pairing of Katelyn Rawls and Sarah Agnew. In 2014, the team of the junior Rawls and the sophomore Agnew earned a 15-9 record. Rawls was paired with Milani Pickering in 2013 and had a record of seven wins and 11 losses.
Rawls and Agnew also have developed a chemistry that can be found throughout the team. Rawls says there can also be a difference between what the team does in practice and when it is time to compete for real.
"When you see us at practice, it looks like we're struggling, but we're on it when we're in games," Rawls said. "On chemistry, it's important. We will even go to have coffee together to talk about non-volleyball stuff."
Van Fleet credited both pairs with never giving up and always knowing where to be on the sand.
"With both pairs, when you watch them play, they'll never give up," Van Fleet said. "They know where to be and have a high volleyball I.Q."
The team is also returning sophomores Natalie Wilson, Jessica Fourspring, and Delaney Rohan. Returning juniors include Pickering, Karlee Kavanaugh, Alexis Townsend and Alexis Emurr. Georgia State's lone returning senior is Molly Smestad.
Newcomers
In 2015, the Panthers welcomed four newcomers to the team — three of whom are freshmen and one of whom is a transfer. In addition, two of the four are international students. The three freshmen are Allie Elson, Jessica Swaney and Magdalena Dostalova who comes to Georgia State from Prague in the Czech Republic. Nina Interwies is a junior from Germany.
"[Magdalena] brings a lot of height, power and determination. Nina is smaller, but she's been helping us with learning new plays. She's very good at seeing the other side of the net," Van Fleet said.
Button has also been impressed with the way Dostalova has emerged as a true freshman.
"[Magdalena] has so much natural talent and I believe she is a gamer," Button said. "I'm ready to see her compete. I know she will be in her element competing. I also have to constantly remind myself that she is a freshman."
The team says that the newcomers of today are different from those of the 2013 inaugural team in the sense that they can look to the upperclassmen for advice and molding them into the team's sisterhood.
"When we were freshmen, we didn't have anyone to look up to," Rawls said. "We've set the groundwork. We've been a big sister figure for today's newcomers."
Different elements to practice
According to the team, it has added different elements to its practice sessions dating back to the fall practice session.
"Coach [Van Fleet] knows how to change it up with different ideas," Rawls said. "During the fall we had Wednesday Night Lights where we would compete at night under the lights. She also would add different things to test our distractions. Fall season is a grind."
Practicing outdoors in the fall and winter months on sand also mean practicing in "the elements." Frigid temperatures have put Downtown Atlanta in a deep freeze for much of the last few weeks. Despite this, the daunting cold has had no effect on the Panthers.
"With our team, we find positive in any environment," Button said. "There is never a time anyone complains about having to practice in a less ideal environment. Weather doesn't decide how we play, we do."
Click the button below to read more.
An assist from court volleyball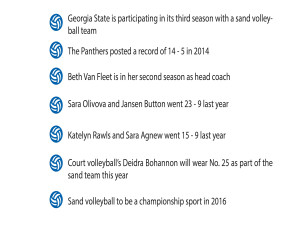 Along with everyone else who is on the team, Georgia State sand volleyball has also received a boost from one of the standout players from the court volleyball team. It has come in the form of junior outside hitter Deidra Bohannon.
This past season, with court volleyball head coach Sally Polhamus in her first year at the helm for the Panthers, Bohannon started in 27 matches and recorded 432 kills for third in the Sun Belt Conference. Bohannon also had 303 digs to put her second on the team in that statistical category and earned All-Sun Belt First Team honors. She led
Georgia State to a conference tournament appearance in 2014 as a seventh seed.
The sand volleyball team has been pleased with the fact that Bohannon will be part of the team this season and feels that her talents from court volleyball can translate into the sand game.
"[Deidra] is great," Rawls said. "She can jump so high and can be a big blocker for our offense. She is also super fast and provides a great attitude."
Bohannon has been listed as No. 25 on the Georgia State sand volleyball roster for this season.
"I think she is a great addition to our team," Button said. "She brings more heart and determination to our team. Each time I see her on the sand, she is getting better. I see her as a great tool in our toolbox."
Bigger and brighter future
Sand volleyball is continuing to grow exponentially as a sport, both at Georgia State and elsewhere across the country. That growth will be accelerated in the 2016 season when the National Collegiate Athletics Association [NCAA] recognizes sand volleyball as a championship sport.
The move to championship status removes the "emerging sport" label from sand volleyball after three years, a testament to the sport's rapid rise in popularity.
"It is monumental for us," Van Fleet said. "We've been so lucky, thanks to the AVCA that this step was taken. Now the next step will be to get the conferences on board."
If a conference championship were to occur in the Sun Belt, at least four teams would need to participate. Among Sun Belt schools, Georgia State and Louisiana-Monroe are the only two with sand volleyball programs. Adding a sand team has also been considered to be on the radars of Georgia Southern and New Mexico State.
Rawls also sees it as a major step forward for the sport.
"To say when we become seniors that we succeeded to get us to the NCAA level is amazing," Rawls said. "This is the fastest-growing NCAA sport."
Button hopes that the NCAA's recognition of sand volleyball as a championship sport will also help younger players and will inspire more to play as kids.
"It is important not only for sand volleyball at a collegiate level but at a youth level," Button said. "So many young girls with amazing talent in the sand are going to be able to have an opportunity to compete at a high level. I know I lucked out with my timing, so I can't be more excited for the future of sand and being able to end my career at Georgia State as part of an NCAA championship sport."
First things first
The 2016 championship campaign is still a year away. In the meantime, Georgia State sand volleyball hopes for even bigger and better things this year after its 14-5 record from last year.
The Panthers have a slogan called "Play for May," denoting what it will take for the team to reach the AVCA National Championships that month. Van Fleet says that as of now, its focus is on March 7 at the Carolina Classic in Columbia, South Carolina that will also feature Mercer, Jacksonville and UL-Monroe.
Georgia State's first home slate of matches will be on March 11 when the Panthers host the Diggin' Duals at the Sand Volleyball Complex. The Panthers will play the University of New Orleans, Mercer and South Carolina that day.