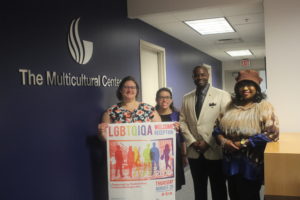 LGBT and Minority Focused Organizations
There are a variety of other organizations for LGBT students to get involved with, from LGBT-specific clubs to broad social justice programs.
These organizations can be beneficial for queer or questioning students to explore as they become more comfortable with themselves. The transition to college can be overwhelming enough without having to worry about fitting in.
If none of these clubs seem like the right fit for you, you can check out other LGBT-friendly clubs on Orgsync by simply searching "LGBT."
Students for Promoting Engagement Through Activism and Knowledge (SPEAK)
With a mission statement that promotes activism and academic growth, SPEAK may not be an LGBT-specific club, but it is certainly one that promotes a safe environment for students. SPEAK partners with the department of Women's, Gender and Sexuality Studies to provide workshops that help build professional skills and make students more socially conscious.
Notably, SPEAK worked with the Multicultural Center in April 2016 to put together Trans Week, a week dedicated to educating people about the trans community. Although listed as a graduate organization on their OrgSync page, SPEAK welcomes the participation of undergraduate students of all majors.
Alliance for Sexual and Gender Diversity (ASGD)
Located in Student Center East, Suite 467, The Alliance for Sexual and Gender Diversity, known simply as Alliance, is one of the oldest gay-straight alliances in Georgia. The organization is designed to provide a safe space for LGBT students on campus and educate them and any allies about issues facing the LGBT community today.
Anandhi Martin, the sitting president of Alliance, said the group is currently trying to "push our borders and collab with allie groups on campus for different events like movie nights or Panther Crawls."
Alliance will also be hosting its annual Drag Show in October. Also, the Alliance room is available in Student Center East for a safe space to relax and watch some reality TV ("RuPaul's Drag Race" is a favorite).
Out in Science, Technology, Engineering and Mathematics at Georgia State (oSTEM)
Another LGBT-specific club, oSTEM seeks to foster a supportive learning environment for LGBT students majoring in STEM fields. The organization offers workshops about graduate programs, faculty research and even hosts movie screenings.
oSTEM is not the only major LGBT-specific organization, though. There's also Inclusive STEM (like oSTEM's broader cousin), which focuses on supporting all minorities, and OUTLaw, which is oSTEM, but for students pursuing law degrees.
Fall Semester LGBT Events
Even though same-sex marriage is legal now, it still isn't always easy being a member of the LGBT community. Georgia State created its own support system for LGBT students, kicking off the year with the Multicultural Center's Welcome Reception for the LGBTQIQA Community.
The event, scheduled for Aug. 25 from 4 p.m. to 6 p.m., is part of Panther Welcome 2016. The reception is designed to give new and old LGBT students and allies the chance to meet and mingle in a safe space on campus. There will be plenty of ice breakers for everyone to get to know each other, as well as refreshments and a student DJ.
"We expect to have around 100 attendees each semester. We host the event in the fall and in the spring," said Christina Wan, the Senior Student Development Specialist for Advocacy and Student Success. "Although we welcome as many as would like to attend."
Wan also emphasized that the reception is, again, a great place for faculty and students to "make connections that may be helpful for them throughout their time at Georgia State University."
The Multicultural Center is offering other LGBT-related events throughout the semester. Starting in September, the Center will be offering Safe Zone training, a series of workshops, which is aimed at creating a safe and supportive environment for LGBT students and teaching non-LGBT individuals how to support the LGBT community.
Making a comeback this year will also be the LGBTQIQA History Month Celebrations in October. The Multicultural Center partners with student organizations to create events honoring and educating people about the history of the LGBT community.
"We don't have all the plans solidified yet for that event," Wan said. "We actually have a committee of faculty, staff and students that help to plan our heritage month events. They will meet as the school year starts again to make plans."
Last year, the festivities included a film screening and panel discussion about LGBT life on campus. Whether or not they go the same direction this year, Wan affirms that the main focus of these events is to "celebrate, educate, and help students to build community."
Also in October, there will be a special panel about the intersection of race and sexuality.  Intersections of Identity is an event where queer people of color will facilitate a discussion among students about how they experience intersectionality on the Georgia State campus.
The Multicultural Center can be an incredibly useful resource for all LGBT students, especially students who are just beginning to explore their gender or sexuality. The center offers events throughout the year for groups outside the LGBT community as well, so try to stop in and see how they can help.
For more information: http://multicultural.gsu.edu