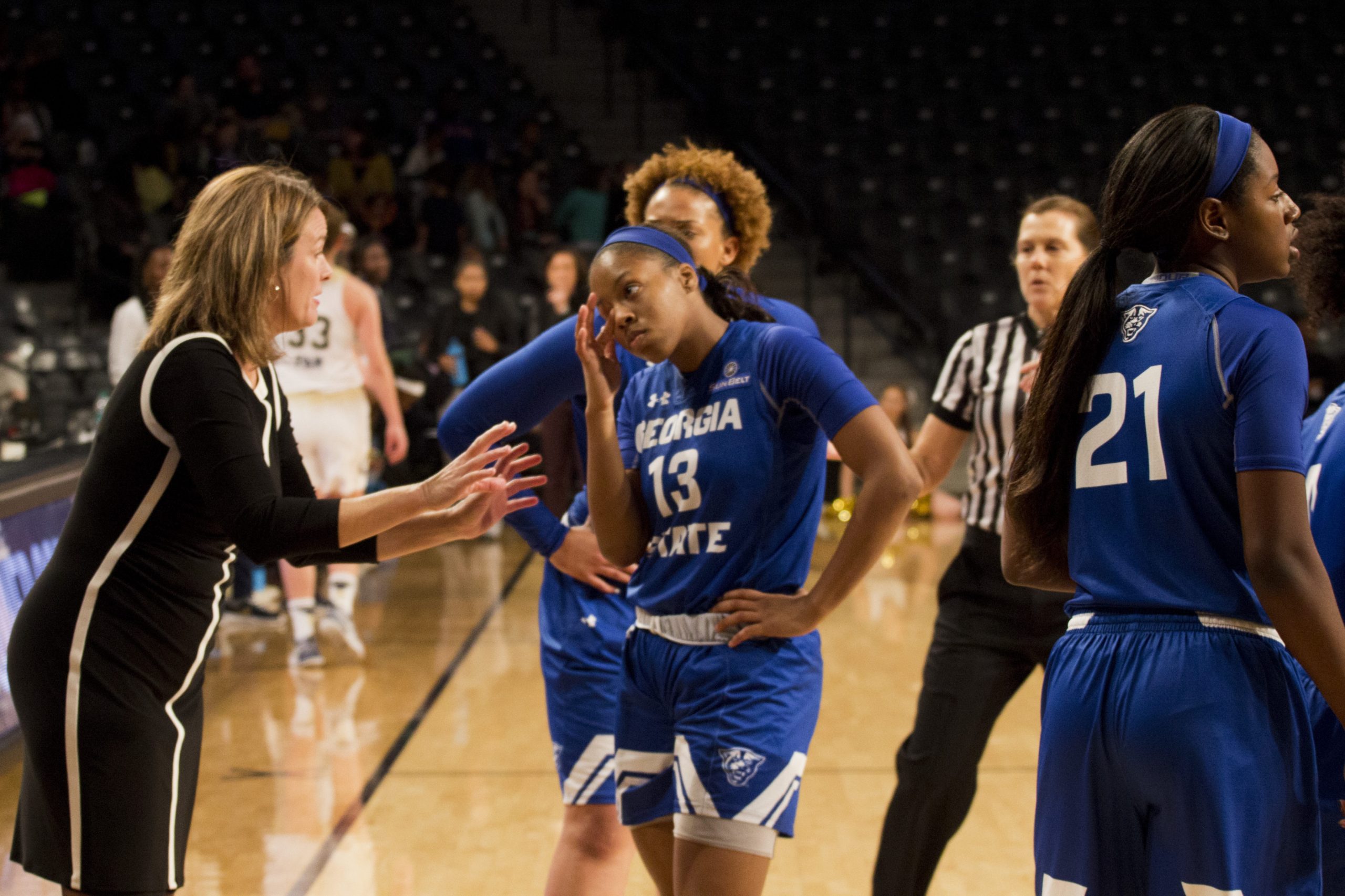 The Georgia State women's basketball has hit a wall recently, and it is one that seems unbreakable. The Panthers are currently on a six-game losing streak that spans over the entire month of January.
"I think it's a mixture of things, we're right there, we're close in a lot of the games and were not finishing. We're not finishing on the defensive end, we've given up some offensive boards after we've played pretty good defense and that kind of deflates you in the last two or three minutes," Coach Sharon Baldwin-Tener said. "On the offensive end, I think we've missed some easy shots and we've missed some free throws going down the stretch."
Coach Baldwin-Tener is right over the last few games, the team has really competed and fought until the very end, which there is no quit in this team despite the losing.
"This team hasn't given up at all, which I think is a great thing and it shows the character of the kids. They're not going to give up. They want to win too, so it's been tough because this a great group, we've just got to get that one and I think we'll gain some confidence and we'll go from there," Coach Baldwin-Tener said.
During the losing streak, they've trailed at halftime in five of the losses. That's a tough way to play because they're always playing from behind, so you have to exert energy to catch up and then sustain the energy to keep going the rest of the game. That is hard for anyone to do on a consistent basis. You also have to be perfect when playing from behind, which they aren't always doing.
In the games against Coastal Carolina and Appalachian State, they've either had a lead or been within five points or less with under four minutes remaining in the game. The problem, like Baldwin-Tener mention earlier, is that they can't finish their games, which seems to be a sports program thing as a whole, not just women's basketball.
Over the losing streak the Panthers are giving up over 74 points per, and they are only scoring an average of 62.3 points per game. That's a -12 margin, which is obviously not winning basketball. They do have a slight edge in the rebounding department. They average 38.1 rebounds per game, and their opponents are averaging 37.3 rebounds per game.
Sometimes the desire to end a losing streak is so bad that you can press to make plays, but in return make more mistakes. That's evident in their 21.3 turnovers per game.
"At times yes because I feel like if I'm not producing then I'm not being there for my team, but other times I just try to go out and play hard and play with energy and hope that feeds off everybody else," freshman guard Jada Lewis said.
The losing streak is tough because obviously, no one wants to lose, but it cannot affect other things that go on so the players try to put the loss behind them after the game and don't allow it to affect them in their daily lives.
"Right after the game it does affect me, but I'm a big faith person so if you trust in God, you just gotta keep going and keep fighting every single day. You can't dwell on stuff like that," Lewis said.
Coach Baldwin-Tener likes to give positive messages after games to help keep the team morale up even with the losing.
"I told them good job fighting and fight until the end, but we've just got to finish. The reality is, we've got to make plays down the stretch on both the offensive and defensive end," Coach Baldwin-Tener said.
There are always teaching moments and those come after games in film sessions and review.
"After a couple of days we'll come back and we'll watch film and see exactly what happened and how we'll fix that for the next time," Coach Baldwin-Tener said.
Losing sucks obviously, but it hasn't been all bad they continue to work hard, although it may be hard to believe they are playing a lot better. They've gotten great individual performances from players like Lewis, and Tiffany Holston, and Astaja Tyghter. They've also gotten key spurts from players like Haley Gerrin, and K. K Williams. Now the goal is to play a complete team game for the full 40 minutes of a game.
There's light at the end of the tunnel, because the losing streak won't last forever, and every team makes the conference tournament, so the key is just getting hot at the right time.