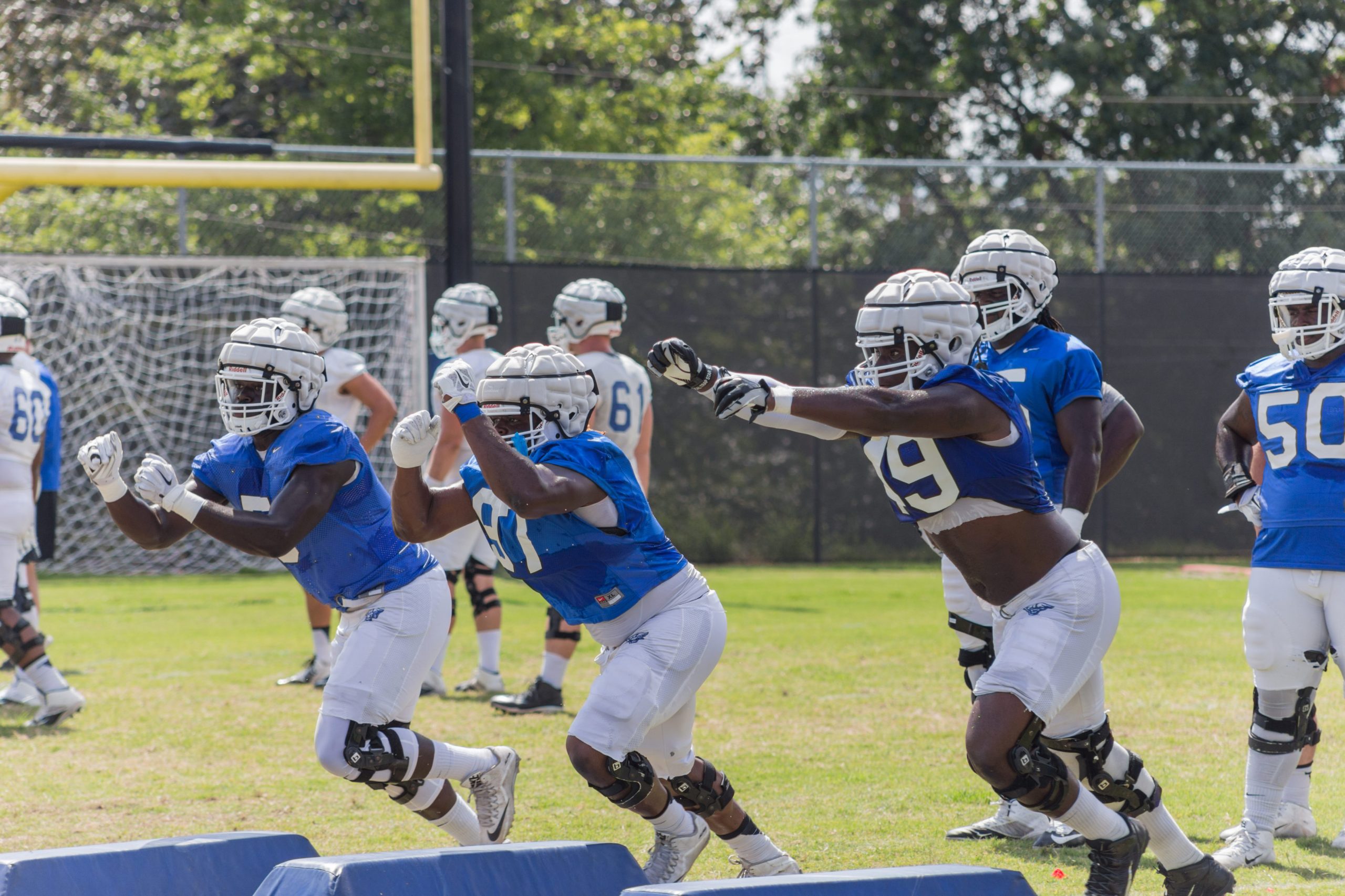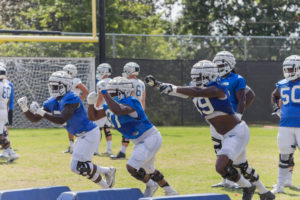 Georgia State will follow up a road trip loss to Appalachian State with returning to the Georgia Dome for another match on the gridiron with another Mountaineer. Sort of. The Texas State Bobcats football program entered a new era in 2016 with the hire of new head coach, and former Mountaineer defensive end, Everett Withers. Withers, the former head coach of FCS James Madison University, replaces Dennis Franchione who was fired after a 39-43 record while with the Bobcats.
Withers had an impressive record while the head coach at James Madison and his short stint as head coach at North Carolina. Under his watch at the two universities, his programs managed 25 wins in three seasons including a record 14-game winning streak between 2014 and 2015. He led James Madison to the Colonial Athletic Association's conference title and back-to-back FCS playoff appearances.
The Texas State head coach saw flashes of the type of team he hopes to build following the three overtime upset win over Ohio University.
"We want them to be tough, disciplined and play with a relentless effort and play with focus and I thought they tried to do that all day today," Withers said following the 56-54 win over Ohio according to the San Marcos Daily Record adding he understands there is plenty of room for improvement. "There's going to be some growing pains," he said adding, "we just have to keep fighting through it and go to work every day and try to get better."
Texas State's schedule followed up their win over the other Bobcats with a brutal stretch traveling to the Arkansas Razorbacks and then returned San Marcos with top 10 ranked Houston Cougars ready to extend their position for a possible playoff run.
The Bobcats were able to flip their role of being the dominated to doing the dominating defeating the Incarnate Word Cardinals 48-17. While Texas State put up 670 yards on offense, they allowed the FCS opponent from San Antonio, Tx 419 yards. This could be the situation Georgia State needs to get confidence on the offensive side of the ball.
The Bobcats joined the FBS ranks and the Sun Belt in 2013 with an overall 17-28 record versus conference opponents. They currently lead the series in conference play against Georgia State, New Mexico State, South Alabama, and an even record against Idaho.
So far in Withers first season, the Bobcats are 2-2 with wins over Ohio and Incarnate World. Offensively, the Bobcats averaged 52 points and over 600 yards in those games. They did not fair so well again Arkansas and Houston where they managed only six points total in those two games. They are not a team you want to get into the red zone where on each of their nine attempts they have finished with points on the board. Coach mINTers defense may have an opportunity to feast on a team who has committed five turnovers, including four interceptions committed by Senior quarterback Tyler Jones, in their first four games of the season. If players like a key to a Panthers win.
On the other side of the ball, the Bobcats are struggling defensively to get a stop. Opponents have averaged 44 points per game and have allowed an average of over 500 yards to opposing offenses. The Panther running game has an opportunity to pick up some steam against a defense that is allowing over 200 yards per game. Conner Manning should be able to find his receivers in space to a secondary that has allowed over 350 yards in the air in two games.
To Coach Withers, the Bobcats first game of the season starts on Oct. 8.
"Our goal is to try to find the best 11 guys on each side of the ball and on our special teams that can help us compete against our conference schedule, bottom line," Withers said following the loss to Houston.
Georgia State turned the tables on the overall series a year ago and will look to continue that tradition to even the series up in 2016. Former Panther quarterback Nick Arbuckle diced up the Bobcat defense a year ago passing for 471 yards to game leading receivers Robert Davis and Penny Hart who each exceeded 100 yards. Five different receivers exceeded 20 yard receptions in the 41-19 win a season ago. The Panthers running game had one of its best games of the season against the Bobcats last year with a total of 172 yards led by Junior running back Taz Bateman.
Defensively, Georgia State allowed only four third down conversions and a total of 453 yards. The Bobcats passing game led their offensive stats with 267 yards but limited to about 5 yards per pass while their running game was held to 186 yards with an average of 5.8 yards per rush.
The Panthers and Bobcats will take their cat fight back to the floor of the Georgia Dome for Georgia State's second home game of the season at 3:30 pm and will be broadcast live on ESPN3.