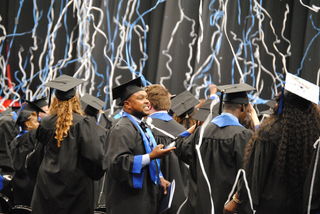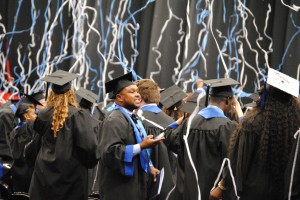 Georgia State hosted its 99th spring commencement ceremony on May 10 at 2 p.m. The graduation ceremony was held in the Georgia Dome.
Degree candidates began lining up at Gate A, and the order in which student lined up was determined by their college and degree levels, accord to Georgia State's website.
Elana Meyers-Taylor, two-time Olympic bobsledding medalist, gave an address to graduates after they were seated.
"…You all have people supporting you. You all have people around you that helped you achieve what you have achieved today; a fantastic accomplishment," she said.
Meyers-Taylor also told the graduates to never stop believing in themselves.
"…Finally, as Journey [the band] once put it, the key to living a life worth living, the key to really enjoying your journey, is to don't stop believing," she said. "Don't stop believing in your dreams, your accomplishments and your abilities.."
Yvonne Owen-Walter, mother of student Jeunice Owen-Walter, said through all of her daughter's hardships, Georgia State worked out to be the best fit for her.
" Well first it's been a long journey, because we are originally from England. So when she came over here she started her studies at Mercer, but decided that wasn't the best fit for her and found Georgia State," she said. "She finished off her last two years here to get her bachelors of science in biology and chemistry. Throughout all of the struggles and tears it really worked out to be the best fit for her."
Jeunice's mom also said she loves the university and feels as though the school offers much more than some may be aware of.
However, Andrew Sims, economics graduate said he didn't enjoy the commencement due to disorganization of the event . He also said he couldn't hear the speaker while behind the stage.
"I actually ended up sitting int he wrong section, because I had no idea what to do," he said.
Sims also said he eventually found one of the volunteers about where he should sit and she told him she didn't know.
The ceremony was concluded at 3:30 p.m. and newly graduated students met with their guests at a recessional.