Downtown Atlanta has several premiere places to get good fried chicken, but one that often gets overlooked is the scabrous, yet sophisticated, Harold's Chicken.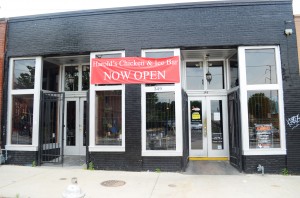 Nestled in the heart of the Old Fourth Ward, Harold's Chicken and Ice Bar has established itself as the face of good eating on Edgewood Avenue.
Although the restaurant's name includes "ice bar", it is slightly misleading. There aren't any ice sculptures dazzling the eyes of guests, but there is a full bar, containing many classic drink choices like Jack Daniels, Grey Goose and Malibu. It's almost impossible to miss the restaurant in passing, and you're almost certain to hear it before you see it; a constant mix of RnB, Hip Hop and Soul music resonates from its interior. If the sounds of the establishment don't capture your attention, the imposing steel bars covering its front windows surely will.
Upon entry, you're instantly overtaken by the juxtaposition of fine art and flat screens resting on the walls. If one of the games on the numerous televisions isn't entertaining enough, a quick glance at the beautiful, portrait style paintings throughout the restaurant will surely intrigue you. The brick-laden walls and low-key lighting make Harold's appear rough and rugged, but the ambiance is anything but.
After being seated, an expansive menu is soon provided; with selections spanning from fried catfish to chicken gizzards to okra, Harold's serves more than just the typical chicken wings and fries. The typical chicken and fish combo meal runs between $11-13, but larger meals—like the 24 piece wing buckets—cost $33. A fish filet dinner costs $11, and a fried green bean or sweet potato tater-tot appetizer costs $5. Although everything on the menu is extremely appetizing, my personal favorite is the 'Perch and Wings' combo, a combination of three chicken wings and two pieces of fish with a side of fries.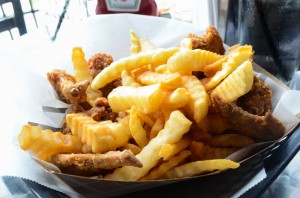 The signature chicken wings are large and flavorful. With the option of getting either "hot" or "mild" sauce to dip them in, I prefer the mild sauce every time. The tomato-based sauce boasts a tangy, yet sweet flavor to complement the juicy crunch of the chicken. It recommended you order your wings "extra crispy" to provide that extra crackle when you bite down. There are three wings provided in a typical meal, and a side of large cut french fries.
The fried perch included in the "Perch and Wings" order is also exceptionally tasty. The fish is fried golden brown and then seasoned with a generous touch of salt. Two large pieces are provided, and their sweet tartar sauce on the side brings balance to the strong flavor of the fish.
Aside from the chicken and fish, there are also several sides that can be ordered with a meal. Cole slaw and thick-cut french fries are the default sides in any meal, but mushrooms, onion rings, or—my personal favorite—fried okra, can also be ordered in replacement. The french fries are lacking considerably in flavor, but the fried okra's delectable flavoring makes up for what the fries miss; lightly salted and deep-fried, the okra still retains the moist, juicy taste that we are familiar with, in addition to the delicious crunch that makes it so fun to eat. A slice of bread can also be found at the bottom of many of the entrees on the menu, which is a nice touch if you happen to order something spicy like the messy ten piece buffalo wings or a jalapeño pepper side.
The service at Harold's is commendable. Every server has a smile, and constantly asks if everything is up to par. On a regular day, your food comes to you within ten minutes of placing your order. On busy weekend, food arrives between 15 and 20 minutes after ordering.
Harold's largest point of appeal is the fact that it is open until 3 a.m. on weekends, making it a game-changer after an Edgewood bar-crawl. There is even a live DJ on Saturday nights and the occasional live performance during the week.
Harold's is the perfect place to end a wild night out during the weekend, or to simply enjoy a good game during the week. Anyone who appreciates fine art, great music and fried chicken wings will find this restaurant to be more than satisfying. Just make sure you get them extra crispy.
Grade: B+