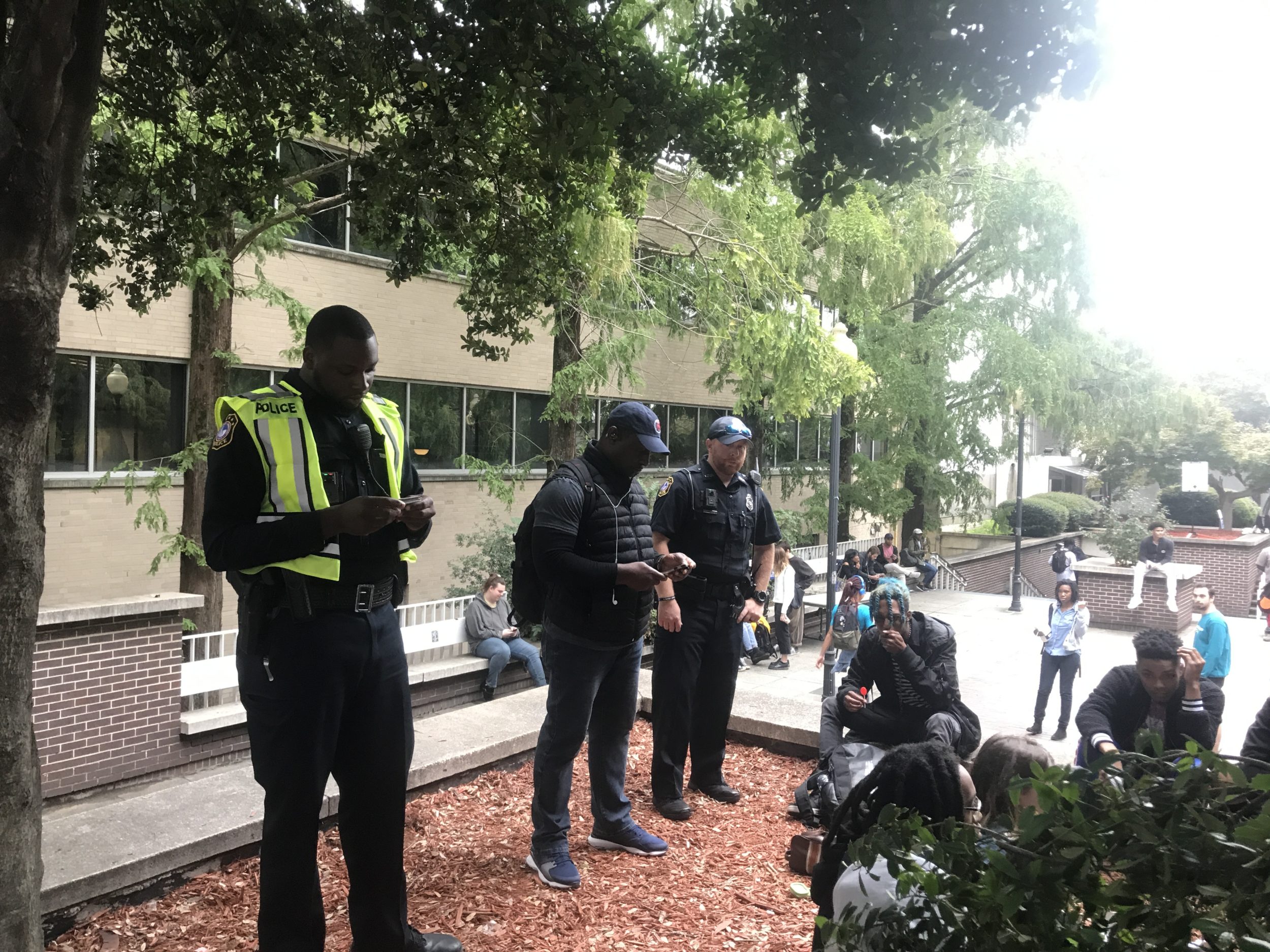 Two Georgia State students were charged for possession of marijuana in Library Plaza this past Thursday, Nov. 1., by a Georgia State University Police Department officer dressed in plain clothes.
Deception is often used by law enforcement officers in interrogation, undercover drug busts and traffic law enforcement. But should it be welcomed on campus?
We flock each day to our concrete kingdom downtown, feeling independent and among community. Commuting to the city, we grow tough skins toward those passing by, but we shouldn't have to worry that any individual we may pass by, sit next to or even bum a cigarette from is a few pen strokes from taking this independence.
While deception is legal and the goal of the GSUPD is safety, this deception isn't the best route to get there. In short, that ain't it, chief.
It's not only uncomfortable being surveilled, but it takes away from the perception of safety we have on campus. If we see a lot of police activity, we can assume that there is in fact more crime and that we should be scared more.
The visibility of militant forms of policing does less to keep us safe and more to create a hostile environment. Crime Suppression Units patrol in a facsimile of military garb, armed and armored, daily, as if that is normal.
And this increase in police presence on campus isn't. In the past, the police have deflected criticism by claiming they lack the resources to expand services. The Signal wrote in October about the non-functioning call boxes all around campus. The cost spent on new staff, new uniforms and guns must dwarf significantly the cost of infrastructure repairs necessary to fix the broken call boxes.
There are plenty of benign places to spend money that improve campus safety. Take the success that is the officer ride program. If you are out late on campus, GSUPD will bring a patrol car to give people rides. The program is popular, both for late-night studying students and WRAS DJs.
"We give about 30 rides a day," GSUPD Chief Joseph Spillane said. "Mostly in the evenings, across campus to and from the dorms and library."
The rides are a great way for students to interact with GSUPD officers and feel safe, but it also shouldn't be completely necessary. Leaving some parts of the campus virtually unattended to but cracking down during the day with displays of power only cause a disportionate view of our men and women in blue.
We'd like to see some sort of reform to how police and students interact on campus. Students shouldn't have to fear if an undercover cop is in their classroom or if they're in danger because an officer is holding an assault rifle. We want our campus to be safe, both in reality and in our perception.