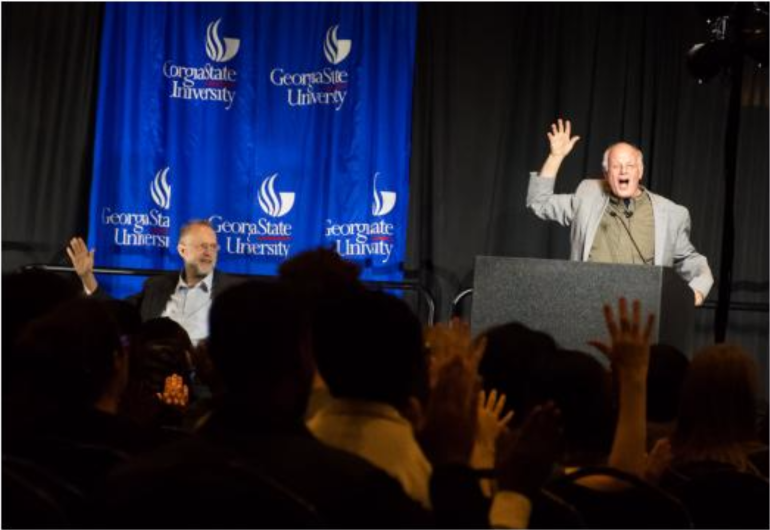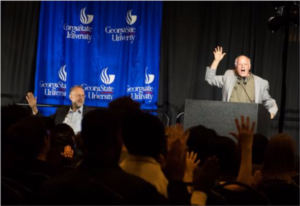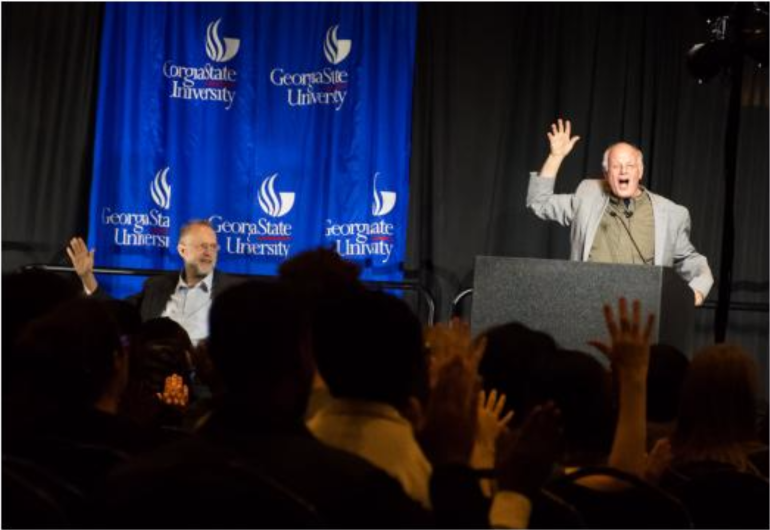 Ben and Jerry paid a visit to Georgia State as part of the Distinguished Speakers Series on Nov.17 to discuss political activism, Donald Trump, and, arguably the most important of all, their free ice-cream for life club.
Ben Cohen and Jerry Greenfield began their journey as entrepreneurs in the summer of 1978 in Vermont, and despite always being the public faces of their company, have always upheld individual political opinions.
Protesting injustice has been an integral part of life for the two men. In April of 2016, Cohen and Greenfield along with hundreds of protesters were arrested on the steps of the U.S Capitol building as a result of Democracy Awakening's direct action.
Greenfield said that he and Cohen are always willing to express their opinions even when they're controversial, and that the company is comfortable with them doing so.
"Obviously not everyone agrees with things that Ben and I say. They often feel like the company is behind it and the company usually responds with 'Ben and Jerry are individuals and are free to express whatever opinions they have," Greenfield said.
"That's one of the great things about Ben and Jerry's, that we have a stated social mission that supports progressive issues and values."
Greenfield said that company has been very outspoken, supporting gay marriage rights and even releasing a statement in support of the Black Lives Matter movement in October 2016.
Greenfield also said that although the company is non-partisan, he and Cohen supported Vermont Sen. Bernie Sander's campaign.
"I think Ben and I were both very active in Bernie Sanders' campaign. We were both out on the trail," Greenfield said.
Cohen even created a non-official Sanders inspired flavor called 'Bernie's Yearning' in January 2016.
But after the recent election, Cohen said the horror of President-elect Trump winning still deeply affects him and that he is concerned for his friends that are people of color as well as the other groups that Trump has denigrated.
"There's an election coming up in 2018. The House will be up for election, a third of the Senate is gonna be up for election. We've got to start working now to elect people who are going to block Trump," Cohen said.
Cohen also said that he is willing to do whatever he can in terms of progression for the country.
"The history of fighting for social justice has overcome setbacks like this in the past. I'm gonna do everything I can to make sure that we overcome this in the next few years," Cohen said.