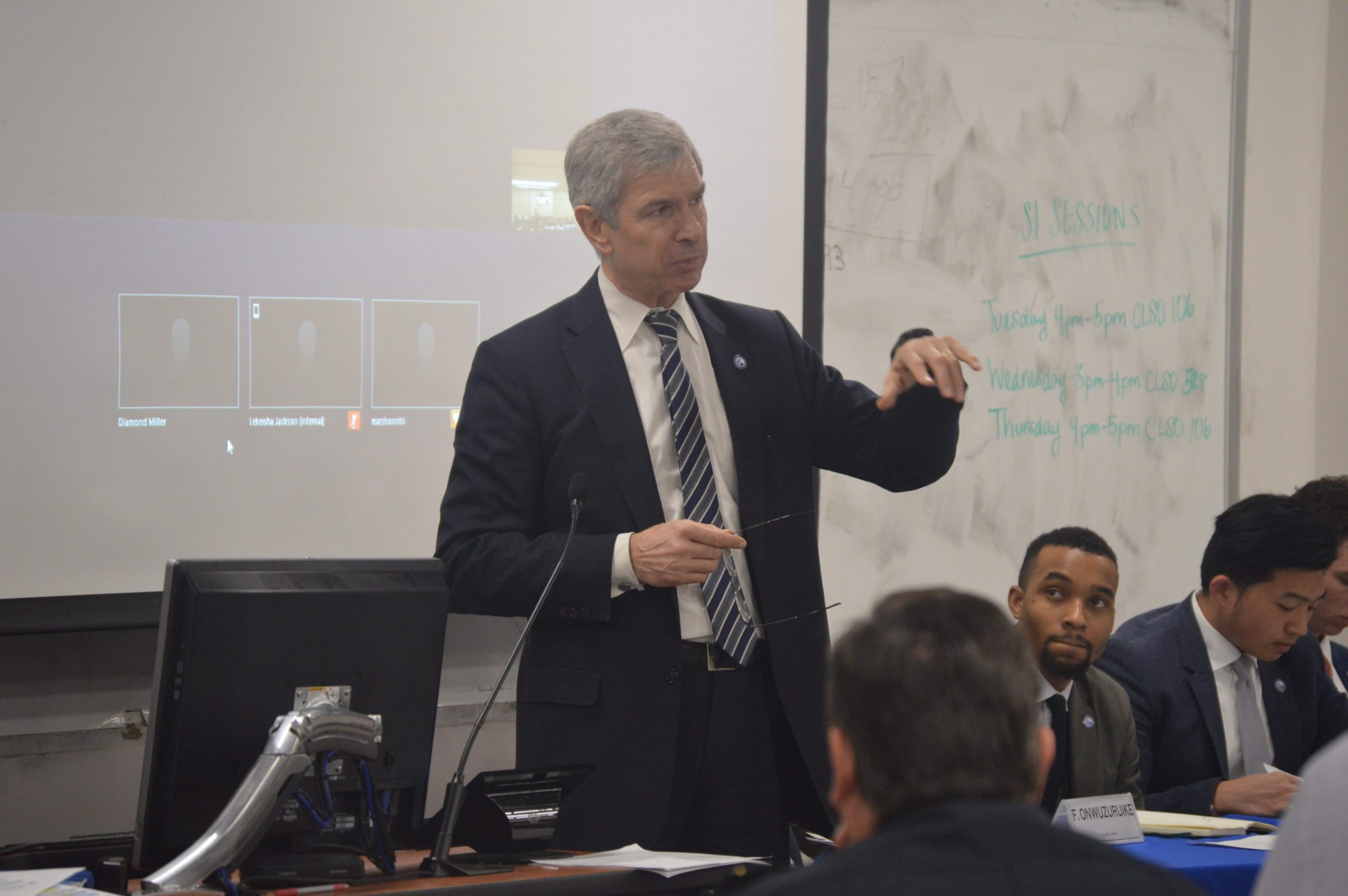 Georgia State University President Mark Becker made an appearance during the Jan. 26 Student Government Association (SGA) university-wide meeting, with an agenda of addressing student questions on recent university activities.
First on the list was the spring commencement, set to take place in Georgia Tech's McCamish Pavilion.
"With McCamish we're going to go with four events, so we can do six tickets per graduate," he said. "I know for some individuals, six seems to be not enough, I do understand that in the past when it was four, there was actually an exchange between students that weren't using all their tickets, so I'm hopeful that something like that can happen again in this situation."
He said that while students have asked about Philips Arena, it will not be available during that time, since the Hawks won't reserve it due to the potential of NBA play-offs taking place there during that time.
But Becker assured the crowd the stadium will be converted into Panther ground for the ceremony.
"We have a great events team, for those of you that have been in Georgia Dome commencements, you've seen how we dress it up blue and white and make it Georgia State, when it's a red and black facility," Becker said. "The same thing will happen at McCamish, we'll dress it up blue and white and make it as festive and into Georgia State as we can.
As for spring commencement, Becker said he's unsure of where it will take place, because of the new stadium's renovation procedures.
The stadium renovations will be broken down into two phases, in order to be ready for next semester's football season, and will continue once the season is over.
"Phase two renovations will start after next year's football season, and what I don't know is whether phase two renovations will interfere with commencement in spring of '18," the university president announced at the meeting.
Becker said Dec. 2017 commencement will likely once again take place in McCamish.
"We're looking for a better long-term solution, but we don't have one at this point.
When the floor was opened up to questions, El-Huni, who has long protested in favor of a Community Benefits Agreement (CBA) with the Turner Field neighboring communities, stood up and asked the president whether he'll take a questions from her. Once Becker denied all questions from non-senators, she continued talking and was detained by university police.
El-Huni was escorted out of the meeting, and eventually barred from campus by Georgia State police for allegedly being "disruptive during a GSU meeting," according to the police report.
According to Georgia State University Police Department (GSUPD) Chief Joseph Spillane, the ban was issued as a temporary safety measure, until the university administration makes a decision on how they would like to handle El-Huni's actions.
Becker also took a question on the university's current policies towards DACA students, undocumented students who have been granted renewable legal status permits by the federal government.
"Prior to this semester, DACA students could only attend Georgia Perimeter College (GPC) campus. But previously, Georgia State was not admitting all qualified candidates, it now has been for two consecutive years, [so] we wanted to make sure we're in compliance [with the Board of Regents (BOR) policy," Becker said.
Current BOR policy states that if a Georgia institution has been admitting all qualified applicants for the past two years, it is required to consider DACA students for enrollment. But a group of DACA students recently took the BOR to court over a continuing dispute of whether undocumented students should be allowed to pay in-state tuition. The court ruled in their favor, and the BOR appealed the decision.
"The tuition matter is a matter of the courts," Becker said on the case. "I actually don't know what will be the ruling."