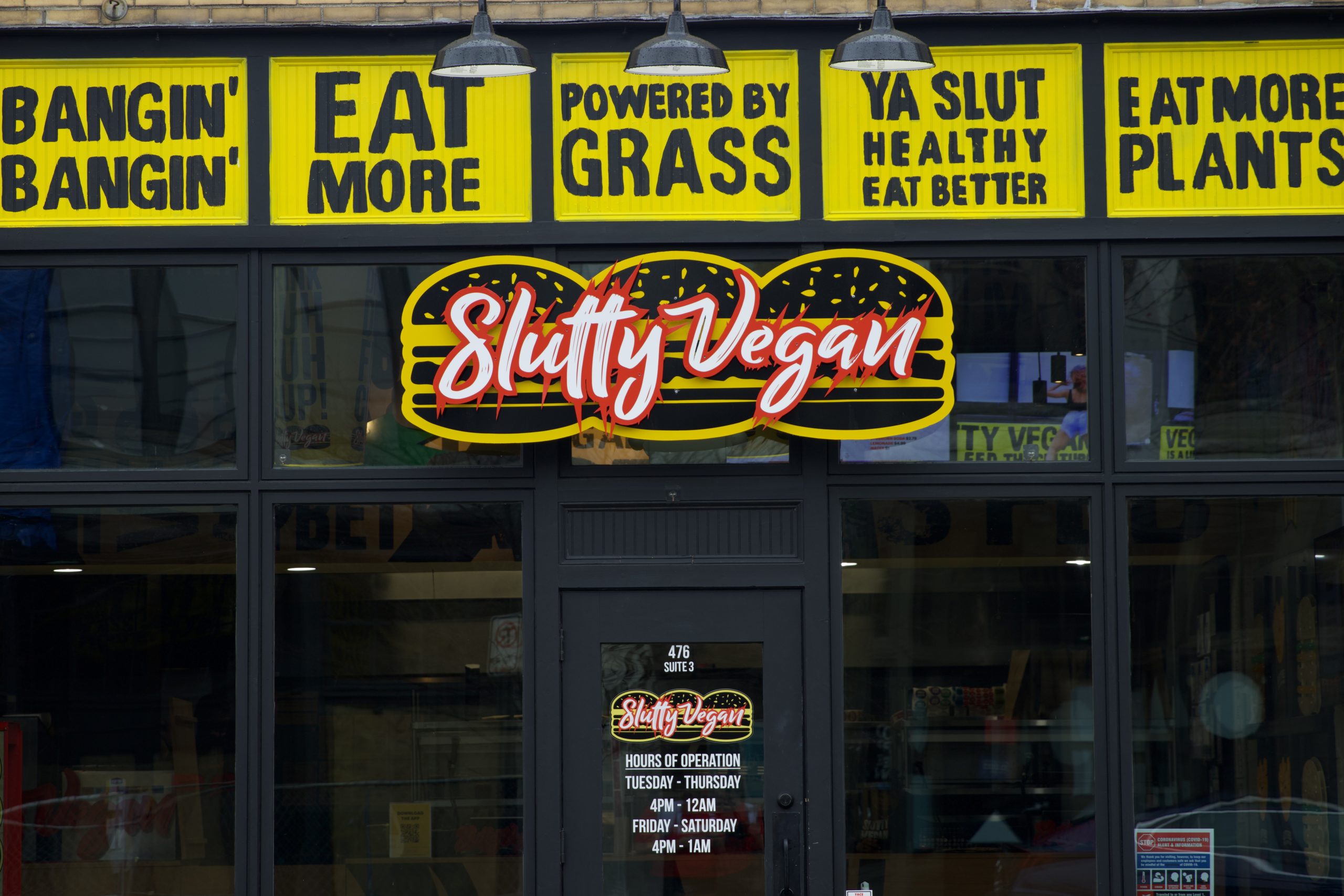 Vegan food isn't what it used to be. The days of simple salads and bland food are out, and delicious burgers and fries are in. Slutty Vegan, an Atlanta-based Black-owned restaurant, offers a fun twist on plant-based alternatives.
Because of limited vegan-friendly takeout options, founder Pinky Cole created Slutty Vegan to facilitate a unique, vegan fast-food experience.
First-time diners, or "virgins," are greeted at the door with cheers. Slutty Vegan has a diverse menu, serving vegan options such as vegan shrimp, bacon and sauces. With its unique name and attention-grabbing burgers like the "One Night Stand," "Sloppy Toppy" and "Super Slut," Slutty Vegan regularly has lines out the door.
In a 2020 interview with CNN, Cole spoke about what her business's unique and progressive energy brings to the food industry and the support she receives from the Atlanta community. 
"We noticed that we just got an influx of people wanting to support small, Black-owned, women-owned businesses," she said. "We have amazing vegan restaurants in Atlanta, but I tagged on an experience to help people reimagine food. If I would have named it 'Pinky's Vegan,' I probably wouldn't have had lines out the door." 
With three locations and two food trucks, Cole is hopeful of expanding her plant-based empire to greater heights. 
Slutty Vegan isn't cherished only by plant lovers. People of all diets love to indulge in the array of options and flavors provided by the restaurant.
Sasha Zubery heard about Slutty Vegan from her vegan roommate. While hesitant at first, Zubery is now a regular customer. 
"I didn't know how good vegan food could be until I went there and tried it for myself," she said. "I was so impressed by the flavor. I didn't think I could genuinely enjoy food with that many dairy and meat alternatives." 
Saif Murshefdi had never eaten an entirely vegan burger, let alone been to a fully vegan restaurant. After trying Slutty Vegan's food, he was pleasantly surprised and impressed by what they had to offer.
"It was quite the experience, to say the least," he said. "The employees were super nice and knew so much about the food. They had so many options and alternatives for every preference. I truly enjoyed everything I ordered, and I can't wait to go back." 
With attention from major news outlets like The New York Times and Forbes, as well as shoutouts from celebrities like Offset and Snoop Dogg, Cole is confident that Slutty Vegan is on its way to becoming a household name. 
Many once saw veganism as a bland diet with limited dining options, but it's now beginning to change into the latest discovery in American diet and culture.
"We made it cool, which is the most beautiful thing of it all," Cole said. "We've been able to infuse veganism and the food into the culture."