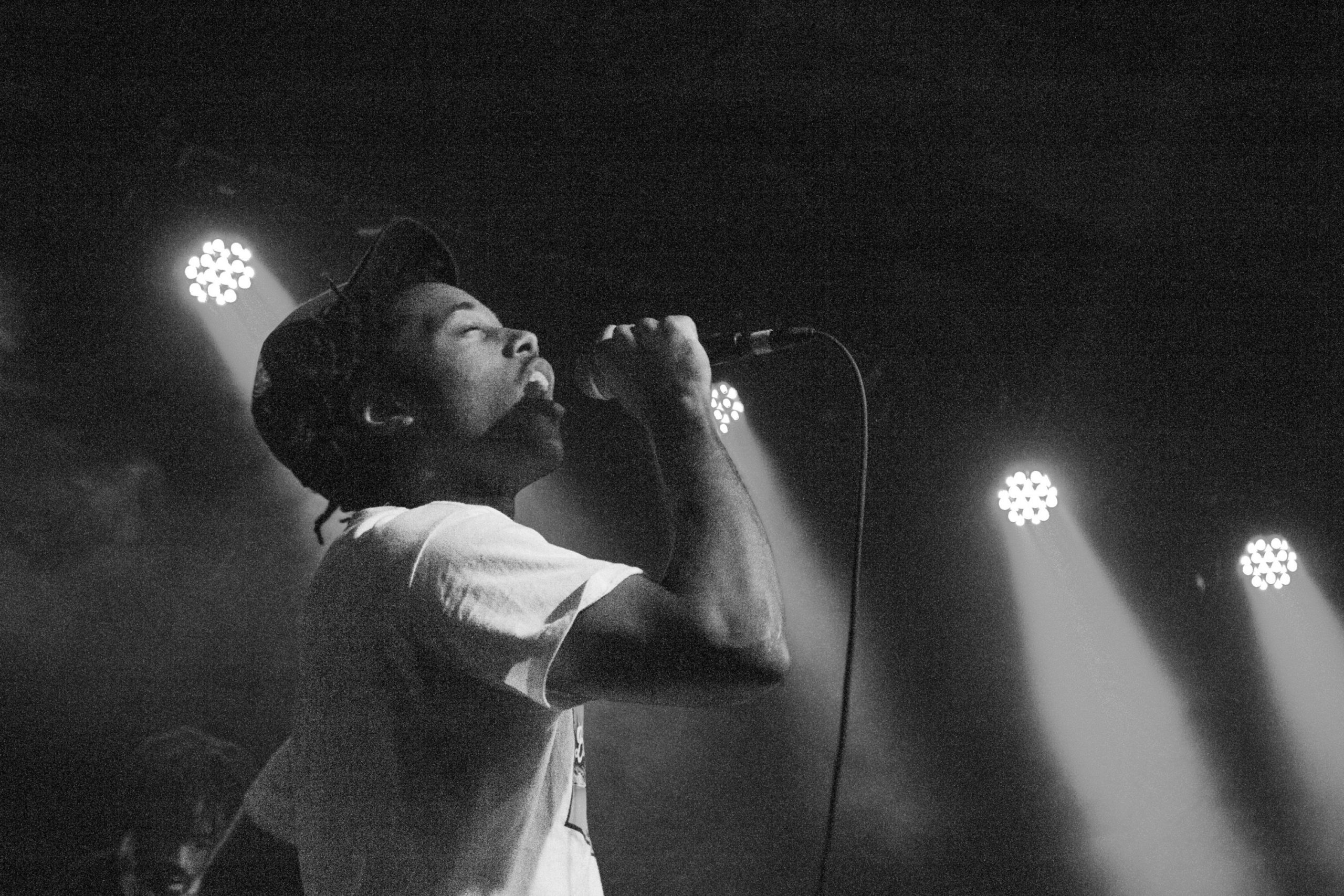 Celebrating the life and music of late rapper Mac Miller, the Masquerade put on Self Care: The Mac Miller Tribute. Proceeds were announced to be donated to The Substance Abuse and Mental Health Service Administration. The lineup included local artists such as Forest Isn't Dead, Sonny Bamboo, HanVader and more. Each set followed a format: they alternated Mac Miller covers into their original work.
Nicx Alexander is member of the hip-hop collective Brown Paper Bag. The collective began when Nicx Alexander met producer Yolanda Weathers in the dorms at Kennesaw State. Because of this collective, he was able to form a band he thinks of more as a team.
"It was just fun back then, we were just trying to figure stuff out and everything but now I feel like I have a team, a base of people who are here to make things go right," Alexander said.
Rapper and Brown Paper Bag member HanVader is excited for the recent success Brown Paper Bag has seen. His set was crisp. He beamed onstage, enjoying every moment of performing his newer releases and Mac Miller's "Wear My Hat."
He said Brown Paper Bag has had recent luck frequently landing gigs and takes it as a sign of growing momentum. One of their more recent shows was last Sept. 1 with popular Los Angeles rap collective Seshollowaterboyz.
"Brown Paper Bag, or BPB, we been doing a lot of shows at the Masquerade recently," HanVader said. "Between one or two a month for about five or six months. It's been for a minute."
Joe Warren is a talent buyer for the Masquerade and was the contact point for all the acts in the lineup. He has been there for three years, and many local acts feel like he has their back.
"[Joe Warren] booked me for my first show ever," Alexander said. "I got kicked off stage. It was for some like Christian rapper or whatever and I was cussing. I didn't know, so I was cussing and they kicked me off stage. And [Joe Warren] booked me for another show within the month, he felt really bad. And it went really well."
Nicx Alexander performed his set backed by Family Recipe Band, a jam band from Athens. They met Alexander at a house show, the vibe was right and the rehearsal went without a hitch.
"It was interesting, we'd never done any work with any hip-hop artist or anything like that," the lead guitarist for Family Repice Band said. "Obviously the instrumentation wasn't the same. "We did our best to pull everything apart and try to make everything coherent and also make sense as a band."
Alexander was very impressed by how well their different styles came together.
"It was weirdly effortless … They're just great at what they do."
The event was an interesting opportunity for local independent music. Fitting, in the memory of Miller.