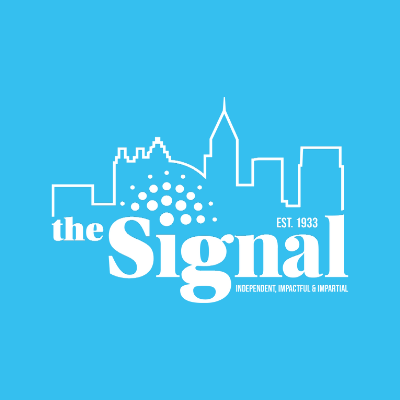 Various works of science fiction provide the backbone of an upcoming two-part art show that pays tribute to classics like Doctor Who, writer Douglas Adams and Star Wars, plus video games like Mega Man and Mass Effect.
Magic is Science, the local art collective behind the project, consists of six steadfastly unique individuals who blend their personal sense of creativity to create one multifaceted artistic entity. The show, which expresses a lighthearted vision of the future combined with aspects of magic, will be presented through a variety of mediums.
Kristina Ackerman adds to the illustrative part of the group with a style self-described as a "children's book sort of innocence." She is also a graphic and web designer, but prefers the freedom of illustrating because the medium allows a substantial amount of room for bits of humor which are generally stamped out in professional graphic design.
Erin Armstrong, also a graphic designer with a special penchant for illustration, has designed an impressive amount of eye-catching work for various local artists and events. While she achieves this disarming effect through different means, her art remains consistent with its heavy use of striking color weaved within a visual simplicity that demands attention.
Michael Klapthor represents the ceramic side of art, and his sculptures boast a unique, emotionally organic aesthetic. His regular pieces depict various stories of animals such as rabbits or dogs which are burdened with carrying houses on their backs that melt beautifully into their skin. The style has a powerful edge to it that adds a dark kind of earthy beauty to animals that we see on a daily basis. To fit the theme of science fiction, Klapthor is designing robot-type sculptures which he describes as having a more "kitschy" and "video game-like" style.
Jason Mallory brings a more unabashedly humorous take on art with an emphasis on photography. His focus for Magic is Science is a wide array of photographs taken from the massive Atlanta sci-fi convention Dragon*Con. In terms of science fiction, he is influenced by the "harsh '70s feel" of the popular game Mass Effect, and it provides a stylistic overtone for his photographs in the show. Outside of creating art, Mallory maintains a website, www.scenemissingmagazine.com, where his wit is put to use for television, movie and video game reviews.
Sam Mitchell is an illustrator and graphic designer whose artistic allure lies within in his versatility. His illustrations possess an easy-going style that gives an interesting character to different actors and musicians.
A singular oddity within the collective, Rich Aviles' craft is not any sort of physical art, but the art of magic. Aviles is a practicing magician who has received acclaim from various magazines and fellow magicians for his unique brand of DIY showmanship, which complements his humorously creative thinking and guides his self-made magic tricks.
One of the most refreshing aspects of the show is that it embraces a much more laid-back and fun aura, which stands in stark contrast to the strict, pretentious nature of most art shows. Whereas a typical art gallery is filled with silence, Klapthor described Magic is Science as being more of a "party" instead of a "stuffy wine and cheese" event, a standard that's overpopulated museums and galleries for decades. With an appeal to childish wonder and a cheerful curiosity for the future, Magic is Science provides an ecstatic style of art that is all too rare.