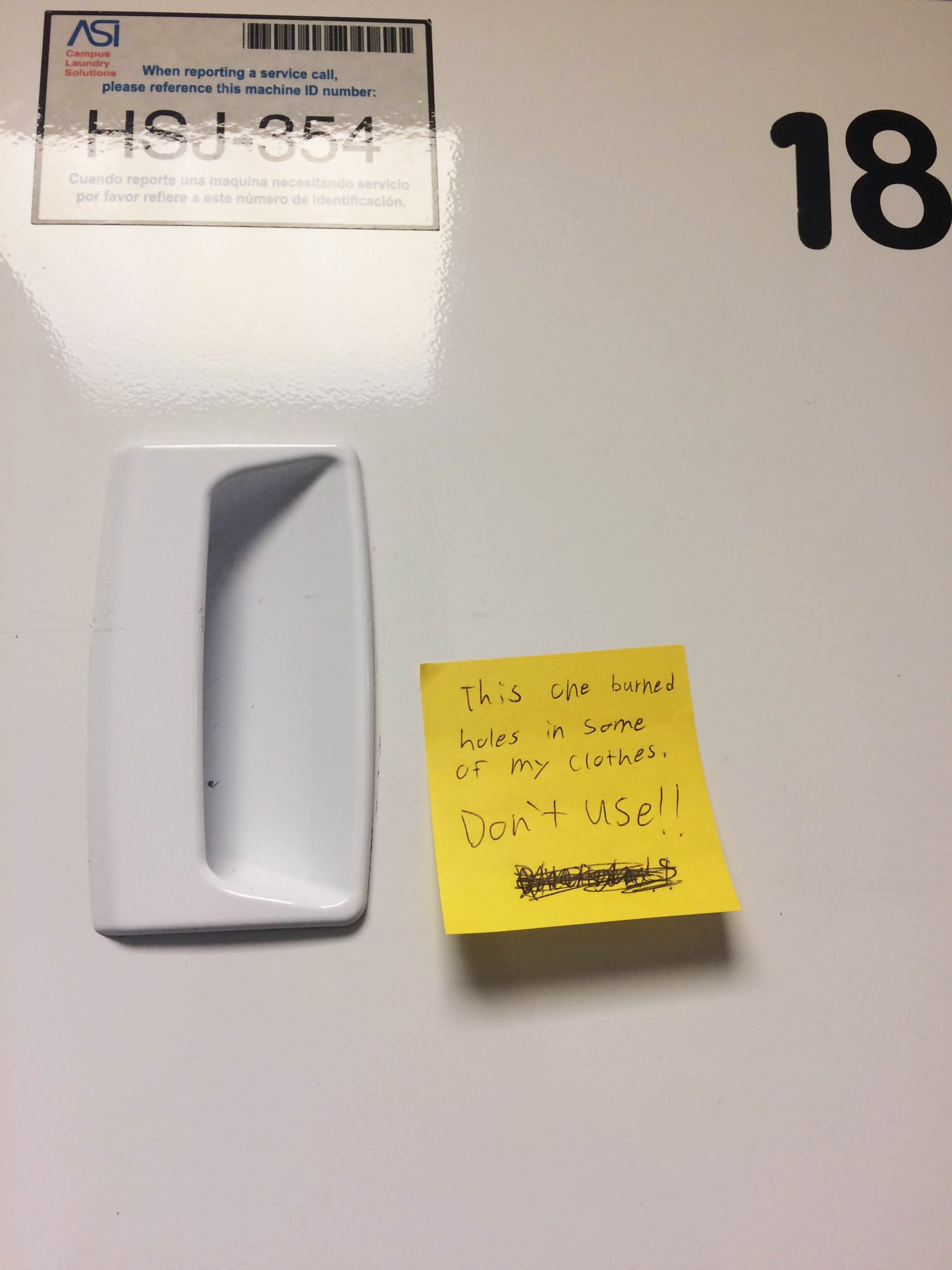 Maintenance is still an issue for Georgia State University Housing. While the university continues to build a new student housing facility on Piedmont Avenue, laundry rooms across campus are filled with unplugged appliances, littered with cautionary sticky notes, suffer from overcrowding and even experience flooding.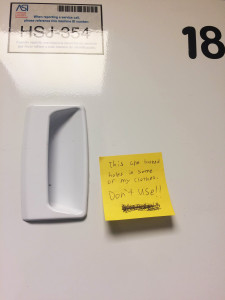 Georgia State student Tiffani Carroll, University Commons Building B resident, said she remembers vividly when a washer overflowed, covering the laundry room's tile floor with water.
"I think they should regularly maintain it more often, because I feel like they probably just do it when someone says there's a problem," she said. "Even normally when it's working fine, there's at least one or two dryers that are like error, out of order. It's always those same dryers."
Nothing has changed since The Signal first checked University Housing's laundry rooms last year, except for leadership.
In July, the former Director of University Housing Marilyn De LaRoche left Georgia State to take a Senior Director of University Housing and Auxiliary Services position at the University of Michigan, according to U-M's website. She was replaced by the current Interim Director of Housing Randy Brown.
Searching for a functioning appliance
Brown, former Florida State University hall director, said University Housing uses online maintenance requests to track laundry room appliances' technical difficulties. The rooms are also checked daily for cleanliness, and the machines are tested weekly.
"The system helps us keep track and detect trends with frequency of issues and/or the device that is failing. We also can receive feedback from Hall Council and Feedback boxes at the front desk," he said.
University Commons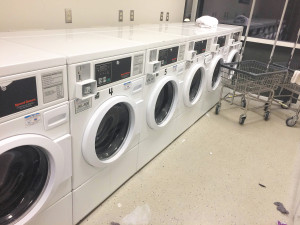 But, when The Signal checked all laundry rooms on Oct. 5 from 9:30 p.m. to 10 p.m., the University's Commons appliances' were in bleak condition.
In Building A, one washer had a "Do not use" sign, two were unplugged and a dryer had no power.

In Building B, one washer had a Post It note saying, "Don't use!! Water does not drain." Another washer had a sticky note saying "Don't use! Soakes clothes." Nine washers were unplugged. One dryer sported a sticky note saying, "Don't use. This one shorted when I started." And a second dryer has a note saying, "This burned holes in some of my clothes. Don't use!!"

Building C was flooded with water and had six unplugged washers.

Building D had six unplugged washers.
Kahrin Huggins, Commons C resident, said laundry rooms should be checked consistently, because flooding in laundry room C and unplugged machines in laundry room D kept her from doing her laundry on Oct. 5.
"If I was one of those people that waited until I didn't have clothes, then it would be really bad," she said.
Brown said University Housing unplugs laundry appliances to discourage use when the machine isn't working, and housing doesn't use signage anymore to label broken machines.
"That signage was used as a reservation for somebody else's use of the washer or dryer later," he said.
Huggins said this isn't the first time housing's laundry rooms altered her routine.
"The other time…the dryers didn't work, and I had to carry my wet clothes over to D. But today was the first I've seen it flooded," she said.
To Huggins, Piedmont North's laundry room maintenance was better, because she said she never saw it flood.
Piedmont North
On Oct. 5, Piedmont North's one laundry room was upkept better the Commons, and had less unplugged washers and dryers.
One washer was unplugged, and a sign was plastered on another wasker saying, "Washer broken."

Three dryers were unplugged.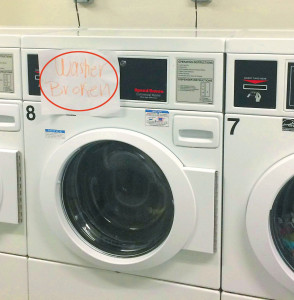 Even with access to Piedmont North's 25 usable washers and 57 working dryers, resident Kee McCrae said there are too many residents and too little laundry appliances.  She said it took her five hours to complete her laundry that Monday night.
"Say if you are five minutes late from picking them up, people will take them out and put them over the top of the dryer. They get dirty, and then you have to wash them again," she said.
Brown said the university would have to secure a space to add another laundry room to Piedmont North, but the "facility is maxed out with its location."
"Ideally, yeah everybody can have their own washer and dryer. That would be great. That also has space limitations. We would have to covert it," he said. "I don't know that we will ever have enough washers and dryers in people's opinions."
McCrae also said the laundry room should be cleaned more to free the area of lint and water, because she recently almost slipped on a puddle when there wasn't a sign.
University Lofts
On Oct. 5, dryers appeared to be maintained well, but some washers were broken.
One washer had a sign saying, "Do not use." Another washer had a sign saying, "Not working." Four washers were also unplugged.
Tehnehn Forte, Lofts resident, said the dorm's laundry rooms are better than the Commons, but wishes it was bigger. She chooses to do her laundry at odd times and during the week to avoid the weekend rush of laundry doers.
"I go on weekdays, because weekends are hectic. Never go on a weekend, especially in the morning. Go late at night or into to the morning, like 3 a.m.," she said.
Patton Hall
On Oct. 5, Patton Hall was the best maintained laundry room out of all the laundry rooms, and everything appeared to be working.
But Patton Hall resident Christopher Bellows said his experience with the dorm's laundry room is "hit or miss."
"Half of the machines don't work that well. We [him and Sean Carruthers] kind of have a growing list of the ones that screw up," he said.
Patton Hall resident Carruthers said the washing machines on his "Do Not Use" list are 14, 11, 9, 8 and 7, because they leave clothes soaking wet.
"I've pretty much found what's good and what's bad. So once you figure out that, you are set. It's trial and error," he said.
The root of the problem
Trends, such as a high volume of online work orders, are the determining factors when gauging when an appliance needs to be maintained or upgraded, Brown said.
"Feedback helps. If people aren't reporting it, it becomes very difficult…for us to respond," he said.
He said residents need to be specific when filling out work orders.
"A student says, 'The washers and dryers are always broken,'" he said. "When is that always broken? It's anecdotal. It's to that one person [and] two person that it's always broken to them. Now it's an epidemic that all washers and dryers are broken."
Student assistants are available to help with work orders, and a QR code, directing residents to their dorm's work order website, can be found on the back of dorm doors, Brown said.
"By any means necessary we will accept a report," he said. "But the student has the onus and the responsibility to report it and they understand that this is how we do it."
And new laundry room appliances could be in the horizon for some residence halls.
University Housing and Corvias, Georgia State's housing partner, are pricing laundry room appliance costs for Patton Hall, and the Common's laundry rooms B,C and D, Brown said.
He said Patton Hall's appliances haven't been replaced since the dorm opened its doors in 2009, the Commons B,C and D haven't been replaced since 2007.
Since laundry room appliances in Piedmont North were replaced in 2011, the Lofts in 2013 and the Commons Building A in 2014, Brown said laundry appliances won't get an upgrade anytime soon, "unless we are seeing some issues."