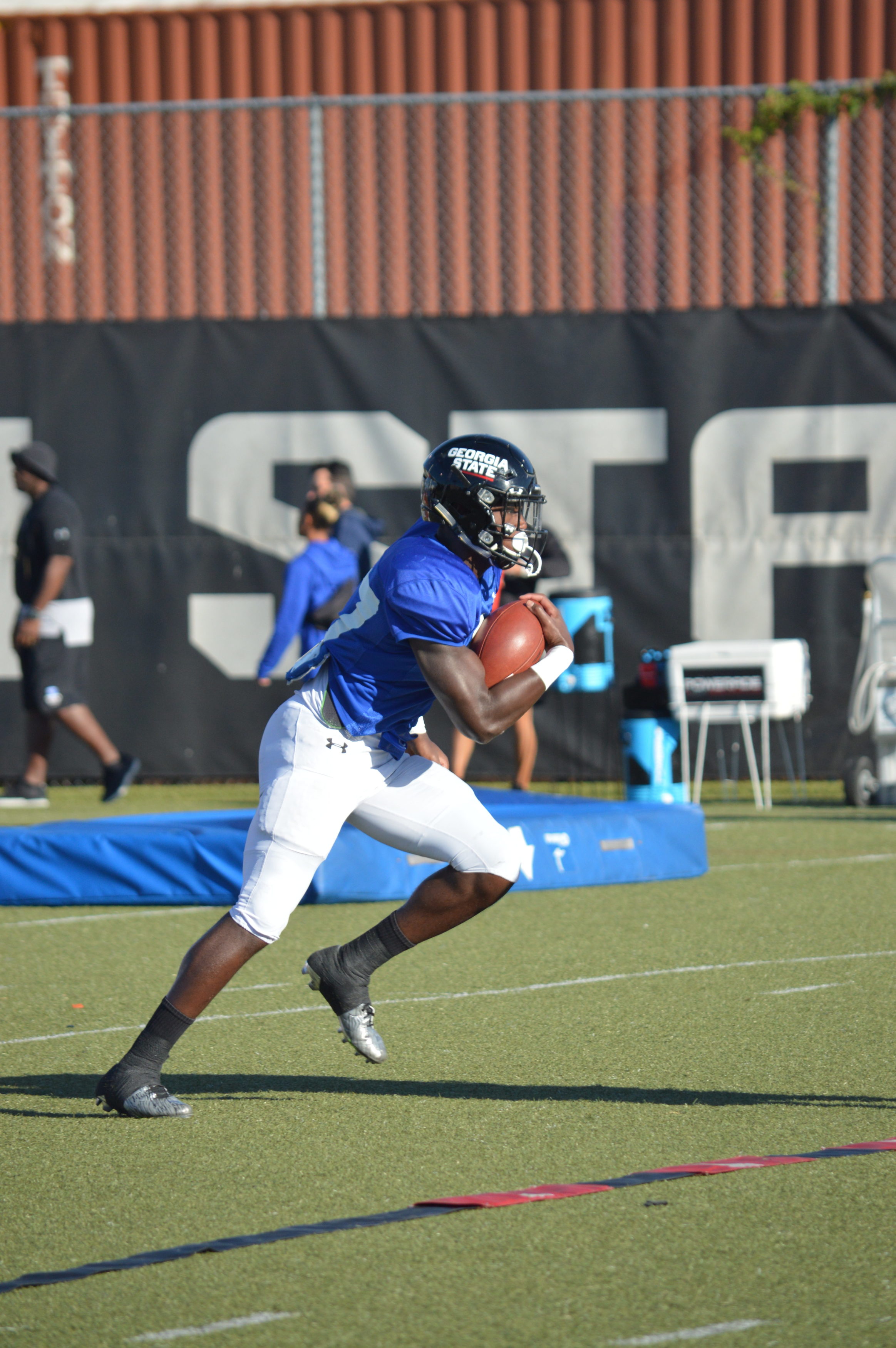 Senior wide receiver Glenn Smith is one of the more gifted athletes Georgia State's football program has had on its roster for the last two years. In fact, Smith is such a dual-threat football player that it's quite nonsensical to characterize him under one position on the depth chart.
Last year, he led the team in all-purpose yards per game (90.3) and was the first player in Georgia State history to have 500 yards, both rushing and receiving.
"Just doing what I'm supposed to do when I'm supposed to do it and just trusting my teammates," said Smith as to how he was able to accomplish that feat last season.
Conceivably, the most intriguing aspect of Smith's capability to play multiple positions, is the fact that he often plays various positions rather abruptly.
For instance, Taz Bateman, who was the starting running back for the Charlotte game Sept. 23, went out early in the first quarter due to a foot injury. Guess who was the first guy up to fill the gap? Smith.
And indeed he filled the gap. Smith carried the ball a whopping 31 times for 90 yards and two touchdowns. It's worth noting that he set a school record for carries that game.
One can imagine the amount of pressure Smith was under, given the Panthers were in search for their first win against the 49ers. But Smith's primary concern was producing at whichever position head coach Shawn Elliott needed him to play.
"It doesn't matter where I'm at I just make plays for the team," Smith said. "I'm gifted to play both positions, so I just utilize that and play both positions for the team."
Smith also caught four passes for 39 yards and had 129 all-purpose yards against Charlotte.
With wide receiver and running back being traditional positions in both college and professional football, it's unsuitable for Smith to say which position he enjoys playing the most. For him, it's "whatever I'm on the field doing at the time is what I like the most."
It's hard to dispute that fact when he is consistently putting forth the effort to be productive at either position.
Smith also admitted that he wouldn't want just to play one position. He said that "he likes to play both," while adding that "I think it's a struggle for the defense to see me at running back and receiver at times, so I like both."
There aren't many players in the NFL that can verily be productive at both positions, but one player that comes to mind is Ty Montgomery, a wide receiver who converted to running back for the Green Bay Packers.
Along from toting the rock and running routes for the Panthers, Smith has the uncanny ability to return punts and kicks for his team.
For his career thus far, Smith has a total of 2,033 all-purpose yards — including 509 yards rushing, 745 yards receiving with 64 receptions and 779 yards on 36 kickoff returns.